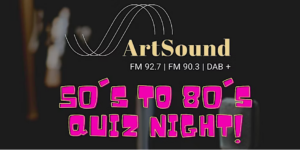 TO PURCHASE TICKETS, GO HERE.
The ArtSound fundraising '50s to '80s Music Trivia Quiz Night is now set for Thursday May 4, starting at 7pm, with Brian Leonard again serving as quizmaster. This is an opportunity to support fundraising for the station (as well as showing off your music knowledge!) and we ask all of you to help by buying tickets as soon as possible.
You can form teams of eight to ten and have a team table. But if you can't get a team together, don't hesitate to buy a single ticket (or two) and the event's organizers will place you on a table/team.
The Eastlake Football Club is again welcoming our event, and to help feed your trivia brain, is laying on a value-for-money Exclusive Menu for participants who want to dine while quizzing!
To read all about the event, and to purchase your tickets, go here.
Our Quizmaster Brian Leonard, presenter on our popular Senior Memories program, will once again test your knowledge of the popular hits of the 1950's, 60's, 70's, and 80's.
At $25 a head (plus booking fee), bring your friends and join a table. Or make up a table for a discounted rate.
To add to the fun, there'll be a raffle with great prizes.
All proceeds will help ArtSound recover from the COVID years and continue to serve as Canberra's leading arts and music community radio station. So please come along and support your station.