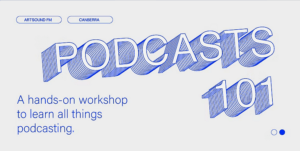 Our Radio Rookies courses for kids 9-12 years old have sparked interest in similar courses for adults. So we're starting those up. The adult courses — Podcasts 101 — will be one-day events, held on Saturdays. The first will be on 24 September from 10am to 4pm.
Attendees will learn the basics of podcasting and how to use the mixers and microphones in ArtSound's studios. They get an overview of audio-editing software (Audacity), recording audio, using sound effects and music, and much more. Enrollees can benefit from the course whether they are beginners or have some experience in audio work.
If you'd like to take part, you can find more information and register online. Or, write to radiorookies@artsound.fm or call 6295 7444 (Tues-Thur business hours). The course fee is $180.