ArtSound Annual General Meeting, 27 June 2023, Eastlake Football Club
ArtSound Incorporated
ABN 29 083 850 739
Manuka Arts Centre
Cnr NSW Crescent & Manuka Circle, Griffith ACT
PO Box 3573, Manuka ACT 2603
Ph: 02 6295 7444
Email: admin@artsound.fm
ArtSound is supported generously by


This report (without ArtSound's 2022 financial statements) is online at https://artsound.fm/about/governance/
Report written and compiled by Peter Monaghan, Treasurer, with contributions and assistance from Gabe Caddy, Secretary & chair of Program Committee; Chris Deacon, Manager of Technology; and Neil Doody, Acting Vice-President.
Acknowledgement of Country
The Australian Capital Territory is Ngunnawal Country. ArtSound acknowledges the Ngunnawal peoples as the Traditional Custodians of the Canberra region, a meeting place of many Aboriginal groups. ArtSound acknowledges the many millenniums of strong cultures of First Nations peoples, their caring for Country, and their enduring arts practices. ArtSound acknowledges its responsibility to share in promoting and celebrating First Nations cultures for the benefit of all who live on Ngunnawal Country.
ArtSound AGM 2023: Acting President's Welcome
To all ArtSound Members
As acting ArtSound President (I took over after Betsy Dixon resigned the Presidency, and the Board, in May 2023) I'm pleased to present the 2023 Annual Report for ArtSound to you.
You'll note, when reading the report, that ArtSound has managed to stabilize its finances over the course of the financial year – although there is still significant work to do on this front. We have done this through the sterling efforts of a small number of volunteers – as you know, ArtSound currently has no paid staff, so everything you see – and hear – comes to you from this dedicated (some might say, demented) volunteer group.
Our volunteers have also been responsible for bringing back the annual ArtSound Radiothon (EarFest), raising significant revenue to enable the station to continue operations. We were restricted to a "virtual Radiothon" in 2020 and were unable to hold an on-air fundraiser in 2021 due to COVID. Volunteers have also kept our ageing technical infrastructure humming, providing an admirable level of uptime. Membership numbers continue to grow, albeit slowly, from historic lows. And with the stewardship of our Program Committee bringing on board new programs and presenters, we believe that our audience is receiving a rich, diverse range of listening.
So there's much to do, and with a solid 2022 Financial Year behind us, we are in a position to make ArtSound FM a station you can be proud of.
— Neil Doody, Acting President
2022 Annual Report
This report from the ArtSound Board of Management covers the 2022 calendar year, and should be read in conjunction with the financial statements and auditor's report (appended below).
Included within the report are some notes about just some of the developments at ArtSound during the first half of 2023.
Executive Summary
ArtSound's significant accomplishment during 2022 was to stabilize its finances, though much work remains to get them on a more solid footing.
The organization paid down a significant debt to BAI Communications. ArtSound pays BAI some $50,000 each year for rental of a space to house our transmitter on Black Mountain and translator on Mount Taylor, along with the electricity to power them. Transmission charges are relatively high in the Canberra market. That has long weighed heavily on ArtSound. During 2020 and 2021, outstanding debt to BAI had threatened to reduce ArtSound's cash reserves to a perilously low level. During Covid, ArtSound's drop in income led to a debt that stood at $38,000 even in June 2022. Its acquittal by year's end, under a payment plan, was a notable accomplishment. And yet, new BAI costs keep coming. And soon electricity prices are expected to increase sharply.
ArtSound's financial picture at the end of 2022 remained tenuous (and it remains so in mid-2023), as is apparent in the Financial Statements appended to this annual report.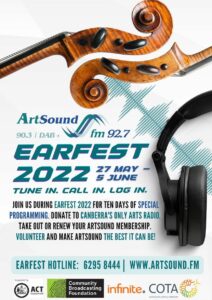 ArtSound held an on-air fundraiser — the Earfest 2022 "radiothon" — from Friday 27 May to Sunday 5 June 2022. The campaign brought the station almost $20,000, well down from historical averages but comparable to recent years' levels. Support came from numerous members, businesses, and artists in the form of prizes for drawings throughout the fundraiser. The campaign poster, designed by Sarah Grey, an ex-Board member, is shown here.
A radiothon had been impracticable in 2021, as the possibility of studio attendance shifted unpredictably during the ongoing Covid pandemic. During that year, and again in 2022, the global health crisis caused losses from ArtSound's pool of volunteers, but fortunately several new volunteers joined the ranks.
In 2022 membership edged up despite some non-renewals, and grounds for optimism included improvements in membership procedures. A Special General Meeting on 20 September 2022 revised the basis of the membership year. It had been calculated from date of joining or renewal through to the next 30 October; the Special General Meeting approved calculating the membership year to run for one year (or two, depending on membership type) from the date of joining or renewing
The meeting also approved tidying up of some existing provisions, and allowing the Board to adjust membership fees without submitting the proposed changes to a general meeting.
Raising memberships remains a challenge: a "membathon" in February 2023 attracted only about a dozen memberships or renewals; fortunately, by the time of the 27 June 2023 Annual General Meeting, membership has risen to about 240, which is as high as it has been in recent years. Still, membership remains far below ArtSound's historical highs and potential.
ArtSound's technical operation was sound throughout the year, as Manager of Technology Chris Deacon details in his report, below. He and his assistants adeptly handled inevitable challenges that come with ageing equipment. Chris also managed the dizzying daily tasks associated with maintaining play-out of many prerecorded programs and announcements through automation software.
Programming grew and diversified, as Program Committee chair Gabe Caddy details in her report, below. She mentions, for example, ArtSound's expanded specialist arts and seniors programming.
ArtSound has had excellent marketing tools but has lacked personnel capacity, so recruiting a part-time sales rep, working on commission, has been a priority. (Calendar 2023 has brought progress, in this area.) Partly outsourcing some services has been a promising approach, although difficult to maintain. During 2022, ArtSound semi-outsourced the management of some holiday programs for youths and podcast training for adults.
In sum, 2022 was a successful year — a heroic year, even — under great pressures.
Board Membership
ArtSound's Board of Management maintained a membership with a good balance in terms of gender, skills, ages, and interests.
Members of the Board throughout 2022 were Chris Deacon, Elizabeth (Betsy) Dixon (Secretary until June, then President), Neil Doody (Treasurer from April to July, Vice President from July on), Eleanor Lewis, Songfa Liu, and Peter Monaghan (Treasurer from July on). Joining the Board in July were Gabrielle Caddy (as Sectetary), Frank Madrid, Bart Meehan, and John Worcester.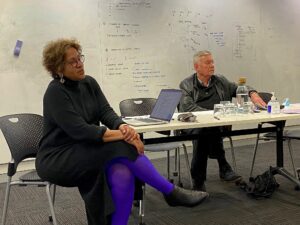 Vice President Bianca Russell and Treasurer Shaina Symmans left the Board in May 2022.
Wal Jurkiewicz (pictured, right, at the 2022 AGM) left the Board as outgoing President at the 7 July 2022 Annual General Meeting at Thinkplace, Barton.
The Board's Executive Committee from the time of the Annual General Meeting was: Betsy Dixon (pictured, left), President; Neil Doody, Vice-President; Gabe Caddy, Secretary; Peter Monaghan, Treasurer.
At the 2022 AGM, Brian Leonard undertook to continue in the role of Returning Officer, conducting the Board elections and appointments process, and Terry Gieseke continued as Public Officer of ArtSound. The AGM approved the continued hiring of Charterpoint Pty Ltd to conduct ArtSound's annual audits.
Organisational Matters
The Constitution of Artsound Incorporated ("ArtSound") requires its Board to meet at least six times during each year. The Board has met each month since ArtSound's last annual general meeting on 7 July 2022.
Minutes have been taken at each Board meeting and have been subsequently accepted by the Board as accurate records. All minutes of Board meetings have been filed in ArtSound's office where they are available for review by ArtSound's members.
Membership applications for ArtSound have been duly forwarded to the Board for consideration, in accordance with ArtSound's Constitution. ArtSound's volunteer office staff have processed membership applications and maintained records of ArtSound's membership.
ArtSound's Public Officer lodged an annual statement with the federal Australian Charities and Not for Profit Commission ACNC before 30 June 2023, a regulatory requirement for all incorporated associations in the ACT, such as ArtSound.
Julie Finch-Scally has continued to serve as office manager and helped to induct new volunteers, many of them through a "welcome committee" in the studio lobby. Each weekday, the committee's members greet visitors and take care of such tasks as answering phones, ensuring that studios are opened and maintained (including by meeting Covid prevention requirements), and assisting presenters as needed.
Gabe Caddy chaired the Program Committee; in the absence of a training committee, the PC conducted the training of new presenters and assisted many existing ones.
Chris Deacon, as Manager of Technology, maintained technical operations, assisted in on-air assurance by the Program Committee. He and Peter Monaghan prepared several grant applications with some significant successes.
Chris Deacon, Neil Mansfield, and Peter Monaghan sought to make the often-resistant ArtSound website more responsive and dependable. The site was complex in its initial design, and ArtSound has lacked personnel able to come fully to grips with all its mysteries. Promisingly, in the last days of the year, ArtSound renewed its association with Dan Navfield, CEO of the company Hide + Seek, who was one of the designers of the site. (Remedies to the site's many challenges began to emerge in 2023; however, as some problems persist, efforts are under way to simplify the website so it can be maintained in-house.)
2022 Technology Team Report
2022 saw further development of ArtSound FM's facilities and capabilities, despite limited financial resources.
FM and DAB+ transmission facilities operated at 100% reliability despite some minor temporary outages due to local studio power failures. Backup facilities put in place in recent years (redundant internet links and DAB+ fail-over) ensured that ArtSound continued to broadcast. Diagnostics have been improved, with remote alert capability provided for power-related events, audio program failure, IP stream failure, and website and transmitter outages already demonstrating their benefits.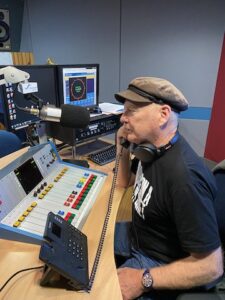 Technical development work at the studios progressed during the year, with the major project being the progressive upgrade of our phone system to VoIP (in the image, right, Neil Doody tries out the system). This dramatically cut our telephone costs and improved the quality of telephone interviews. More work needs to be done to interface incoming call indication and muting in studios.
An ACT Government grant enabled upgrade of office IT equipment and a Federal Government Stronger Communities Programme grant provided a much-needed upgrade of digital recording equipment and provision of staging for outdoor concerts. Our recording studio mixer was also replaced, and cybersecurity was upgraded with cloud-based business-class anti-malware monitoring in response to the recent rise in computer-network breaches.
Training in use of new playout software and portable recording equipment has been provided to individuals on request. Technical support was provided for the COTA Senior's Fair outside broadcast and for the Young Virtuoso of the Year Competition live broadcast. I attended the annual Technorama Conference in Sydney in November 2022 with 1CMS technical staff to maintain industry contacts and update knowledge of recent technical developments affecting community radio stations.
As reported in recent years, the ongoing challenge is to identify new forms of major donor and foundation support for the station, including longer term project funding and sustained sources of non-grant-dependent revenue to ensure that urgent upgrades of some of the key station infrastructure can be made.
Among priorities are urgently to seek funding to replace the main transmitter (age 16 years), upgrade the bespoke Studio 1,3 and 5 studio consoles (age 18-20 years), refurbish the OB van, and manage the digitisation, storage and playout of the station's digital sound archives. Some of these have been on our development priorities list for years. To continue to ignore these priorities risks the sustainability of our operations. Ideally, contemporary industry-standard broadcast equipment will be procured in the near future so that its configuration and maintenance by any 21st-century broadcast engineer (whether paid or voluntary) is feasible. It will also simplify the realistic mentoring of "apprentice" technical volunteers, and in the case of the transmitter, ensure we can contain energy costs.
Among projects currently under development are provision of program audio on demand (to enable storage and replay of past programs), provision of in-studio annunciators of microphone status and fault conditions, provision of solar power at the studios, and further expansion of on-air digital playout capabilities.
It is rewarding to continue to support such progress and I am most grateful to the members of ArtSound's technical team who have provided valuable assistance during 2022. I give a special mention to Rodger Bean whose invaluable assistance with Black Mountain transmission facilities continues to save ArtSound huge costs. Thanks also to Lisa Luo for assistance, and to Jon Glanville for his valuable contributions.
— Chris Deacon OAM, Manager Technology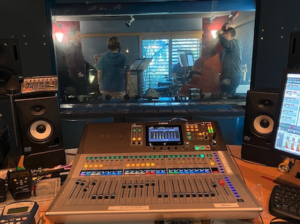 New Console in the Recording Studio An uptick in bookings in the ArtSound Recording Studio made possible the purchase of a new recording console to replace an ageing and hobbled 20-year-old workhorse. Fortunately, the new one, a Yamaha TF3 digital mixer, was a fraction of the cost of the old one, and many times more efficient and versatile. It's designed to be usable by not only seasoned recording engineers, but also less experienced, trained ones.
2022 Program Committee Report
Program Committee (PC) members during 2022 were Neil Doody, Peter Monaghan, John Worcester, Stuart Warner and Gabe Caddy. The contribution of all members is noted and the PC could not have functioned without it.
Coming out of the last Covid shutdown in 2021, at the start of 2022 the PC was still trying to restart all live programming across the grid. Artstarter was seen as an important program to resume, however an attempt this year to restart it ended due to lack of presenters. (Spoiler alert, in case you haven't noticed, the 2023 report will hold better news on this, we trust.)
As a result of this setback, the PC worked with several new presenter candidates, with the result that a number of other programs saw a much-needed rise in personnel numbers. In particular, Down in the Basement was able to reinstate the Monday show from the middle of the year, adding Dirk Zeylmans Van Emmichoven and Flynn Marcus alternating with Dean Parham in the slot. And after a successful few years, and some additional presenters, Senior Memories expanded to a two-hour show in June 2022.
The PC, along with the Board, also started a process of determining the role of the PC. While this has been a slow process (as the only standing committee, it was deemed important to effect change without disruption), this will in future lead to a number of other committees and structures to help with the running and growth of the station.
In the middle of the year the PC experimented with an electronic rollout of sponsorship and promotional announcements — "spons" and "proms" — particularly the spons, to enable sponsorship material to be included in pre-recorded shows. This is something that we will continue to work on, as even though nothing is better than live radio, it's not always possible. And should there be another event that shuts down the studio, it will be helpful to be able to keep generating income for the station.
Two new programs were started late in 2022. Celtic Heartbeat started just before Christmas on Saturday Mornings from 8-10am with Bill Motherway as its main presenter. Poetry on the Radio was approved and began broadcasts in January 2023.
Late 2022 saw the end of an era or two, as two titans of the station elected to hang up their headphones. Bill Oakes, who was with the station from the beginning, and Bill Stephens, who contributed many years of theatre content, decided to retire from active work for the station. ArtSound held a farewell for them in January 2023.
The Committee would like to thank all who contributed to the work done in 2022, as well as the many contributions to 2023 (a far superior year) so far.
— Gabe Caddy, Chair
2022 Treasurer & Finance Manager Report
ArtSound's audited Financial Statements for 2022 are appended to this Annual Report.
The year ended with a deficit of $6,497, a welcome result after a year that at times threatened closure of the station. As in the last few years, a variety of measures won the day; those included cost-cutting, modest revenue raising from various income streams including memberships, and reliance on the dogged hard work of numerous members of our all-volunteer organisation.
ArtSound's major expenses are unavoidable. Those relate to broadcasting from our transmitter on Black Mountain and our translator on Mount Taylor in Tuggeranong; provision of electricity and other utilities at our Manuka Arts Centre office, maintenance facilities, and studios; insurance coverage; copyright and community radio membership fees; and other broadcasting and license requirements.
While operating as a particularly lean, all-volunteer organisation, ArtSound in 2022 pared expenses to the bone. It:
— maintained a wage bill of near zero
— installed a VOIP phone system (assisted by a Community Broadcasting Foundation grant) which reduced the phone bill by $9,000pa
— benefitted from free services of office and technical volunteers to the value of at least $200,000pa.
To seek to increase income, ArtSound:
— expanded grant and membership activity
— marketed studio-hire and audio-production services
— ran training courses for youths, adults, and fellow arts organisations
— ran an EOFY2022 "radiothon" fundraiser (repeated in June 2023)
To cut future costs and increase future income, in 2022 ArtSound
— explored administrative/technical/operational collaboration with 1CMS-FM
— organized a quiz-night fundraiser (planned for 2022 but delayed until 2023)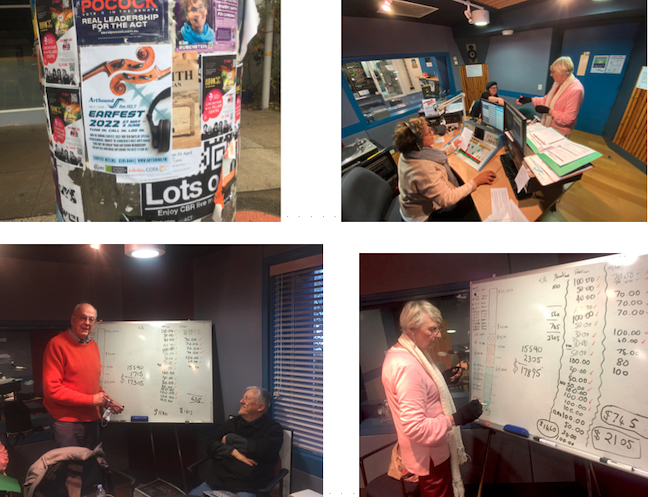 Scenes from the 2022 Radiothon
Below are some notes that supplement the Statements. But first we present a document — a 1 December 2022 Letter to Members — that expresses well the challenge that ArtSound faced, and faced down, during 2022.
The letter refers to an RSM Consulting report. That was a study of ArtSound's finances supported by a one-time grant from artsACT that directed ArtSound to commission such a study. The RSM study required a great deal of work by ArtSound, itself, to ensure that the consultancy was properly informed. This was reflected in RSM's recommendations, which primarly were that ArtSound needed to continue — and increasingly — to draw its income from multiple sources: grants, memberships, "sponsorships", donations, and other streams.
In this regard, RSM Consulting confirmed that ArtSound's best approach to staving off insolvency was to continue to do what it was doing.
In September 2022, when ArtSound applied for ongoing, guaranteed, annual funding from artsACT, it reiterated its adherence to many of RSM's recommendations. The ACT's arts funding authority had called for applications for grants under new ACT Government funding arrangements for the arts accompanied by increased funding for the sector.
Nonetheless, artsACT rejected ArtSound's application. Its explanation was that ArtSound did not sufficiently match artsACT's requirements for arts funding as expressed in its funding priorities. The Board found this perplexing, coming on the eve of ArtSound's 40th anniversary of energetically and persistently promoting and fostering a very wide range of arts activities in and around the ACT. The Board heard expressions of surprise from several sympathetic fellow arts organisations that had incorrectly assumed that ArtSound already was receiving ongoing local-government funding.
The Board itself was shocked, not only because its members were well aware of ArtSound's contributions, but also because modest but generous support had come from another branch of the ACT Government, the Community Services Directorate, as it has from the Federal Government's Stronger Communities grant program and the federally funded Community Broadcasting Foundation.
In light of how disappointing the outcome of ArtSound's application for ongoing, reliable funding was, the Board explained the situation in a 1 December 2022 Letter to Members:
Dear members,
We are writing to update members on the Board's recent efforts to obtain grant funding to secure the future of ArtSound in the medium term. While ArtSound's financial position into 2023 will allow us to continue to operate as a broadcaster promoting the arts in ACT, albeit with no paid staff, the organisation has few if any funds to cover any unexpected costs; nor does it have funds available to expand direct financial support of Canberra artists.
Since 2005 ArtSound has benefitted from ACT Government support in the form of peppercorn rent and assistance in our initial facilities build-out at Manuka Arts Centre. ACT Government agencies have also provided some grants, although in recent years those have been modest grants for special projects rather than general operations.
Against that financial background, in August ArtSound applied for a significant grant under the Arts Organisation Investment Program administered by artsACT after that agency invited applications under a new funding model. ArtsACT has now provided several ACT arts organisations with between $70k and $630k per year for four years.
ArtSound's proposal sought a little under $300k per annum for four years to build on our decades of support of the arts in the Canberra region and our long-time commitment to what is now the ACT Government's often-stated objective of positioning Canberra as a cultural capital.
We specified that we would use the funds to support key activities and establish about two FTE paid positions. We proposed to provide substantial direct funding to artists and arts activities. The employees would coordinate programs that support artists from a wide range of disciplines and in cross-disciplinary projects. Such funding would also provide resources to pursue long-term commercial sponsorship that would build on or even ultimately replace government grant funding.
Unfortunately, our application has not been successful. In fact, we did not receive any funding, at all. This artsACT decision is bitterly disappointing, particularly as we approach our 40th anniversary in 2023. A grant of all or some of the funding sought would have allowed us to provide an even greater cultural return, long into the future, on the substantial ACT community investment in ArtSound.
With a fully volunteer staff, ArtSound FM currently broadcasts and streams to a large regional audience ranging from high schoolers to seniors. Recent surveys show that Canberra and Queanbeyan have approximately 80,000 listeners of community radio, and we understand that some 60 percent of those tune in to 92.7FM and of course thousands more listen to ArtSound from outside the ACT. All are potential patrons of the capital's broad range of artistic activities.
But ArtSound has always been more than a radio station. ArtSound is a cultural institution dedicated to the development of arts and promotion of artists and their work. For decades, our studios have been a place where new art is created and "exhibited through broadcast" to a large and eager audience, including many people who are not able to experience it in traditional venues. We support regional visual, literary, and performing artists through broadcast promotion of them; we particularly emphasize the work of early-career artists.
We present high-quality curated programs that inform practising artists about local, national, and worldwide developments in their fields, particularly in musical performance.
We plan to expand our promotional activities through live performances held in the Manuka Arts Centre grounds from 2023; in this, we would have benefitted greatly from stable, predictable financial prospects.
We at ArtSound believe that we are uniquely positioned through our experience and technical capacity to promote Canberra as a cultural capital to a national and even international audience. This advances a stated ACT Government key aim. We also are committed to preserving the artistic history of our region by maintaining an extensive audio archive, which currently runs to several thousand hours and which we have begun to digitize for use by future generations.
All of this is done by a small and highly dedicated group of volunteers, but the reality is that this is not sustainable in the long term. We need funding to operate and to grow as an arts organization.
We deeply appreciate the financial support provided by members and donors; you are an essential part of the ArtSound team. And we will continue to seek commercial support. However, while in no way wanting to sound critical of organisations that were successful in artsACT funding, as stated earlier our failure to gain any financial support in this grant round is most disappointing. We will seek feedback from artsACT about why we were not competitive, but those who worked long and hard to prepare the application are severely deflated and confused about how to approach artsACT grants applications in the future, as it seems our vision for promoting culture and arts in the ACT is not shared.
We will continue to keep members updated on our financial position. At the moment, we are in a position to continue to operate for another year, provided essential sponsorship, membership, donations, and other income continues.
— The ArtSound Board of Management
The fate of our funding application brought home again to the Board how essential it is for ArtSound to press on with its strategies for diversifying the organisation's sources of income, and for containing costs. In light of this, in 2022 the Board sought to find professional fundraising assistance, and donations towards that goal.
Here we provide some notes about items within our Profit and Loss Statement, attached.
Income
Grant income remained respectable in 2022, although of course far lower than hoped, and than requested in several applications to various funders.
Grant income from artsACT was $10,867; from the Community Broadcasting Foundation, $37,500; from the federal Department of Industry, through the federal Stronger Communities awards program, $18,500.
Total grant income was, then, $66,867.
This was down from 2021 grant income of $77,862. Note, however, that the 2021 total included extraordinary grant income of $40,000 from Covid Related Business Support Grants.
Commercial sponsorships in 2022 totaled $11,869, a marked increase from 2021, when they provided $1,483. (Community radio stations in Australia may raise "sponsorships" that resemble the "ad revenues" of the commercial-media sector, but may not characterize such announcements on-air as "advertisements.") The improved performance was thanks to increased activity headed by Julie Finch-Scally serving as volunteer office manager. ArtSound's attractive ad rates are publicized through an online brochure. For more details, go to artsound.fm and look under the Sponsorship tab.
Donations in 2022 were $29,992, a significant increase over 2021, the heart of the Covid pandemic, when they were $11,846.
As a result of those successes, in 2022 overall income was $143,502, which was an increase of $6,697 over the previous year.
Expenditure
Accounting costs were reduced by $4,140. ArtSound achieved this by switching from a paid bookkeeper/accountant to a volunteer Finance Manager, Andrew Clark, whose contributions are gratefully acknowledged.
A consulting fee of $16,781 was a one-time cost, offset by an artsACT grant in the previous year. In making the grant, artsACT directed ArtSound to commission an external study of its finances. Accordingly, ArtSound paid $15,000 plus GST to RSM Consulting.
Electricity costs at the ArtSound studios, offices, and technical workspaces at the Manuka Arts Centre were $3,000 less than in 2021 thanks to an ACT Government electricity rebate to the administrator of the Manuka Arts Centre (and ArtSound's co-tenant), PhotoAccess, which that organisation passed on to ArtSound.
Hardware costs were $37,867, the large proportion of which related to equipment grants. Equipment costs will, with luck, be some $30,000 less than this in 2023.
Insurance costs: ArtSound reduced these from 2021's $11,301 to a much more affordable $5,101 by switching to a different broker who reviewed all insurances and updated all policies.
Transmission electricity and rental costs have remained steady, but their accounting during 2022 merits some explanation.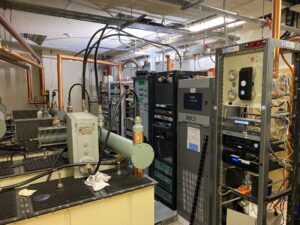 ArtSound derives its main FM transmissions from a transmitter in this room in Telstra Tower at Black Mountain. ArtSound owns this equipment along with three other community broadcasters: 1CMS, 1WAY FM, and 2XX. Signals from each station are combined and fed to an antenna array near the top of the tower. ArtSound's transmitter and associated equipment is at the two far-left racks shown in this image, connected by the upside down "U" tube to the large combiner at left. 
Transmission electricity: the cost of electricity from transmitter sites on Black Mountain and Mount Taylor were $3,232 in 2022 versus $8,131 in 2021; however, this drop will be offset by an increase in 2023 as BAI corrects its erratic billing during 2022; ArtSound has not yet received some bills from 2022 despite several requests to BAI that it remedy this disruptive situation.
Similarly, the cost of rental of transmission facilities at the two sites in 2022 was $38,539 compared with $45,372 in 2021, but this was because the 2021 amount included rental costs for the last quarter of 2020 that were paid in early 2021.
Telephone costs in 2022 were $10,193, but these will drop to about $1,000 during 2023 because ArtSound has discontinued its landline service in favour of a far less expensive Internet based VOIP system facilitated by a Community Broadcasting Foundation equipment grant.
Future Annual Costs. Total costs for 2022 were $149,999, but this figure will drop sharply in 2023, because:
consulting fees in 2022 were $16,781 but ArtSound will incur no such fees in 2023. The 2022 fees resulted from a grant provided by artsACT that directed ArtSound to commission a study of its finances. The report was completed by RSM Consulting at a cost of $15,000 plus GST.
hardware costs of $37,867 will drop sharply, probably to only about $10,000; however, over the next few years, ArtSound does urgently need to raise major capital expenditure to replace some hardware components at an estimated cost of up to $100,000.
telephone costs will, as explained above, drop from $10,193 to only about $1,000.
electricity costs will increase by at least $3,000 because the ACT Government Covid pandemic subsidy will end; in addition, ACT-wide electricity cost increases are expected.
The above adjustments mean that total costs for 2023 are budgeted to be only $96,218, even with catchup invoices expected by June 30 from BAI for 2022 transmission and PhotoAccess, the lead tenant at Manuka Arts Centre, for utilities and maintenance costs. This excludes, however, looming major capital expenditure, as noted above.
All these accomplishments have not, certainly, erased the organisation's ongoing anxieties over finances. Yet, despite the profound funding setback of the artsACT decision, ArtSound continues to pursue funding from its various income streams. The good news is that, while the organisation remains quite vulnerable to financial strain, its income and cost-containment strategies continue to keep it afloat.
Finally, a note about donations: all donations to ArtSound pass to the organisation's general accounts through a "ROCO" (Register of Cultural Organisations) account as required by ArtSound's status as a registered charitable organisation enjoying certain tax considerations including tax deductibility for donors to us. The ROCO account must be (in the quaint terminology of the relevant regulations) "controlled by a committee made up on a majority of responsible people" such as persons with public honours or other high standing. We are grateful to the members of ArtSound's public committee for serving in 2022 and again in 2023: Caroline Cooper MVO, Chris Deacon OAM, and Julie Finch-Scally, ArtSound office manager.
— Peter Monaghan, Treasurer & Andrew Clark, Finance Manager
Some Highlights of 2022
Arts Outreach
ArtSound's licence remit directs it to foster the performing, visual, and literary arts in the ACT and its region. A major success during 2022, as during 2020 and 2021, was the extraordinary growth of our weekday Arts Café program, which has featured many hundreds of artists in interviews, in-studio performances, and other segments that have called attention to ACT arts organisations and activities. Kudos to Neil Doody, in particular, for his achievement in leading this effort, ably assisted by other Arts Café presenters.
Neil also has been presenting a compendium of arts coverage, Arts About (Sundays 1-2pm).
ArtSound's long-running Arts Diary, highlighting ACT and nearby arts events, continued to air each day.
Since 2021, ArtSound Radio Theatre (Sunday 4pm, repeated Mondays 10pm) has been presenting mostly locally written, acted, and produced works. Contributing to Canberra's thriving poetry scene was Poetry on the Radio, a series of short segments aired during Arts Café each Thursday and preserved online; since the beginning of 2023, it has also been a weekly half-hour program (Sundays 4:30pm, repeated Mondays 10:30pm). Throughout 2022, Bill Stephens and Len Power continued to record interviews and reviews relating to ACT theatre and other arts, as they have done for many years.
Annabel Wheeler and Tim Lamble, and in some cases Eric Pozza, continued to record and present local classical-music concerts on Concert Hall (Sunday at 8pm, Wednesday at 2pm).
Chris Deacon continued to record and present ACT performances for broadcast on Friday Night Live (8pm Fridays), as he and various ArtSound personnel have done since 1983. Thanks to ArtSound volunteer Tim Austin, who supported Chris Deacon in Audio Services; to Bevan Noble at Smith's Alternative for recording some of the club's gigs for ArtSound; and to the Street Theatre for doing the same.
Those were just some of the many ways ArtSound pursued its arts-outreach mission in 2022 and into 2023. Many presenters highlighted what ArtSound does for the arts community. In its turn the arts community assisted ArtSound and its listeners by providing interesting and unusual interviews and other features from many genres.
ArtSound's Growing Listener Base
During 2022, ArtSound learned that its listenership has grown to an estimated 50,000 listeners in our broadcast area within the ACT and surrounding areas of New South Wales, a marked increase over the last several years. We also learned that we have many thousands of teenaged and 20-something listeners; that challenges the oft-repeated claim that "young people don't listen to the radio, anymore."
In this regard, ArtSound shares the success of community radio nationwide. According to a recently completed survey that the CBAA – the Community Broadcasting Association of Australia — commissioned from McNair yellowSquares, nationally community radio reaches over 5.1 million Australians every week. Some 25% of all radio listeners tune in to community radio. And listeners spend an average 15 hours listening to community radio each week. In the ACT, well over half of radio listeners tune in to noncommercial radio of various kinds.
McNair yellowSquares is an accredited Australian market and social research organisation with a long history of media research dating back to the first radio audience surveys held in the 1930s.
Membership
In membership, as noted in the Executive Summary, ArtSound's numbers fluctuated during 2022 from 155 to over 200, a 30 percent increase, only to drop sharply in November with about 40 non-renewals. (By June 2023, however, the level has risen again to 240, an 18-month increase of 55 percent.)
Still, this leaves memberships at far below their historical highs. The Board believes, and many volunteers attest, that far greater growth is possible and desirable, and that the new method of calculating membership years (from date of joining or renewal rather than from November of each year) will help, as will planned better membership management software.
Volunteers
About 75 presenters and producers made outstanding efforts to increase ArtSound's reach into the ACT region's arts communities, and an additional 40 volunteers worked off-mic.
As noted elsewhere in this report, during 2022, ArtSound relied on office and technical volunteers who provided free services valued conservatively at $200,000pa. Chris Deacon continued to serve as full-time Manager of Technology on an honorary basis. Peter Monaghan worked full time on a variety of tasks. Julie Finch-Scally worked in the office during much of 2022, and has throughout 2023 to date, to assist with administrative tasks. The office and/or the studio reception desk was open with staffing most weekdays, thanks in good part to a team of assistants whom Julie has trained and led.
All other tasks — training, grant writing, website upkeep, newsletter preparation… — were completed by volunteers with the exception of a very small amount of ArtSound Audio Production Services that were semi-outsourced to recording engineers paid on a commission basis, as was the management of our training courses, some of which were jointly run by Sionna Maple supported by volunteer ArtSound personnel.
ArtSound had about 115 volunteers contributing in a great variety of ways during 2022: office work, board and committee service, program production and presentation, audio production services, publicity, and many other areas.
Interns
ArtSound was fortunate to have two sets of interns during the last third of 2022.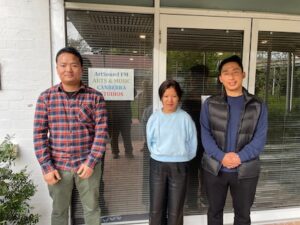 Three University of Canberra postgraduate business students from Bhutan — Pema Wangchuk, Sonam Pelden, and Sonam Rinchen (left) — worked with several ArtSound volunteers on a project to review ArtSound's business operations and to recommend ways to enhance them.
Thank you to them.
Throughout the final UC semester of 2022, ArtSound also had two outstanding interns assisting ArtSound on a poetry project, Anneka Grant and Peter Searles (below). They catalogued and began to digitize the vast ArtSound archive of recordings of poetry readings in Canberra going back to the 1980s and a few to the 1970s. They also helped to make and edit fresh poetry recordings for broadcast on a new program that began to air in early 2023, Poetry on the Radio.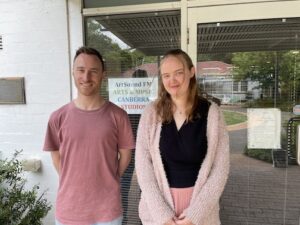 The students worked with ArtSound's Peter Monaghan and prize-winning poet Kimberly K. Williams, a University of Canberra instructor, to mount that project. Peter Searles has continued as a co-producer.
Thanks to our two liaisons at the University of Canberra for facilitating these internships: Diane Phillips, Program Director for The Suite of Bachelor of Business Degrees and Chair of the Canberra Business School Seminar Series, and Jo Washington-King, Work Integrated Learning Coordinator in the Faculty of Arts and Design.
Training programs
In addition to one-on-one mentoring of several new presenter candidates during the year, ArtSound offered three kinds of training courses for youths and adults.
"Radio Rookies" Holiday Programs
In 2022 ArtSound ran three successful three-day Radio Rookies school holiday programs (April, July, October) to introduce young people to the world of radio and podcasting. Sionna Maple, the founder and Creative Events Producer of Okay Studio, managed the program, supported by experienced ArtSound broadcasters.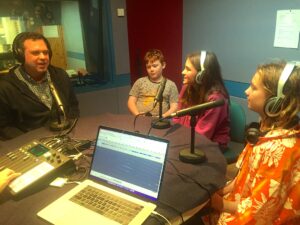 Chris Deacon, ArtSound's Manager of Technology, set up one of our studios as a classroom with computers, and another as a podcasting studio that boasted a new Røde podcasting console acquired with an ACT Community Services Directorate grant.
 Some Radio Rookies interview ArtSound volunteer Jonathan Gavin about the TV scriptwriting life.
 Podcasts 101
In September, ArtSound held a one-day training course for adults, Podcasts 101. Attendees learned the basics of podcasting and how to use the mixers and microphones in ArtSound's studios. They got an overview of audio-editing software (Audacity), recording audio, using sound effects and music, and much more.
Audio Course for Visual Arts Organisations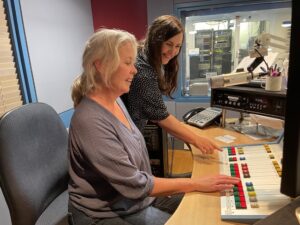 In November, ArtSound offered a course in audio production for representatives of several ACT visual arts organisations, with representatives from Canberra Contemporary Art Space, Canberra Glassworks, Canberra Potters (Watson Arts Centre), and Tuggeranong Arts Centre.
The proof-of-concept course will permit ArtSound to offer the course more broadly to ACT performing, literary, and visual arts organisations. The course was made possible by a November 2021 artsACT grant of $11,600. We will endeavour to offer the course in the future to other fellow ACT arts organisations.
Image: ArtSound volunteer Liz Landford guides Tuggeranong Arts Centre's Cassidy Richens, seated.
Audio Production Services
In audio services, activities in 2022 included the recording of an audio book, podcast segments, and musical performances by local and national clients. Audio Services undertook many jobs, virtually all completed by station volunteers at no cost to the station, largely replacing the standard model of using ArtSound-connected audio engineers on a commission basis.
Open Day & Outside Broadcasts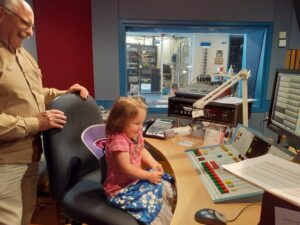 In late March 2022, ArtSound held an "outside broadcast" from the Open Day of PhotoAccess, which is ArtSound's neighbour in the Manuka Arts Centre. PhotoAccess hosted a variety of photography-related activities, as well as tours of their facilities and their current exhibitions.
Our studio tours suggested that a next generation of community-radio presenters is on the way, encouraged here by ArtSound's Stuart Warner. Photo: Julie Finch-Scally
During our outside broadcast, ArtSound interviewed PhotoAccess featured artists and curators, and also ran tours of the ArtSound facilities for anyone interested in how we broadcast. That also provided us with an opportunity to meet and sign up visitors interested in joining our volunteer ranks.
During 2022 ArtSound benefitted from adding COTA ACT as a strategic sponsor. ArtSound promoted various activities for Canberra seniors that COTA — Council on the Ageing — held.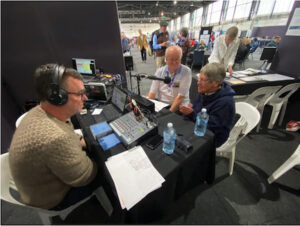 In part thanks to COTA's financial and programming support, on 4 April 2022 the Senior Memories Hour expanded from one hour to two each weekday, and became Senior Memories.
In May and September, ArtSound had displays and broadcast booths at COTA ACT's "Expos" at Exhibition Park in Canberra (EPIC) and conducted "outside broadcasts" from them during mid-morning Senior Memories and lunchtime Arts Café programs. ArtSound personnel interviewed numerous representatives of businesses, community organisations, and government agencies who were on hand to promote products, services, and advice of interest to veterans and seniors.
ArtSound host Tim McNamara and interviewees
Young Virtuoso Competition
In 2022, as for many years, ArtSound participated in the national Young Virtuoso Competition by running the ACT regional heats. In 2022 two volunteers, Julie Finch-Scally and Charlotte Strong, became the organisers of the ACT competition, which ArtSound has long broadcast. (The 2020 and 2021 events had been cancelled due to the Covid pandemic; so in June and July 2022, ArtSound recorded short performances by musicians who missed out on competing in the competition in those years, for broadcast and for the musicians' promotional use.)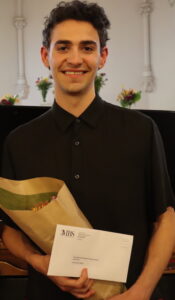 The Young Virtuoso competition has for more than 30 years provided winners with broadcasting and recording opportunities and cash prizes. It is open to instrumentalists under 25 and vocalists under 30 who are citizens or permanent residents of Australia and New Zealand.
ArtSound's organisers selected four musicians for the ACT finals — Ronan Apcar, pianist; Lily Ward, soprano; James Monro, cellist; and Katrina Wiseman, soprano — and in September hosted the regionals at the ArtSound studios, broadcasting the performances live to air.
ArtSound's adjudicators Sally Greenaway and Marián Budoš selected Ronan Apcar (pictured; photo: 3MBS) as the winner, earning him the opportunity to record an hour of music of his own choosing at the ArtSound studios.
With a cash prize, airfare, and accommodation, Ronan traveled to Melbourne to compete in the National Young Virtuoso Finals in November, hosted by 3MBS community radio, and was runner-up there, competing with winners from other states.
ArtSound thanks the Rotary Club of Belconnen for its generosity in providing a $750 cash prize for the ACT winner, and $250 as a prize for the runner-up, Lily Ward, a soprano, who also won 45 minutes of recording time at the ArtSound studios. ArtSound also thanks ArtSound members who made donations towards the costs of running the awards.
Ronan Apcar is best known for his work in contemporary and new music, but is also markedly gifted in innovative jazz performance. He has shared his talents at concerts and festivals and in intimate and large-scale venues across Canberra, Sydney, and regional NSW. His debut album, Dulcie Holland Crescent, was an ABC Classic featured album named for a renowned Australian music educator whose renown as a composer has been growing.
Concert Series
In November, ArtSound presented the first of a series of concerts in the ArtSound gardens at the Manuka Arts Centre. (ArtSound held three more concerts in the autumn of 2023, and plans more for late 2023.)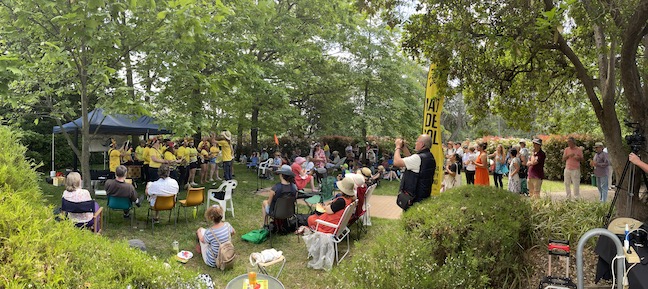 The first fundraiser concert, the Spring Latin Fiesta Concierto (above) was a great success. More than 200 people attended, and ArtSound was able to raise close to $3,000, thanks in good part to the publicity efforts of the members of the two performing bands, Pachamama and the Raio de Sol samba dancers, particularly Pachamama's Tony Hunter, an ArtSound stalwart.
Thanks to a grant in the federal Stronger Communities program's $18,500 grant, ArtSound had acquired a sturdy, demountable outdoor stage as well as a state-of-the-art public-address system and digital multitrack recorder. We are particularly grateful to Alicia Payne, Labor member for Canberra, for inviting ArtSound to apply for the grant. (ArtSound has since been awarded an ACT Community Services Directorate grant of $2,000 to buy about 30 outdoor chairs to supplement the 20 ArtSound already has.)
Visits by Dignitaries
Late in 2022, Tara Cheyne, ACT Minister for the Arts and her assistant toured the ArtSound studios to learn of the organisation's work. Ms. Cheyne soon afterwards visited Arts Café to discuss the 2022 year in the arts in the ACT.
Collaborations with CMS & Australian Muslim Voice
During 2022, ArtSound explored administrative/technical/operational collaboration with 1CMS-FM, Canberra's multicultural community radio station.
As in years past, ArtSound technical staff assisted Australian Muslim Voice radio to implement its annual temporary Ramadan broadcast during the month of April. This involved setting up a transmitter at Black Mountain and setting up and linking a private studio in Narrabundah to it.
Richard Gate, Life Member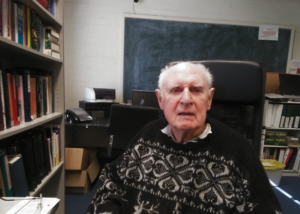 At the 2022 Annual General Meeting on July 7, the ArtSound membership elected presenter Richard Gate to Life Membership in recognition of his long service to the organisation.
Richard has been presenting classical music programs, and some others including a series about Broadway musicals, since ArtSound's days as Canberra Stereo Public Radio, based in Curtin. He had a year away in 2019-20 due to a serious stroke, but bounced back to fine form and has since been recording episodes of Classical Mood (Tuesdays 2-4pm) and Sounds Classical.
Richard enlivens his programs with incisive discussion and some reminiscence of performances he has witnessed, some in New York City during his teens. He began volunteering at ArtSound after retiring in 1993 as an Australian diplomat. He relates his overseas experiences as a diplomat and art lover and collector in his memoir Nine Lives.
Phil Mackenzie
One of ArtSound's stalwarts, Phillip Mackenzie, died on July 11 at the age of 84. At ArtSound, noted an obituary in City News, he was "the curmudgeonly 'flea'" of the Canberra Stereo Public Radio (now ArtSound) program A Flea In Your Ear where "he railed against the arts establishment and anybody who murdered the English language." He recorded many kinds of programs and also served on ArtSound's Board. Among his many theatrical works, in 2022 he wrote and performed a radio play for ArtSound Radio Theatre, Goodbye Mr Brooks.
Clinton White
In mid-February, ArtSound bade farewell to longtime contributor Clinton White (under the hat in this photo). He has been a stalwart advocate for and supporter of the station for many years, filling a number of roles including Board membership and accomplished presenter.
Bill Stephens
Life member Bill Stephens retired from broadcasting at the end of 2022 after many years of outstanding service to ArtSound. His and fellow retiree Bill Oakes's many contributions were celebrated at a farewell gathering in the Manuka Arts Centre grounds in January.
Bill Stephens joined ArtSound in 2003 and over the years worked on several programs, starting with Dress Circle, a weekly roundup of music, news and reviews about the performing arts in the Canberra region. It included 30-minute episodes of Red Velvet & Wild Boronia featuring recordings from a nationally celebrated cabaret venue, the School of Arts Café in Queanbeyan, which Bill and his family ran from 1986 to 2000.
Often sharing presenting, production, and engineering tasks with Len Power, Bill then presented those and subsequent programs such as On Stage, Backstage, and In The Foyer, and most recently contributed segments to Arts Cafe and Arts About. In late 2020, Bill co-founded, with Bart Meehan, the weekly ArtSound Radio Theatre, which under Bart's direction continues to boost the profile of radio drama in Canberra and well beyond.
Bill has long been a highly regarded member of the ACT theatre and arts community, advancing the causes of such organisations as The Canberra Festival and the Canberra Philharmonic Society. His contributions were honoured with an OAM on Australia Day 2017.
Bill Oakes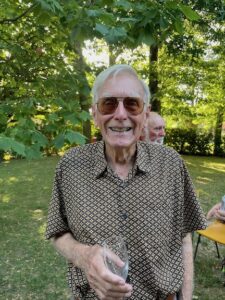 Bill Oakes, another of ArtSound's longest serving volunteers, also has retired. He became a member of ArtSound FM in 1984 while a senior public servant. At that time, the organisation was Canberra Stereo Public Radio (CSPR) and broadcast on a very limited part-time schedule until award of a full-time licence in 2000.
Bill was a member of the ArtSound Board from 1985 to 1997, including two terms as President and two as Senior Vice-President, and was Broadcast Executive Producer from 1987 to 201I. He recorded and produced programs from hundreds of classical and folk concerts, and jazz festival events, as well. In 1992 when the National Folk Festival shifted to EPIC Canberra, he led a recording and production team until 2018 whose output included, from 2009 to 2018, the weekly, 90-minute program At the National. For several years, Bill also produced and presented Discovery, highlighting local musical recordings, and before that Conversations, with his hour-long discussions with figures in the arts and public life. From late 2016 until his retirement, he presented Down in the Basement programs.
Of his time at ArtSound, Bill said: "it's been a great period of my life."
Thanks to sponsors and grantors
ArtSound thanks its many generous sponsors and grant providers.
Thanks to Canberra MP Alicia Payne who invited ArtSound to apply for an Australian Government Stronger Communities program grant in late 2021. In April 2022, ArtSound learned that the application was successful; it brought the organization $18,500 for the purchase of demountable staging and a public-address system carefully selected for that space and purpose. That enabled ArtSound to plan concerts in the summer and autumn of 2022-23 and later in 2023, too.
Under the grant program, applicants first lodge an expression of interest to local federal members – in ArtSound's case, that is Alicia Payne, Labor member for Canberra. In each electorate, participating federal members may invite applications from among interested organisations. The federal Department of Infrastructure, Transport, Regional Development and Communications then assesses applications.
Infinite Networks, our much-valued ISP provider, has supported ArtSound with free broadband Internet access for several years, and in 2021 and 2022 helped us begin to switch to a VOIP phone system (see Technical Report, above). That has saved us some $9,000 per annum.
Until July 2022, ArtSound was among organisations assisted by the Canberra Southern Cross Club's Community Rewards program (ArtSound has applied to be included in the program again in 2023-4). Patrons can nominate ArtSound to receive 7.5 percent of whatever they spend on food and drink at the various Southern Cross clubs.
Thanks to Smith's Alternative and The Street Theatre for recording some of their concerts for later ArtSound broadcast.
Particular thanks go to the Community Broadcasting Foundation for a crucial "operations and development" grant for transmissions costs in 2022.
Thanks, too, to the Drill Hall Gallery and the Wesley Music Centre for hosting us as we recorded concerts there.
And to Dan Navfield and his team at Hide + Seek for website assistance.
PhotoAccess, the administrator of the Manuka Arts Centre, which houses the ArtSound studios and administration/technical buildings, was again supportive of ArtSound, as it has been, over many years.