NewA lot is happening at ArtSound. Here's some of it.
Annual General Meeting
The date of Artsound Incorporated's 2023 Annual General Meeting has been set for Tuesday, June 27. More details will be provided in next month's newsletter, and via emailings and other notifications.
Early-Morning Program Returns
ArtStarter, Canberra's most happening early-morning radio show, is now on air.
From 7-9am each weekday, it is providing news about the arts and other community activities in and around Canberra, in keeping with ArtSound's role as Canberra's arts and music community radio station.
All delivered in a snappy format.
The idea, says the program's coordinator, Neil Mansfield, is "to let you know about what's happening each day in arts activities — exhibitions, concerts, workshops… the lot — and to deliver all that in a friendly manner that makes you glad you've woken to a new day."
Neil says he's still looking for support personnel – people to gather up arts news, to pop on air with weather and traffic updates… etc. Training provided. Please write to help@artsound.fm.
The Wind in the Willows, Blowing In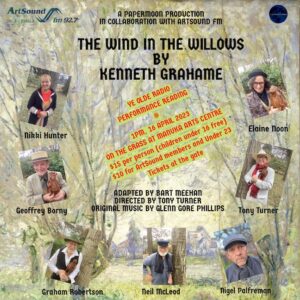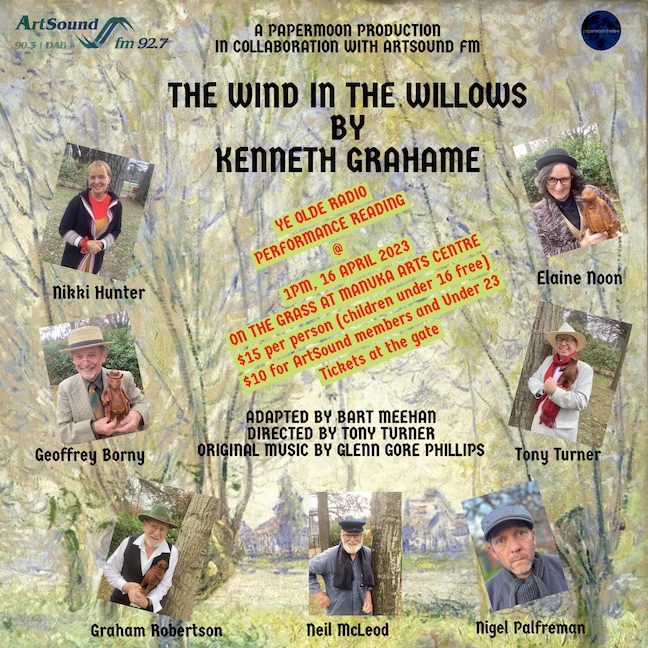 On Sunday, April 16, at 1pm, the final event in ArtSound's current summer/autumn fundraiser concert series will take place in the gardens of the Manuka Arts Centre. It'll be something quite unusual and special: an adaptation of ArtSound Radio Theatre's adaptation of Kenneth Grahame's classic tale for all ages, The Wind in the Willows.
With script by Bart Meehan, original music by Glenn Gore Phillips, and direction by Tony Turner, the production will feature a cast of seven of Canberra's finest actors.
Thanks to a 2022 Stronger Communities federal grant through the office of Alicia Payne (Labor, Canberra), we have been able to acquire demountable outdoor staging and a very fine PA system, so you'll be able to hear every word clear and bright.
Admission (at the gate) is $15 general; $10 ArtSound members & under-23s; free for under-16s. We have a small number of garden chairs, but to be sure of a comfortable seat, do bring your favourite outdoor chair or a picnic blanket. And your picnic hamper!
After this event, the series will take a break during the chilly months, and resume in the spring and summer.
Trivia Quiz Night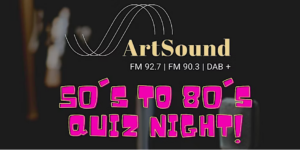 The ArtSound fundraising Trivia Night is now set for Thursday May 4 with Brian Leonard again serving as quizmaster. This is an opportunity to support fundraising for the station and we ask all of you to help by buying tickets as soon as possible.
You can form teams of eight to ten, and have a team table. But if you can't get a team together, don't hesitate to buy a single ticket (or two) and we will place you on a table/team.
Please support this fundraising initiative and show your appreciation for the committee who prepared this quiz night.
To read all about the event, and to purchase your tickets, go here.
Heritage Festival
ArtSound FM is participating in the ACT Heritage Festival — see Radio Stories.
The festival runs from April 11 to April 30; during it, ArtSound presenters will air interviews with event organisers, and perhaps create a few radio stories of our own.
Tune in to Senior Memories (10-midday, weekdays) and Arts Cafe (noon-2pm and 5-7pm weekdays) to hear the story of the day.
40th Anniversary Launch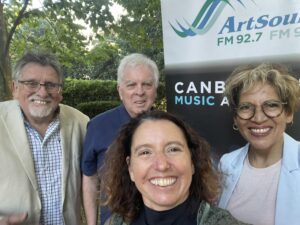 On Friday, March 3, ArtSound launched its year of celebrations of its 40th anniversary of operations. At an event in the Manuka Arts Centre gardens, Rebecca Vassarotti (Greens, Member for Kurrajong), ACT Minister for the Environment, Heritage, Homelessness and Housing Services, and Sustainable Building and Construction, declared the celebrations open. She spoke about the importance of community action in advancing the cause of social inclusion and cohesion. (She is seen here, front, with ArtSound's Bart Meehan, Chris Deacon, and Betsy Dixon, left to right.)
Chris Deacon OAM (pictured), station co-founder, and still a Board member, presenter, and Technology Manager at the station, addressed the gathering to highlight some accomplishments over that time. (His full comments are on the ArtSound website.)
He noted that in 1983, ArtSound initiated its bid for a permanent FM licence — a campaign that took 17 years to bear fruit. During the long wait, as Canberra Stereo Public Radio, the station ran test broadcasts and recording services at its then-home at a shuttered childrens' library.
The station's founders believed, Deacon said, that "radio had become formulaic, lowest common denominator, with few opportunities for quality and in-depth local arts expression, so we set out to change this."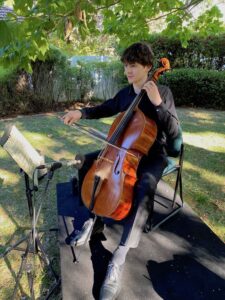 To reflect Canberra's cultural diversity, the founders developed a "program format aimed at devotees of quality specialist music where there was a distinct void."
Even today, he suggested, ACT-region listeners with interests in the arts and music "would remain poorly served, despite a large increase in the number of media feeding our ears, were it not for ArtSound's efforts."
He said that, with so many accomplishments, "ArtSound's role as a key potential driver of productivity in the arts, and a genuine discovery channel of arts and music, needs to be acknowledged more widely."
Cellist James Monro (below), a finalist in ArtSound's 2021 regional finals of the national Young Virtuoso competition, performed during the ceremony.
COTA Expo
The Council on the Ageing (COTA ACT) Expo was held on Wednesday 15 March. Julie Finch-Scally, Neil Mansfield, and Stuart Warner were there to interview attendees, and drum up support of ArtSound, particularly its Senior Memories morning program (weekdays 10-noon).
Concerts in March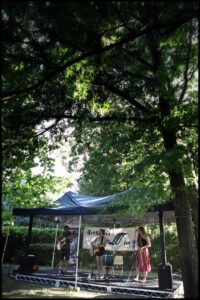 On Sunday, March 12, two outstanding bands appeared in ArtSound's summer/autumn fundraiser concert series, under the trees in the Manuka Arts Centre gardens.
Appearing first was the Wayne Kelly Trio. Joining the pianist were bassist Eric Ajaye and drummer Col Hoorwig.
Then came Black Cypress (right, photo: Darryl Burke), with guitarists Rosie and Sam Harris and violinist Charlotte Strong, all on vocals.
Also in March, ArtSound went to the Drill Hall at the ANU to record a concert by saxophonist Mark Ginsburg's quartet Oceans Together. That included pianist Ryan Grogan, bassist Brendan Clarke, and percussionist Fabian Hevia. Later in March, the concert was broadcast on Chris Deacon's long-running Friday Night Live.
Marisa Paterson Interview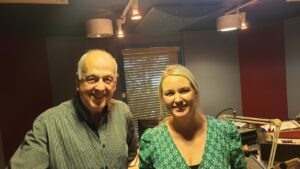 On March 1, ArtSound's Senior Memories program (weekdays 10-noon) began airing an intended series of interviews with local politicians about their motivations for seeking public office.
Brian Leonard, a Senior Memories presenter, interviewed MLA for Murrumbidgee Marisa Paterson (below).
Grants and Gifts
ArtSound has been successful in two grant applications over the past month. We successfully bid for upgrades to our "outside broadcast" equipment to the tune of $7,523. Thanks to the Community Services Directorate of the ACT Government and its 2022-23 Technology Upgrade Fund Grant Program.
The grant will enable us to purchase a variety of components that will make OBs easier for station presenters and producers, including relative newcomers to the technology involved.
The grant, combined with upgrades to the ArtSound van (more news on that, next month), as well as equipment already installed in our studios thanks to earlier Community Broadcast Foundation funding, provides us great flexibility in coverage of both small and large events, which will contribute to the station's ongoing community engagement.
Thanks to all our supporters!
Technical Matters

Like all radio stations, we depend on various technologies to produce the many programs you hear and to keep us on air. Our studio equipment has been working reliably for almost 20 years. But some of that ageing volunteer-designed and -constructed equipment requires an urgent makeover if ArtSound is to grow in the digital age.
This will help us to maintain our renowned high-quality sound. But broadcast equipment is not cheap; we need to raise about $20,000 for each of our three broadcast studios.
If you would like to contribute a donation towards ArtSound's technology upgrade program, please get in touch with the office — our volunteers will be extremely grateful!
No amount of donation is too small, and any gift of $2 or more is tax deductible!
ArtSound FM's mission is to cultivate a vibrant arts community in the ACT region. Your memberships and donations sustain our year-long programming including our artist-centered features and interviews and our many broadcasts of live recordings of concerts in and around Canberra.
Thank you for being part of ArtSound!
Please go online to artsound.fm to take out membership or make a donation. Or, write to admin@artsound.fm. Or phone (02) 6295 7444 — if you don't reach someone right away, please leave a message and we'll get back to you as soon as possible. Donations of $2 or more are tax deductible.