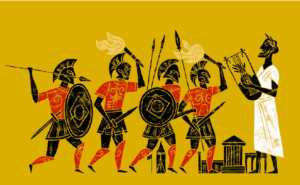 During 2023, its 40th Anniversary celebrations, ArtSound will begin a series of week-long programming that highlights the region's cultural diversity. The first of these will be Greek Week in October, featuring regional musicians, poets and writers.
ArtSound Radio Theatre is calling for radio plays that highlight Greek themes — for example, reinventions of Greek
classics, or more personal pieces such as explorations of the immigrant experience.
The best five submissions will be shortlisted and recorded for broadcast.
The plays should be no more than 15 minutes long (roughly 2500 words) and have no more than four people in the cast (smaller casts and monologues are welcome). Adult themes are fine provided they are dealt with appropriately. There should be no gratuitous use of adult language or overemphasis on political issues.
Note that these plays are for radio, so need to be written for listeners. (Some action can be captured through the use of sound effects).
Plays should be submitted in Word format, with a cover sheet detailing the writer's name, address and email contact, to artsoundtheatre@gmail.com by 12 August 2023.