Radiothon: ArtSound's Earfest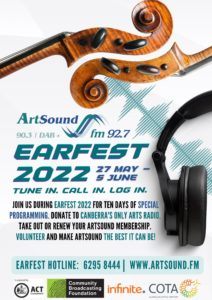 ArtSound's annual "Radiothon" fundraiser — ArtSound Earfest 2022 — is upon us. It runs from 5pm on Friday 27 May to 5pm on Sunday 5 June.
Handily, it comes just a few short weeks before the end of the financial year. Searching for tax deductions? Any donations to ArtSound of $2 or more are tax deductible.
During the Radiothon, you'll hear special programming with plenty of explanations of why it's important for you, the ArtSound listener, to help the station to foot its many bills.
ArtSound is a particularly lean organisation. It's an all-volunteer operation, with no paid staff, but with sizable invoices to pay even after we've pared our expenses down to the bone. Most prominent among those are transmission costs. Broadcasting from our transmitter on Black Mountain, and our translator on Mount Taylor in Tuggeranong, costs $53,500 each year. Then we have the costs of electricity and other utilities at our Manuka Arts Centre office and studios; insurance coverage; copyright and community-radio membership fees; and many other expenses — some $110,000 per annum, all told.
So you can see why an all-volunteer station needs your help. Yes, we are able to obtain some grant funding from federal and local governments, as well as from the Community Broadcasting Foundation and a couple of other sources, but that funding is intermittent and in any case meets only a minority of our costs.
In addition, some grant funding is designated for particular purposes, such as program development and capital acquisitions, so can't be used to offset the basic costs itemised above. For example — and this is a very good thing — we were most grateful to receive in April a grant of $18,500 from the federal government's Stronger Communities grant program that will allow us to purchase demountable outside staging so we can greatly expand our annual offerings of concerts at the Manuka Arts Centre. The grant has also allowed us to purchase a state-of-the-art public-address system that is sure to delight both musicians and audiences.
ArtSound is particularly grateful to Alicia Payne, the federal Member for Canberra, for inviting us to apply for the grant. Under the annual program, all members of Parliament may invite applications from deserving organisations in their electorate.
Prize Drawings & Membership Deal
During Earfest 2022, we'll be awarding an assortment of daily prizes, for each day of the event, as well as some major prizes to be drawn on the last day. To be in the draw for daily and major prizes, all you have to do is to donate $30 or more, or take out or renew membership. (Remember, too, that all donations of $2 or more are tax deductible.)
We'll have daily drawings from Saturday 28 May to Saturday 4 June, and then major prize drawings on Sunday 5 June.
Prizes include a seven-night stay in a Melbourne apartment, a weekend at a South Coast holiday home, a "golden ticket" to all events during the rest of 2022 at Kambri on the ANU campus, art and craft works by Canberra-area makers, gift certificates and gym passes, and much else.
Generous donors include ArtSound members Eric Pozza and Wal and Penny Jurkiewicz, Kambri at ANU, the Continental Cake Shop in Tuggeranong, the Street Theatre, Ainslie & Gorman Arts Centres, Canberra Rep, Two Blind Mice restaurant in Curtin, the National Gallery of Australia, and many others that you'll hear mentioned often during Earfest 2022.
We also will be offering, only during the Earfest Radiothon, a special membership deal: join then, and you'll receive membership right through to 1 November 2023. That date is our membership renewal date each year, so rather than become a member until 1 November 2022, you'll get a whole 17 months for the price of 12.
You can take out membership either by phoning the Radiothon hotline — 6295 8444 — or the ArtSound office, 6295 7444, or going online at artsound.fm.
Testimonials during Radiothon
Could you record a short shout-out to ArtSound that we can broadcast during the Radiothon? All you need to do is to phone 6295 8499 and follow the prompt. You'll be able to record your shout-out of up to about 30 seconds — shorter is fine, too — and we'll be able to air it during the Earfest 2022 Radiothon as we encourage all listeners to help support the station financially.
Open Day — Sunday 5 June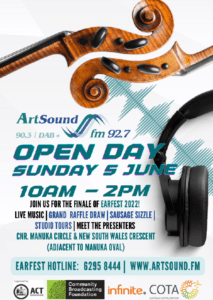 ArtSound Earfest 2022 will culminate in an Open Day at the station on the fundraiser's final day, Sunday 5 June, from 10am to 2pm.
During the Open Day, musical performers strating at 11:30am will include three outstanding combos: Pachamama, Paverty Bush Band, and Wayne Kelly Trio.
Pachamama Paverty Bush Band Wayne Kelly Trio
A drawing for the Radiothon's major prizes will take place at around 5pm.
COTA ACT Expo
COTA ACT is hosting its Silver is Gold Seniors Expo at EPIC on 26 May from 10am to 4pm, and ArtSound will be there to broadcast live from the event with interviews and other features.
The COTA Expo will fill Budawang and Coorong Pavilions with more than 200 stalls promoting the services and products of community organisations and businesses that contribute to the wellbeing of older residents of the Canberra region.

Among activities will be giveaways, competitions, live music, and dance and exercise groups. Plenty of food will be available including winter soups, savoury dishes, cakes, sweets, and tea and coffee. Stalls will present and sell local produce and crafts.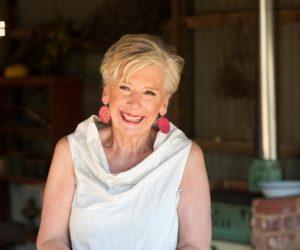 In accordance with COVID wellbeing practices, attendees will be able to check in when attending the Expo, social distancing will apply, hand sanitising stations will be available, and mask wearing will be encouraged.
Chef, nutrition expert, and TV personality Maggie Beer will present her "Food for Thought: The Importance of Seniors Nutrition" at the Expo in a free but ticketed event with a limit of two tickets per applicant from this site.
Transport Canberra will provide free bus and light-rail travel to and from the Expo for Seniors Card holders. In addition, a free shuttle service will be available at Woden, Tuggeranong, and Belconnen — call Transport Canberra 13 17 10 for further information. Ample free parking is available, with disabled parking just outside the pavilions.
Annual general meeting July 7
ArtSound's annual general meeting is coming up. It will take place on Thursday 7 July 2022, venue TBA, starting at 7:30pm.
All financial members may attend. The results of Board elections will be announced there. A full agenda will be distributed as the date approaches.
Meanwhile, ArtSound's Returning Officer, Brian E. Leonard, has called for nominations from financial members of ArtSound Inc. for the election of up to nine members of the Board of Management, which has 10 seats. Nominations duly completed on the application form must be received no later than 5pm on Wednesday 8 June 2022 by email to the Returning Officer at returning-officer@artsound.fm, or by mail in a sealed envelope marked "Board Elections" addressed to Returning Officer, ArtSound Inc., PO Box 3573, Manuka, ACT 2603.
If the number of nominations received is more than nine, a ballot will be held. In anticipation that a ballot may be required, nominees are asked to submit a photo and brief bio with their nomination, to a maximum of 150 words.
The bio should cover: (i) the nominee's history; (ii) their vision for ArtSound; (iii) the contribution they expect to bring to the ArtSound Board; and (iv) their awareness of the expectations of Board Members (noted on the Nomination Form). The bios will be forwarded to members should a ballot be necessary.
If the number of nominations received is less than or equal to nine, those nominated will be deemed to be elected to serve for a period of two years.
Interested members may request a nomination form from the ArtSound office (admin@artsound.fm).
More Radio Rookies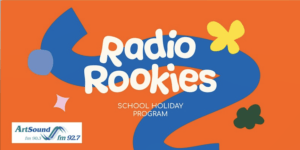 Would your child like to learn podcasting and basic radio production at ArtSound's three-day Radio Rookies holiday program during the July school holidays?
The first of our revived holiday-program courses took place in April and was a great success — the kids who attended loved it and their parents came away impressed by what the attendees were able to learn and accomplish in just three days.
In the Radio Rookies courses, our instructors teach your kids aged 9-12 how to make their very own podcast. They learn how to use the tools and software to record and edit audio and make an interesting and engaging podcast series. Your child can become proficient in the studio and practice using our microphones, audio recorders, and mixers.
The next workshop takes place Monday 4 July 2022 to Wednesday 6 July 2022, from 8:30am-4pm each day at ArtSound's studios at the Manuka Arts Centre.
For more details, go to the information and sales site. There you can learn, for example, about various discounts that are available. If you register by 20 June 2022, you'll receive a 5% discount! Just use the code EARLYBIRD at checkout!
If you have a friend or family member who might want to join, bring them along and get a friends-and-family discount — just enter the code FRIENDSANDFAM at checkout.
By the way, we've had some inquiries about podcasting and radio-production courses for adults, as well. More news on those, soon.
Volunteers – reception committee
ArtSound's studio lobby provides a warm reception to presenters and visitors thanks to a band of volunteer meet-and-greeters. On weekdays, they work with office manager Julie Finch-Scally to make sure that phones are answered, studios are opened and maintained, and much else.
Would you like to join them?
If so, you'll be among the most appreciated of ArtSound volunteers.
Please contact Julie at admin@artsound.fm or by phone at 6295 7444 Tuesday to Thursday between 10 and 2.
Support from the Canberra Southern Cross Club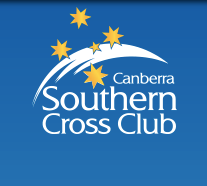 Do you enjoy dining in pleasant settings? Would you like to do so while also support ArtSound FM?
ArtSound is on the list of organisations being assisted by the Canberra Southern Cross Club's Community Rewards program. This means that you can nominate ArtSound to receive 7.5 percent of whatever you spend on food and drink at the various facilities of the Canberra Southern Cross Club. All you have to do is to go to the website of the Canberra Southern Cross Club, and click on "We Love Our Community." There, follow the links to the "Community Rewards" page. Select "Community" and then ArtSound FM from the dropdown list. Enter your membership number, and the Canberra Southern Cross Club will do the rest.
Thanks to the Club for helping us to bring you great radio!
Printer
Do you have an old laser printer that you could donate to ArtSound? Our library printer is kaput.
We need a networked, monochrome, duplex printer with at least one A4 tray.
If you can help, please contact the ArtSound office at admin@artsound.fm or 6295 7444.
Membership
Please encourage your family members and friends to become members of ArtSound. They can do that during Earfest 2022, or at any other time.
To fill in an application and lodge membership fees, please go online to https://artsound.fm/community/become-a-member/ or phone the ArtSound office 6295 7444.
ArtSound FM is an Australian Government Registered Cultural Organisation and a Deductible Gift Recipient under s30BA Income Tax Assessment Act.
Quiz night August 19
Save the date: ArtSound's next Quiz Night is scheduled for 19 August. For venue, start time, ticket arrangements, and other information, see next month's ArtSound Newsletter.
Graham Freeman
ArtSound notes the passing of former much-valued volunteer Graham Freeman (12 August 1948-18 May 2022). Graham was long a presenter of Music Collector, and was active in a variety of other community organisations. A funeral service is scheduled for 2pm on Friday 27 May 2022 at North Belconnen Uniting Church, 30 Conley Drive, Melba.