ArtSound Newsletter – 29 June 2022
A lot is happening at ArtSound. Here's some of it.
Annual General Meeting, 7 July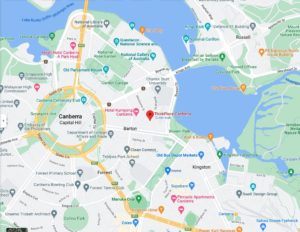 ArtSound's annual general meeting is coming up. It will take place on Thursday 7 July 2022, starting at 7:30pm, at Thinkplace (50 Blackall Street, Barton). All ArtSound financial members are invited to attend to help chart the future of the organisation.
A full agenda will be distributed as the date approaches. Hopefully the 2021 Annual Report will be distributed to members before the meeting, but certainly it will, at the meeting.
ArtSound's Returning Officer, Brian Leonard, has advised that after his call on 18 May for nominations for the election of up to nine members to form ArtSound's Board of Management for the 2022-23 year, he received eight timely nominations. As fewer nominations were received than needed to fill the Board for 2022-2023, all nominees are deemed elected and will join the one current member with a year yet to serve, Peter Monaghan: Gabe Caddy, Chris Deacon, Betsy Dixon, Neil Doody, Eleanor Lewis, Songfa Liu, Bart Meehan, and John Worcester.
The 2022-23 Board will become effective from the close of the AGM.
Brian advised that while the 2022-23 Board will initially have nine members, Section 35 of the ArtSound Constitution allows the Board to appoint honorary consultants to advise the Association.
More Radio Rookies
Would your child aged between 9 and 12 like to learn podcasting and basic radio production at ArtSound's three-day Radio Rookies holiday program during the July school holidays?
The workshop course takes place Monday 4 July to Wednesday 6 July, from 8:30am-4pm each day at ArtSound's studios at the Manuka Arts Centre. You have just a couple of days left to enroll.
The first of our revived holiday-program courses took place in April (below) and was a great success — the kids who attended loved it and their parents went away impressed by what the attendees were able to learn and accomplish in just three days.
At April's course, Radio Rookies interviewed ArtSound volunteer Jonathan Gavin about the tv-scriptwriting life.
In the Radio Rookies courses, our instructors teach kids how to use the tools and software to record and edit audio and make an interesting and engaging podcast series. Your child can become proficient in the studio by practicing how to use microphones, audio recorders, and production software.
For more details, go to the information and sales site. There you can learn, for example, that if you have a friend or family member who might want to join, you can sign them up and get a friends-and-family discount.
By the way, we're nearing completion of planning for an adult version of Radio Rookies. These will likely be one-day courses in podcasting and radio production. More news on those, soon.
One-Day Introductory Training Course
Would you like to learn the basics of presenting community radio? ArtSound will hold a one-day introductory training course soon, depending on expressions of interest.
The course would cover the basics of how to present programming live or via studio recordings — how to speak on a microphone, how to operate the broadcast console, what to do and not to do… ArtSound volunteers would then mentor those who complete the course and find that they would indeed like to press ahead with further training towards becoming ArtSound presenters or program producers, or to volunteer in other capacities.
The course would likely take place on one Saturday sometime in July or August.
Interested? Please let us know at admin@artsound.fm
Studio Tours and New Members Day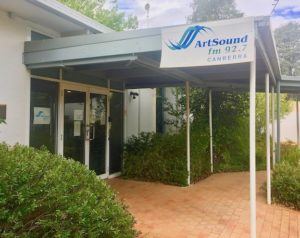 Would you like to tour the ArtSound studios, or are you a new or not-so-new member who would like to meet ArtSound volunteers and members? On Saturday 16 July from about 11am to 12:30pm, the ArtSound studios at Manuka Arts Centre will be open for studio tours and a new-member gathering.
ArtSound will provide refreshments, and the gathering will be an opportunity to share ideas about community radio presentation, see what has recently come in to the ArtSound library, and just talk about music and the arts with other members.
If you'd like to donate disused CDs, we can see whether the library doesn't yet have them.
We can also record you voicing station announcements.
You'll also be able to learn about the many volunteer opportunities at the station.
Longer-term members are of course also welcome, as are all volunteers who can tell potential volunteers about the pleasures of spending time at ArtSound.
For more information and to RSVP, please write to admin@artsound.fm
Quiz night August 19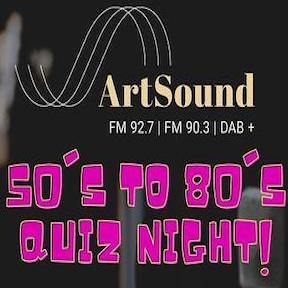 Save the date: ArtSound's next fundraising Music Quiz Night is scheduled for Friday 19 August, commencing at 7pm, at the Eastlake Football Club in Kingston.
It's to be a '50s to early '90s music quiz, says MC Brian Leonard.
It'll have the same fun format as last year, with such themes as identify that tune, what's the first line, recognise the singer and group, sort songs into time order, etc.
Senior Memories and Australian Singers presenter Brian Leonard will be our quizmaster once again.
For ticket arrangements and other information, see next month's ArtSound Newsletter.
Brian and his fellow organisers are setting up an Eventbrite booking page, and will soon provide a link on ArtSound's website and via on-air promos.
Then, don't hesitate to make your bookings — last year's event was a sell-out!
Brian reports that the organising committee will keep the admission price low at just $35 a head, with a maximum of 8-10 people per table. He says: "Like last time, we would be delighted if you can bring your friends to form a table."
There will also be a raffle with some fabulous prizes, including Beechworth accommodation, Canberra hotel accommodation, performances at Queanbeyan Performing Arts Centre, massage, quality wines, decorative greeting cards, etc.
All proceeds will go to ArtSound FM community radio.
The Eastlake Football Club's bistro is open from 5:30pm, and this year will offer an exclusive menu for quiz participants with meals served to the tables in the function room.
Mark your diary for Friday 19 August, and stay tuned!
Earfest 2022 – "radiothon" fundraiser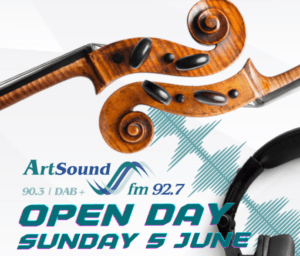 ArtSound's "radiothon" fundraiser, with its theme of Earfest 2022, took place from 27 May to 5 June. Presenters and other volunteers pitched the station's merits to listeners, and asked that listeners make donations and take out memberships.
In her report about the event, Julie Finch-Scally, who chaired the Radiothon organising committee, thanked all who participated in Earfest 2022 and deemed the event, which raised some $18,000, "a success."
That success was threefold, she said.
First, many members rallied to the cause: "People seemed to turn up unexpectedly from everywhere and I was always so grateful each day to have that assistance."
Second, $18K might not have been as much income as hoped for, but "is not to be sneezed at. At least it will cover us while we are generating more income." And, she added, 10 days of pitching ArtSound's need for money to keep broadcasting seems to have gotten through to many Canberrans: "Our relationship with the arts world has been recognised."
One indication of that, she wrote, was that many artists, arts organisations, listeners, and supportive businesses donated impressive prizes to entice listener donations: "This Radiothon showed these people did care about the station."
Third, Julie reported, "there was the camaraderie that developed over the 10 days." She said organisers and volunteers "went to great lengths to support and assist those on air, mainly by encouraging them to go that little extra to sell themselves and appeal to our listeners to ring and donate, which they did, especially during the final three days."
That "has generated a keenness with all the volunteers to do more for ArtSound," said Julie (seen below tallying at the big board; top right: Julie works the listeners with Betsy Dixon and Gabe Caddy; bottom left: Brian Leonard and John Worcester).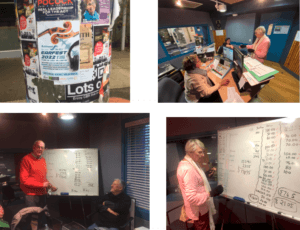 The final day, Sunday 5 June, was to have featured an outdoors event with musicians performing and a sausage sizzle. Due to a glacial chill and the threat of rain that would have troubled attendees, performers, technicians, and equipment, those plans were scaled back. Studio tours did go ahead, and dozens of ArtSound supporters saw first hand how the station generates the programming that many said they thoroughly enjoy. With that outcome, the studio tours proved to be "a fabulous idea," Julie said. Special thanks to pianist Wayne Kelly and his trio for playing live in the Chris Deacon Recording Studio, and happily allowing tour participants to wander in and out to see how live recording is done.
Good News
Here's good news. As previously reported, ArtSound in April received a generous grant of $18,500 from the federal Stronger Communities fund. It will enable us to stage better-sounding community concerts in the Manuka Arts Centre grounds soon and throughout the years ahead. The grant was for demountable staging and a public-address system carefully selected for that space and purpose. And the fabulous equipment has arrived!
Under the grant program, federal members – in ArtSound's case, that is Alicia Payne, Labor member for Canberra — invite a few or several organisations in their electorate to apply for the funding. The federal Department of Infrastructure, Transport, Regional Development and Communications then assesses applications. The grants of between $2,500 and $20,000 enable small capital projects that deliver social benefits to local communities.
Sunny afternoons listening to live music under the trees at the Manuka Arts Centre certainly are that.
Community Broadcasting Federation Grant
Since the Newsletter of 24 May, ArtSound has also received a very gratifying grant of $40,000 from the Community Broadcasting Foundation.
The grant came from the CBF's "development and operations" fund, which helps community stations around Australia to meet fixed costs and to undertake capacity-building projects. Currently the CBF grants more than $20.5-million annually in federal funds to Australian community media organisations. That grant money is allocated twice a year, in approximately June and October.
ArtSound's request — for $40,000, fully granted — will offset that its approximately $110,000 in operating expenses for 2022. (The CBF also granted ArtSound $35,000 in 2021.)
Unfortunately, we also learned this month that our two "content" grant applications were unsuccessful. One was to the CBF, the other to artsACT. Both applications sought funds to help foot the bill for special packages of radio plays in the outstanding ArtSound Radio Theatre series (which airs Sundays at 4pm).
Content grants have proved to be particularly difficult to obtain in recent years, but these two rejections were particularly disappointing because ArtSound Radio Theatre, under the inspired direction of Bart Meehan and Bill Stephens, has by now produced a large body of original radio theatre. The funding requests were that the CBF and artsACT underwrite a sizable corpus of original radio plays relating to the enormous growth of Canberra after World War II, and particularly immigrant contributions to it.
The two linked projects would have provided stipends for playwrights and actors — just the sorts of "creatives" whom you'd think artsACT would wish to support. Production of the two series now will depend on alternative sourcing of funding; ArtSound members or listeners with leads, or means, are asked to contact the Program Committee (programmingcommittee@artsound.fm). If the two series can go ahead, they will provide ArtSound with prominence in the booming global revival of radio drama.
COTA ACT Expo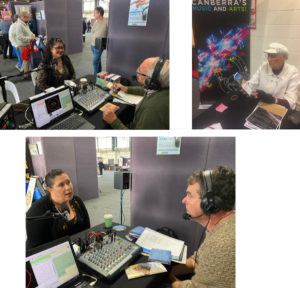 On 26 May, the day before ArtSound radiothon began, COTA ACT hosted its Silver is Gold Seniors Expo at EPIC, and ArtSound was there to broadcast live from the event with interviews and other features.
The COTA Expo filled the Budawang and Coorong Pavilions at EPIC with more than 200 stalls promoting the services and products of community organisations and businesses that contribute to the wellbeing of older residents of the Canberra region. Among activities were giveaways, competitions, live music, and dance and exercise groups. Winter soups, savoury dishes, cakes, sweets, and tea and coffee were on sale, as were local produce and crafts. To a full house, TV chef and nutrition expert Maggie Beer presented her "Food for Thought: The Importance of Seniors Nutrition."
ArtSound's broadcast from the event was part of its ongoing collaboration with COTA. ArtSound is helping to promote various COTA events and activities for Canberra seniors. Those include COTA ACT's next Expo at EPIC, on Wednesday 28 September — its Silver is Gold Veterans and Seniors Expo. The Royal Military College Band will perform.
In part thanks to COTA's financial and programming support, on 4 April the Senior Memories Hour expanded from one hour to two each weekday morning, and adopted the name Senior Memories.
Volunteers – reception committee
ArtSound's studio lobby provides a warm reception to presenters and visitors thanks to a band of volunteer meet-and-greeters. On weekdays, they work with office manager Julie Finch-Scally to make sure that phones are answered, studios are opened and maintained, and much else.
Would you like to join them?
If so, you'll be among the most appreciated of ArtSound volunteers.
Please contact Julie at admin@artsound.fm or by phone at 6295 7444 Tuesday to Thursday between 10 and 2.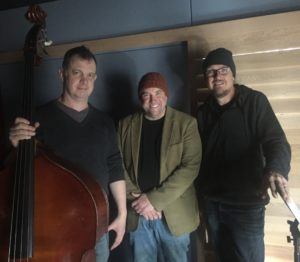 Audio Production Services
Audiobooks, ads, podcasts… All have recently been recorded by ArtSound Audio Production Services in ArtSound's recording studio with its pristine acoustics and fine production values.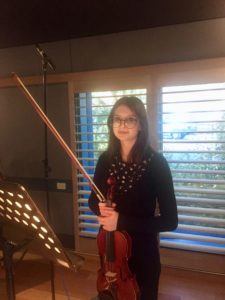 The Wayne Kelly Trio — the extraordinary Canberra-region pianist with his original, long-collaborating bassist Dan O'Loughlin (left) and drummer Mark Sutton (right) — also came to the studio during the last month to record a session of ArtSound's long-running, prize-winning Friday Night Live program.
In the last days of June, Julie Finch-Scally invited to the studios some of the musicians whom Covid prevented from competing last year in the national Young Virtuoso Competition for outstanding talents in classical music performance. Among our visitors was Mila Haydon (right), an extraordinary violinist soon bound for music studies overseas.
Membership
Please encourage your family members and friends to become members of ArtSound. They can do that during Earfest 2022, or at any other time.
To fill in an application and lodge membership fees, please go online to https://artsound.fm/community/become-a-member/ or phone the ArtSound office 6295 7444.
ArtSound FM is an Australian Government Registered Cultural Organisation and a Deductible Gift Recipient under s30BA Income Tax Assessment Act.
Support from the Canberra Southern Cross Club
Do you enjoy dining in pleasant settings? Would you like to do so while also supporting ArtSound FM?
ArtSound is on the list of organisations being assisted by the Canberra Southern Cross Club's Community Rewards program. This means that you can nominate ArtSound to receive 7.5 percent of whatever you spend on food and drink at the various facilities of the Canberra Southern Cross Club. All you have to do is to go to the website of the Canberra Southern Cross Club, and click on "We Love Our Community." There, follow the links to the "Community Rewards" page. Select "Community" and then ArtSound FM from the dropdown list. Enter your membership number, and the Canberra Southern Cross Club will do the rest.
Thanks to the Club for helping us to bring you great radio!
Do you have items that you think could run in this newsletter? If, so, please send them by the 20th day of the month to newsletter@artsound.fm for consideration.
ArtSound FM's mission is to cultivate a vibrant arts community in the ACT region. Your memberships and donations sustain our year-long programming including our artist-centred features and interviews and our many broadcasts of live recordings of concerts in and around Canberra.
Thank you for your generosity — and for being part of ArtSound!
Please go online to artsound.fm to take out membership or make a donation. Or, write to admin@artsound.fm. Or phone (02) 6295 7444 — if you don't reach someone right away, please leave a message and we'll get back to you as soon as possible. Donations of $2 or more are tax deductible.
Please forward this newsletter to any possibly interested friends and family members.
To unsubscribe, please reply to this emailing with "UNSUBSCRIBE" in the subject line.