In this issue:
ArtSound's annual Radiothon: Earfest

ArtSound and COTA & Senior Memories

Radio and Podcasting Workshops

Radio Rookies Holiday Program

Technology Update

Stronger Communities Grant Award

PhotoAccess Open Day

Visitors to the Studios

Muslim Voice Radio

Australian Wind Symphony
ArtSound's annual Radiothon: Earfest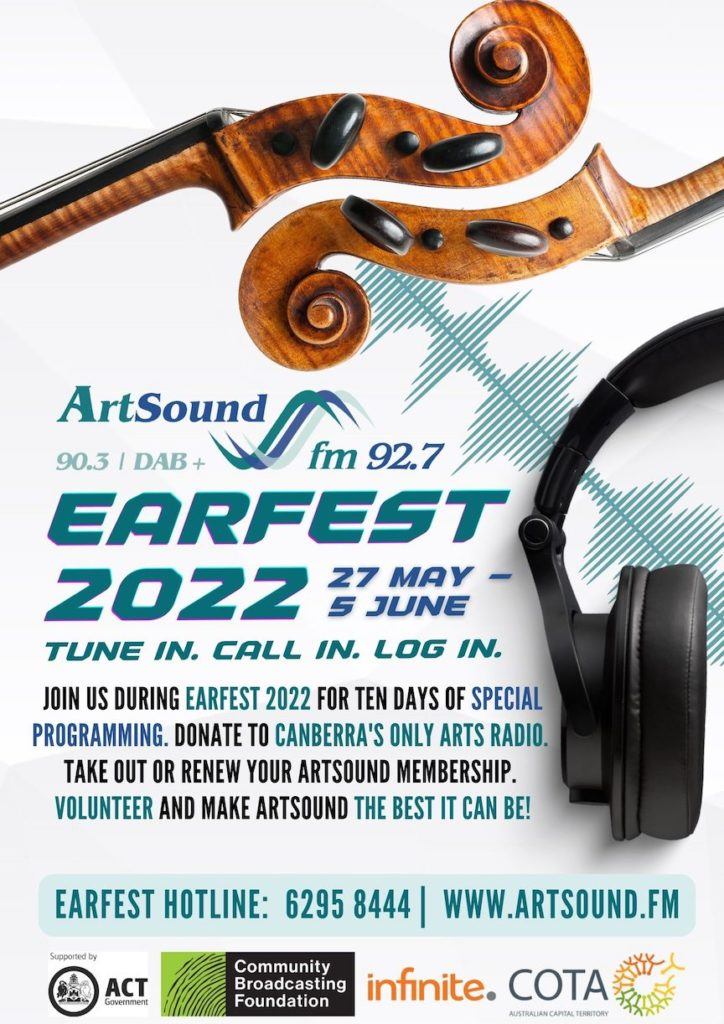 Planning is well under way for ArtSound's annual on-air "radiothon" fundraiser. Our theme this year is "Earfest 2022."
From 27 May to 5 June we'll be asking all listeners to call in or log in to help foot the bills for the kind of radio we all prefer. For ArtSound, those costs run to some $150,000 to $200,000 each year. Our largest expense is transmission — renting space for our transmitter high in the Black Mountain Tower, and powering it, as well as a booster on top of Mt Taylor. That alone currently runs to some $50,000 each year. Those are big-city prices in our midsized town, and we are grateful for members' and listeners' support to make it possible.
ArtSound receives some contributions towards running costs from the ACT Government and the federally funded Community Broadcasting Foundation, but those contributions are intermittent and in any case fall far short of what we need not just for transmission but also for such expenses as electricity in our office and studios that makes the broadcast consoles and other equipment run.
We keep all our expenses as low as possible, including by having no paid staff. ArtSound is an all-volunteer station. Fundraising is particularly urgent now because, due to the Covid pandemic, we couldn't run a radiothon last year, and in 2020 could manage only a limited, "virtual" one.
During Earfest 2022, on-air requests for support will punctuate our broadcast days. All presenters will bring to listeners their regular programs, but they will spend time explaining the need for listener contributions, and thanking all of you who do pitch in.
Experience in community radio demonstrated long ago that when it comes to inviting listeners to help out in this way, persistence does pay off, so we'll hear frequent appeals for support during Earfest 2022. The pay-offs include another year of the kind of alternative radio we all value.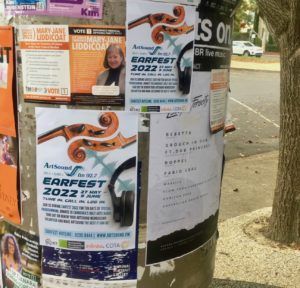 That, and some fabulous prizes! More word on those as the event approaches.
If you can assist in any way — e.g. by helping to answer the phones during the event, or by sticking our announcement poster on your local shopping centre notice board as soon as possible — please call the office at 6295 7444 or write to radiothon@artsound.fm.
Perhaps you can provide or arrange for Earfest prizes? Examples of prizes we were able to award during previous fundraisers include weekend stays at beach or country houses or hotels — even, Canberra accommodations for weekend "staycations." Also given as prizes have been dinners or afternoon teas at local restaurants, cafés, and hotels; at-home musical performances and piano tunings; and theatre and cinema tickets.
That's far from an exclusive list: we're happy to hear from you about prizes you can provide or organise. We plan to raffle a hamper as part of our Radiothon-ending musical social gathering, so we'd be grateful for donations of non-perishable items for that.
Please get in touch with the Radiothon Organising Committee at radiothon@artsound.fm, or via the ArtSound office on 6295 7444.
Thanks in advance to any of you who have supported the station in the past, and will do so this time around.
ArtSound and COTA & Senior Memories

On Thursday May 26, ArtSound will be at COTA ACT's Silver is Gold Seniors Expo for an "outside broadcast." You'll be able to hear that during our Senior Memories program, between 10am and midday.
The broadcast will celebrate our new strategic sponsorship agreement with COTA — Council on the Ageing.
The COTA Expo will feature some 200 stalls and a huge line-up of great entertainment. There'll be vintage cars, robots, colourful dancers, gourmet food, a giant cake, coffee carts, and musicians, with DJ Sue keeping the beats pumping! Special guests will include celebrity cook and seniors nutrition expert Maggie Beer.
There'll even be a dance floor so visitors can strut their stuff.
Doors open at 10am; entry is by gold-coin donation. Organisers say they will keep the event Covid-safe.
The Expo is among various COTA ACT initiatives for Canberra seniors that ArtSound will promote including COTA's current "Silver is Gold" Photographic Competition. COTA will help to promote ArtSound's programs and services to its membership.
In part thanks to COTA's financial and programming support, on 4 April the Senior Memories Hour expanded from one hour to two each weekday morning, and adopted the name Senior Memories.
Radio and Podcasting Workshops
Early in April, ArtSound revived its holiday programs for school-age kids under a new title, Radio Rookies. The first sessions were a great success. A description of some of what took place is below, but first, the burning question that arose during the three days was: Could ArtSound offer radio- and podcasting-production programs for adults?
It certainly could. At the initial Radio Rookies sessions, parents of enrollees said their kids were so enthused by attending that it made them wish that they could take a similar course. And a few more inquiries came in from ArtSound listeners, too.
So, how about it? Would you be interested in such courses, and what would be the best set-up for you? Weekend courses? After-work or evening courses? Please let us know of your interest and preferences at radiorookies@artsound.fm. You can expect to hear soon some on-air announcements about our plans.
ArtSound is already planning a series of courses for visual-arts organisations in using audio recordings for media relations. Those sessions will benefit from some grant funding from artsACT, the territory's arts administrator, which will help us to offer training to six arts organisations that expressed interest.
Radio Rookies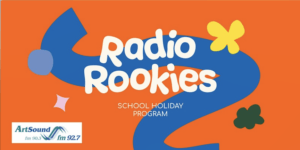 From 11 to 13 April, for the first time in several years, ArtSound held a holiday program for school-age children. It was a roaring success as a proof-of-concept and opportunity to refine the approach for future offerings.
With limited lead-up time, the first Radio Rookies program was lightly attended, but that allowed our organisers to devote a lot of time and attention to the enrollees while also ironing out program kinks. The next course is set for the July school holidays. Sionna Maple ran the three-day Radio Rookies program with enormous energy and insight into the children's interest and engagement. (Sionna is the force behind such events as The Plunge, a well-attended recurring storytelling event in Canberra.)
Parents of all enrollees marveled at how engaged their children were by the Radio Rookes program, and all had good suggestions for increasing awareness of it. (If you can help — e.g. by having announcements placed in newsletters at your kids' schools, please get in touch through radiorookies@artsound.fm.)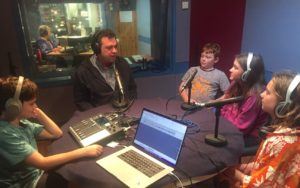 All the four 12-years-olds who took part went away keen to spread the word, and all said they'd love to return for the next Radio Rookies sessions. They recorded glowing testimonials that you'll hear in future promotions. Our plans include the possibility of offering after-school programs or drop-in workshop sessions.
Chris Deacon, ArtSound's Manager of Technology, set up one of our studios as a classroom with computers, and another as a podcasting studio. The latter, very popular with the attendees, boasts a new Røde podcasting console that we were able to acquire thanks to an ACT Community Service Directorate "participation" grant.
One of many delightful moments came when the students interviewed one of our volunteers, a seasoned television scriptwriter, about his career. His account of how he became a scriptwriter and of the typical day of being one clearly captured the interviewers' imaginations. They asked impressively smart questions; one operated the podcasting console to record it all.
Technology Update
ArtSound's volunteer technology staff are examining ways to improve communication between listeners and on-air presenters. Plans are well advanced to trial new software tools that integrate SMS, email, social media and program scheduling with advanced analytics and reporting in real time via a Web interface.
ArtSound's technology development plan includes upgrade of our office computers to Windows 11 (studio computers are more complicated) thanks to an ACT Government grant. This will hopefully provide volunteers with easier-to-use mail processing and audio production capability.
We also hope for a successful outcome of a grant application to refurbish our outside broadcast equipment to simplify that kind of programming.
Funding plans for 2022-24 include sourcing a new transmitter and replacing the studio consoles with more flexible, contemporary units. While the current in-house-designed and -constructed consoles are still performing quite well after 17 years, they are starting to suffer from their age. Spare parts are difficult to obtain, and the consoles are limited in their flexibility to interface with some of our new equipment, as well as to meet increasingly sophisticated programming demands.
By the way, you may be interested to learn a little about how ArtSound's technical department manages to keep all of our programs coming to you, 24 hours a day, 365 days a year. Well, the future is rapidly arriving for broadcasting from ArtSound, as from all modern-day radio stations. We handle much of our programming with RadioBoss, which is an extremely well-designed and yet low-cost automation system that is tailored especially for broadcast organisations like ArtSound: community stations and the like with budgets that place high-cost commercial systems well out of reach. (In any case, those aren't necessarily any better.)
ArtSound is one of at least 25 Australia broadcasters using the system, from Gladstone to Melbourne to Dubbo to Dungog, and a thousand or more others around the world. Originating as a club-DJ playout system, RadioBoss has evolved into a highly dynamic set of tools that allow radio stations to select prerecorded and downloaded program elements and sequence them in broadcast streams en route to transmitters. It syncs those elements among live presentations.
That understates the dynamism of the system. For example, if one of ArtSound's programs happens to end before the next program on our schedule, RadioBoss will instantly select a track of the appropriate length — say, one minute and 37 seconds — from our database of "fill" tracks, and slot it seamlessly into the space, all with approriate fades and other desired features. And it can be operated from on or off site, even via a mobile phone. It's a near miracle!
Among RadioBoss's benefits is that it allows us to drop promotional and sponsorship announcements into any space in our broadcasts, remotely. Over all, the system provides us — and you, the listener — with a fully professionally sounding broadcast at a price we and similar stations can afford.
Certainly for our purposes, RadioBoss is just as proficient as systems that cost many, many times as much.
In coming months and years, as digitisation takes over in radio — takes over the world! — a package like RadioBoss will serve ArtSound in more and more ways. For example, Chris Deacon, Manager of Technology, is devising a pared-down display of key RadioBoss features that our presenters will be able to use in our broadcast studios in preference to ye olde CDs, let alone LPs.
Stronger Communities Grant Award
ArtSound has been honoured with a generous $18,500 grant from the federal Stronger Communities Programme. It will enable us to stage better-sounding community concerts in the Manuka Arts Centre grounds soon and throughout the years ahead. ArtSound's grant is for demountable staging and a public-address system carefully selected for that space and purpose.
Under the grant program, applicants first lodge an expression of interest to local federal members – in ArtSound's case, that is Alicia Payne, Labor member for Canberra. In each electorate, participating federal members may invite applications from among interested organisations. The federal Department of Infrastructure, Transport, Regional Development and Communications then assesses applications. The grants of between $2,500 and $20,000 enable small capital projects that deliver social benefits to local communities.
PhotoAccess Open Day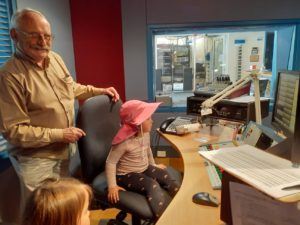 In late March, ArtSound held an "outside broadcast" from the Open Day of PhotoAccess, which is ArtSound's neighbour in the Manuka Arts Centre. PhotoAccess hosted a variety of photography-related activities, as well as tours of their facilities and their current exhibitions.
During our outside broadcast, ArtSound interviewed PhotoAccess featured artists and curators. We also ran tours of our own facilities for anyone interested in how we broadcast. That also provided us with an opportunity to meet and sign up visitors interested in joining our volunteer ranks.
Visitors to the Studios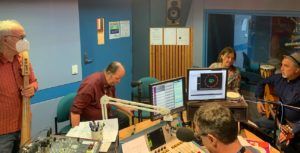 Recent visitors to the broadcast studios have included Pachamama, a Canberra-based Latin American band featuring, among others, ArtSound's own long-time audio services wiz, Tony Hunter. During one of our weekdaily broadcasts of Arts Café, host Tim McNamara somehow managed to shoehorn six members of the band into our broadcast Studio 1, then opened all available mics and cued in the band.
"Sure, it was a bit of a squeeze," Tim reports. "But the band were used to playing in tight spaces and all knew their material and each other very well. So, remarkably, it sounded fresh and vibrant live over the airways. In fact they told me it was a good warmup as they were on their way to the rehearsal studio."
Muslim Voice Radio
ArtSound technical staff recently assisted Muslim Voice Radio to implement their annual temporary Ramadan broadcast during the month of April. This involved setting up a transmitter at Black Mountain and setting up and linking a private studio in Narrabundah to it. You can get some idea of what happens by tuning in to 99.5 MHz. By all accounts, listeners are impressed with the results.
Australian Wind Symphony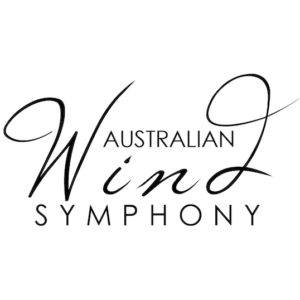 The Canberra-based Australian Wind Symphony's next concert, "Meliora – the spirit of hope," uses the wonderful medium of large-ensemble music to empower story-telling from around the globe, enlightening guests with hope and the simple enjoyment of the good things in life.
The concert features two Australian premieres. Expect to be enthralled by captivating music that combines harmony, rhythm, and sheer volume.
The Australian Wind Symphony's Meliora takes place on Thursday May 19 at 7:30pm at The Q in Queanbeyan.
The Australian Wind Symphony is a sonorous sponsor of ArtSound FM.