A lot is happening at ArtSound. Here's some of it.
ArtSound's 40th Anniversary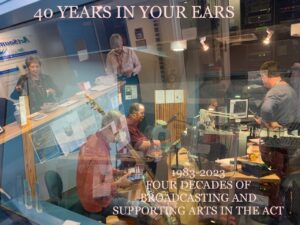 As you'll have been hearing on ArtSound, 2023 is the 40th anniversary of ArtSound broadcasting to the ACT and region. We'll be marking that accomplishment throughout the year, starting with a launch at 5.30pm on Friday March 3 in the ArtSound gardens at the Manuka Arts Centre.
All are welcome. We'll have some presentations, and a little music, and a good catchup.
As for what will follow during 2023, special programming will include audio jewels from the ArtSound vault, dating back to the very days of our broadcasts!
We'll spend the year raising money and offering special programming and entertainment.
Our Summer and Autumn Concerts in the ArtSound gardens continue this Sunday, February 12, at 4pm with jazz from the Con Campbell Trio and Con Campbell's new project, Kavos (see below).
On Friday, February 17, we'll hold the next of our popular '50s to '80s Music Quiz Nights. Go to artsound.fm to purchase tickets.
From Friday February 10 to Sunday February 26, the ArtSound Membathon will encourage all listeners to become members of ArtSound, because having more members helps us to cover our running costs.
More special events and programming are coming.
Meanwhile, visit artsound.fm for details on our Garden Concerts and Trivia Quiz night, and to become a member during ArtSound's 40th anniversary year.
ArtSound Picnic Blanket Concert Series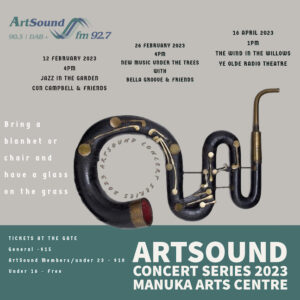 ArtSound's 2023 Concert Series in the gardens of the Manuka Arts Centre continues this month, starting on Sunday, February 12 at 4pm.
Con Campbell and friends will perform on that day. First, the Con Campbell Trio (below, right) performs, with Con Campbell (tenor and soprano saxophones), Chris Pound (double bass), and Nick McBride (drums). This new trio recalls the classic saxophone-led trios of Sonny Rollins and Branford Marsalis. Playing a mix of standards and original compositions, the trio explores the freedom of this format while retaining solid grooves and playful interaction.
All trained at the ANU School of Music, Con, Chris, and Nick have each spent years living and playing overseas (Con in the USA, Chris in Europe, Nick in Asia) before recently returning to Canberra. They bring back a wealth of experience and international credits that put them at the top of their game.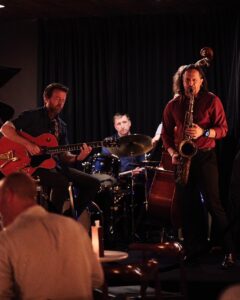 The trio expands in the second set to become Kavos, a new experimental Greek-jazz fusion ensemble. Joining Con Campbell, Chris Pound, and Nick McBride will be Lachlan Coventry (bouzouki) and Llewellyn Osbourne (violin). They blend traditional Greek (rebetika) sounds with jazz in performances of compositions of Con Campbell that draw on his PhD research on the subject.
Outstanding Canberra-based guitarist Lachlan Coventry makes his debut performance on bouzouki, while virtuosic El Osbourne contributes her violin to the ensemble sound.
Then, on Sunday, February 26 at 4pm, we present Bella Groove, with another band to be added.
Led by Canberra Critic's Circle Award winner, Elise Walsh, Bella Groove — Elise Walsh, flute/vocals; Ross Buchanan, keys; Matt Lustri, guitar/vocals; Mark levers, drums; Peter Barta, electric and acoustic bass — have been a fixture on the Canberra music scene for a number of years with their blend of funky jazz and soulful grooves. Their releases include a 2021 EP recorded live at Smith's Alternative, and 2017's City Lights.
In Canberra Jazz, Eric Pozza wrote: "As a regular performer in her home base, Canberra, Elise always brings good cheer to all performances so that her wide jazz family are having a good time."
Bella Groove is "tight, together and highly danceable," Rob Kennedy wrote in City News.
Mark you calendars, too, for Sunday, April 16 at 1pm. That's when the ArtSound Radio Theatre company will recreate their outstanding Wind in the Willows adaptation, in and around the Manuka Arts Centre gardens.
The events are very reasonably priced: $15 general; $10 ArtSound members and under-23s; and free for under 16s.
More information is on the ArtSound website.
Two Stalwarts Retire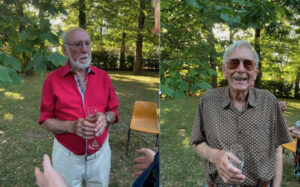 Two longtime contributors at ArtSound, Bill Stephens (left) and Bill Oakes (right) have retired from broadcasting.
At an event at the station in early January, they both bid farewell with eloquent testimonials describing their time at the station as it marks its 40-year history of supporting the arts in and around the ACT.
Bill Oakes has been with the station for almost all of its existence, dating back to the Curtin shops days when ArtSound was Canberra Stereo Public Radio. (See January 2023 newsletter.)
Bill Stephens has long been a prominent theatre critic (and impresario) in Canberra, with a home at ArtSound where he'll be sorely missed. Bill Stephens said that his numerous interviews of performing artists over the years (some 2,500 of them, he estimates) "provided theatre makers with the opportunity to share insights into what goes into creating the performances that enthral and entertain us."
He added: "Of course I will miss the creative outlet ArtSound has provided me — and the company of the many creative and talented people who I get to work with at ArtSound."
(For more of Bill's comments, detailing his history at ArtSound, go to artsound.fm and look under "News.")
ArtSound Committees: Call for Interest
The success of ArtSound FM relies on its members, and right now we are offering you the chance to be directly involved in that success.
We are seeking expressions of interest to join these Committees:
Fundraising/sponsorship/grant – primary role is identifying and pursuing funding opportunities.
Membership enhancement – primary role is developing programs to recruit new members and enhance the experience of existing members, including opportunities for further engagement with ArtSound programming and arts support activities.
Programming – primary role is evaluating new program proposals against licensing requirements and overall ArtSound programming, and scheduling of programs. (The ArtSound form "Proposal for a New Program" is available on our website under "Programming")
Training/skills development – primary role is the development of skills program for on-air staff and the development/oversight of commercial training programs.
Each Committee will have between 3 and 7 members, with a Chair appointed by the ArtSound Board. The Chair will provide the Board with a quarterly update, although any urgent matters can be referred at any time.
Terms of Reference exist for some Committees, but as we are forming new groups and renewing others as part of our overall governance structure, Committee members will have a say in revised documents. To that end Committee members will be asked to review (and redraft) Terms of Reference and refer them to Board for final approval.
Don't hesitate if you think that you lack experience – while it would be wonderful if volunteers could bring relevant skills and/or experience to the committee, first and foremost we want your enthusiasm. The future of ArtSound FM may depend on you!
If you are interested, please write to help@artsound.fm with your details and the Committee that you would like to join. Or call 6295 7444; if you need to leave a message, be assured that we'll get back to you as soon as possible.
We will be delighted to talk with you about it.
— ArtSound Board
Radio Rookies Holiday Programs
ArtSound is planning its next Radio Rookies holiday program for school students. If you have children aged 9-12 (or of other ages; see below), please let us know if you'd like to enroll them for the next school-holiday break.
In fact, let us know, regardless of their age — if enough younger or older kids or youths are interested, we could accommodate them, too.
Please write to admin@artsound.fm or call 6295 7444.
More Listening Options
Via Community Radio Plus, your favourite radio station is now on Apple CarPlay and Android Auto.
If your vehicle is compatible, the Community Radio App allows you to listen in your car with a seamless transition to your phone when you arrive.
More information here.
ArtSound FM's mission is to cultivate a vibrant arts community in the ACT region. Your memberships and donations sustain our year-long programming including our artist-centered features and interviews and our many broadcasts of live recordings of concerts in and around Canberra.
Thank you for being part of ArtSound!
Please go to artsound.fm to take out membership or make a donation. Or, write to admin@artsound.fm. Or phone (02) 6295 7444 — if you don't reach someone right away, please leave a message and we'll get back to you as soon as possible. Donations of $2 or more are tax deductible.
Please forward this newsletter to any possibly interested friends and family members.