A lot is happening at ArtSound. Here's some of it.
Invitation to ArtSound FM's 40th Anniversary Launch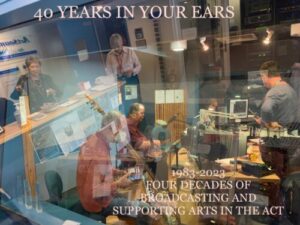 We invite all ArtSound members and supporters to join us at the launch of our 40th Anniversary.
The event takes place from 5.30pm to 6.30pm on Friday March 3 in the gardens of Manuka Arts Centre.
ArtSound FM began broadcasting in 1983 from the Curtin shops. In 2005, with support from the ACT Government and sponsors, we moved to our current location in the Manuka Arts Centre. The studios were formally opened by then-Chief Minister Jon Stanhope.
Over the past 40 years, ArtSound has developed from a small radio station conducting trial broadcasts on weekends to an organisation committed full time to producing, promoting, and preserving the arts in ACT.
Now, with a fully volunteer staff, we broadcast to a regular audience estimated at over 40,000, ranging from high schoolers to seniors. We also collaborate with regional artists, many of whom use our studios to create work and "exhibit it through broadcast." This provides exposure to a large and eager audience, including those within our community who may not be able to attend traditional venues.
We want to continue our role of building Canberra's reputation as a cultural capital and we intend to launch a range of projects this year that will support regional visual, literary, and performing artists, with particular emphasis on the work of early-career artists.
That all advance our primary cause: to engage our community in the arts of the ACT and its region.
We hope you are able to join us and formally launch what we believe will be a banner year for ArtSound and Canberra's cultural community.
More on ArtSound's 40th
At our 40th Anniversary Launch (see above), we'll have some presentations, and a little music, and a good catchup.
The event will initiate our year of projects and events to mark the organisation's accomplishments.
All are welcome.
As for what will follow during 2023, special programming will include audio jewels from the ArtSound vault, dating back to the very first days of our broadcasts!
We'll spend the year raising money and offering special programming and entertainment.
Our Summer and Autumn Concerts in the ArtSound gardens continue on Sunday, March 12, at 4pm (see below).
More special events and programming are coming, including theme weeks focusing on the arts of various countries. (This project is a great opportunity for members and supporters to take part; write to admin@artsound.fm or call 6295 7444 during business hours.)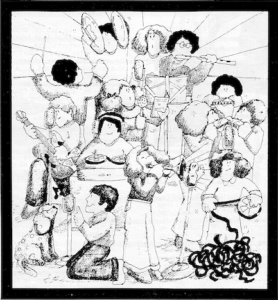 Of course we'll be encouraging you, as listeners, to take out membership, if you haven't already, and to donate to the upkeep of the station, however you can.
Visit artsound.fm for details on our Garden Concerts and to become a member during ArtSound's 40th anniversary year.
The First ArtSound Newsletter — of 1983!
Where did it all start? Read about it in the first two issues of Fine Tuning, the first newsletter of ArtSound's existence, produced in the then-studios at the Curtin Shops.
Go online here to read the publications, and to see what the dream and the vision were, and remain.
We ran some great art, in those days (left).
ArtSound Summer & Autumn Garden Concert Series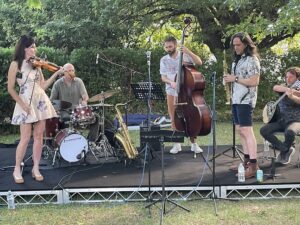 ArtSound's fundraising Summer and Autumn Concert Series started in November with a very well attended appearance by Pachamama and the Raio de Sol samba dancers.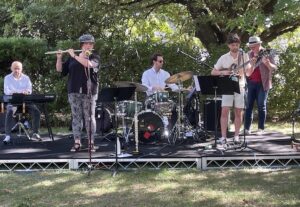 The series continued in early February with the Con Campbell Trio and Kavos (left).
Then, in late February, came Bella Groove (right) sharing the bill with Dr Jawbone and the Restless Souls.
Next, on Sunday March 12 at 4pm, come two more outstanding groups.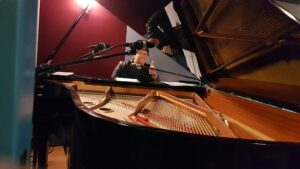 One of the finest pianists ever to grace the national capital leads the Wayne Kelly Trio. And Wayne (left, photo: Gabe Caddy) is fresh from an inspirational trip to New York, Nashville, and other US music hubs. Accompanying him are two more of Canberra's best: bassist Eric Ajaye and drummer Col Hoorweg.
Then, Black Cypress (below; Facebook photo) appears. It boasts ace ArtSound volunteer Charlotte Strong on violin and vocals and Rosie and Sam Harris on guitars and vocals.
Their rich and dark songs have been called "folky celtic blues madness," but are really much more.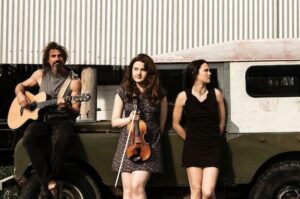 They're "a melodic homage to the savage and beautiful with instinctive vocal harmonies and incisive violin reveries," as the band puts it.
It'll be a killer show, guaranteed!
Don't forget your outdoor blanket or chair and picnic basket!
And, also mark your calendars for Sunday April 16 at 1pm for the last ArtSound Summer/Autumn series event before a winter break. Bring the kids to this one! It'll be ArtSound Radio Theatre's recreation of its outstanding adaptation of Kenneth Grahame's Wind in the Willows.
More on that, next month.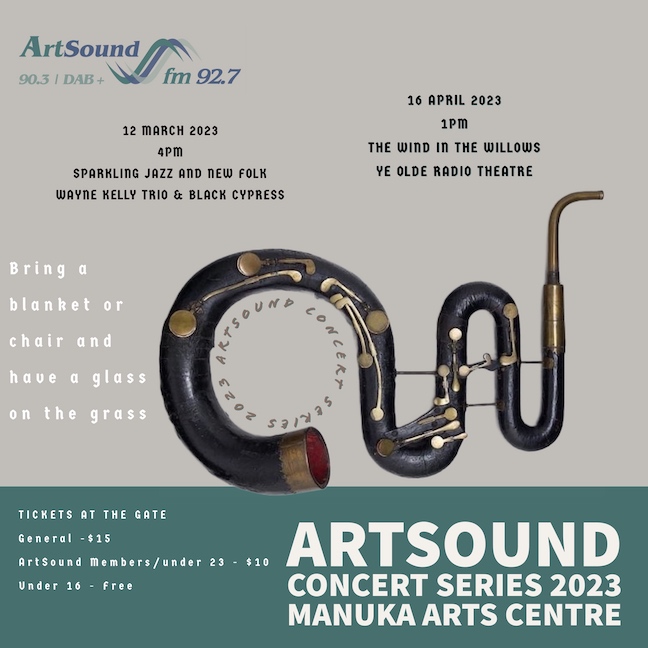 Radio Theatre Training Course
On July 1 and 8, ArtSound will offer a course of workshops at ArtSound's studios in Manuka using the radio broadcasting facilities to explore the demands of recording and broadcasting for the actor.
Participants will learn the concepts of radio presentations by accessing the full range of their voices to present radio drama, monologues, literature, and poetry.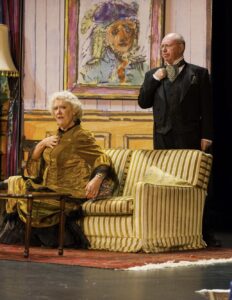 At the end of the course a selection of suitable work will be broadcast on ArtSound Radio Theatre.
The course will run over two five-hour days: Saturday July 1 and Saturday July 8.
Leading the course will be highly accomplished actor and director Tony Turner (below), the former head of drama at the ANU, and current artistic director of Papermoon Theatre Group.
Coordinating the course will be Bart Meehan, the producer of ArtSound Radio Theatre, which is heard every Sunday at 4pm on ArtSound, repeated Mondays at 10pm.
The course will include workshops on the full range of radio drama techniques and requirements, including how to use microphones; how to control pacing, volume, articulation, and intention in recording; how to develop character voices and accents; and much more. The course fee is $300.
For full details, including a course prospectus, interested participants should write to admin@artsound.fm or bart.meehan@gmail.com, or call 6295 7444.
Youth Grant for Free Audio Course
ArtSound gratefully acknowledges a grant of $2,000 from ACT Deputy Chief Minister Yvette Berry, whose ministries include Education and Youth Affairs.
The award, under the 2023 ACT Youth Week Grant Program, is to assist ArtSound in running a three-day session of Radio Rookies for Youths. The grant program provides funding to individuals, schools, and community organisations to enable them to develop projects, activities, and events that promote inclusion and celebrate diversity of young Canberrans in our community during Youth Week.
ArtSound's application was for assistance in running a course similar to its successful Radio Rookies for kids aged 9 to 12, but this time for an older demographic — 13 to 18 — with participants chosen to participate free of charge so they might optimize their potential to share their worldviews with the ACT community, at large.
As ArtSound said in its application, the benefits of such training extend well beyond showing youths how to create audio content for podcasts and community radio broadcasts; they also help participants to gain enormously in self esteem and confidence, and readiness to share their perspectives in ways that contribute to the vibrancy of their larger communities.
Youths who might like to participate, or their parents or carers, should write to radiorookies@artsound.fm. Dates have yet to be set, but timing is not tied to ACT Youth Week; the course will likely take place around mid-2023.
Department Visit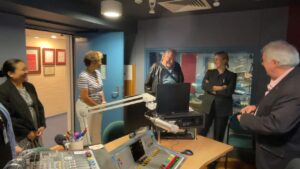 Late in January, several representatives of the Department of Infrastructure, Transport, Regional Development, Communications and the Arts visited ArtSound to familiarize themselves with station operations.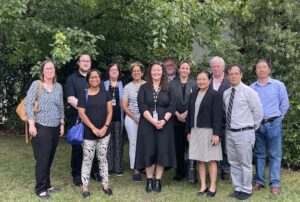 The delegation, led by Holly Friedlander Liddicoat, the Assistant Director for Media Programs/Media Industry & Sustainability, toured the ArtSound facilities and asked many questions about how we do what we do.
The visitors' responsibilities include overseeing federal government allocations to the Community Broadcasting Foundation, which then allocates the funds to community stations around the country.
Become an ArtSound Volunteer?
ArtSound runs on volunteers' contributions. Virtually everything we do is done by volunteers, and we're always eager to welcome new members to the team.
You can contribute to any of the many activities that create a vibrant community broadcaster. It's not just about presenting on air, although that's an area where we welcome expressions of interest. We offer occasional training courses, and also ongoing mentoring.
Here are some other roles we'd like to have you, our listeners and supporters, take on.
Are you an experienced sales guru — a fundraiser or client account manager with an entrepreneurial outlook and interest in community radio? ArtSound is looking for volunteers who can assist with solid, practical experience, and a bit of flexibility within their weekly schedule.
On-Air Presenter: Do you have a decent voice for radio, and good knowledge of any of the areas of ArtSound broadcasting — in music in general, or in Canberra region arts activities, in particular?
Membership management: We hope to install a new membership database soon. If you're knowledgeable about those, or similar databases, and can play a key role in running ours…
Sponsorship management: Community radio stations can't talk on-air about "advertising," but that's what is meant by "sponsorship." But it's a broad category that includes not just finding businesses that would like to publicise their services very affordably to our listeners, but also creating collaborations with other arts and civic organisations.
Supporter relations: We love listeners and other supporters, but we're a small band of volunteers so would welcome your assistance to convey that sentiment to our supporters in an ongoing, consistent way.
Communications Support Team: This includes working on our social media, newsletters, press relations, branding… the whole kit and caboodle. So we'd love to hear from you if you have experience in communications — newspapers, Web design, social media… — and would like to join a small ArtSound communications team.
More Listening Options
Via Community Radio Plus, your favourite radio station is now on Apple CarPlay and Android Auto.
If your vehicle is compatible, the Community Radio App allows you to listen in your car with a seamless transition to your phone when you arrive.
More information here.
ArtSound FM's mission is to cultivate a vibrant arts community in the ACT region. Your memberships and donations sustain our year-long programming including our artist-centered features and interviews and our many broadcasts of live recordings of concerts in and around Canberra.
Thank you for being part of ArtSound!
Please go online to artsound.fm to take out membership or make a donation. Or, write to admin@artsound.fm. Or phone (02) 6295 7444 — if you don't reach someone right away, please leave a message and we'll get back to you as soon as possible. Donations of $2 or more are tax deductible.
Please tell any possibly interested friends and family members about this newsletter, and about ArtSound.
And please write to admin@artsound.fm with any items you'd suggest we run in this newsletter.