A lot is happening at ArtSound. Here's some of it.
ArtSound Fundraiser Quiz Night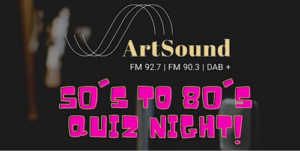 The latest of ArtSound's perennially popular musical quiz night fundraisers is upon us.
It takes place this Thursday, May 4, at the Eastlake Football Club in Kingston.
You can attend as a team of eight to ten people, or as a smaller group, or individual. If you're a smaller group, couple, or individual, the event organisers will place you on a team table where you'll meet fellow music-quiz aficionados.
As usual, Brian Leonard, longtime ArtSound presenter and volunteer, will serve as quizmaster. He'll test your knowledge of the popular hits of the 1950s, '60s, '70s, and '80s.
The Eastlake club will lay on a special menu so eating won't distract you from the friendlyfierce competition. Or, come early and eat in the bistro.
Cash bar.
Be sure to leave a little time to find street parking!
Doors open at 6pm, and the quiz gets under way at 7pm.
Tickets are on sale online, via Eventbrite [https://bit.ly/artsound_trivia] — $25 a head, plus modest booking fee – or, at the door, if you don't dally too long getting there!
To add to the fun, there'll be a raffle with great prizes.
All proceeds will help ArtSound to recover from the COVID years and continue to serve as Canberra's leading arts and music community radio station.
Annual General Meeting
The date of Artsound Incorporated's 2023 Annual General Meeting has been set for Tuesday, June 27. More details will be provided in next month's newsletter, and via emailings and other notifications.
Radio, Explained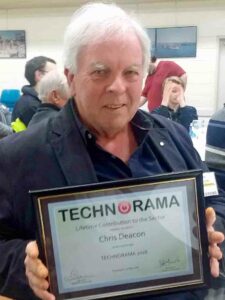 "How Exactly Does Radio Work?" is a presentation you won't want to miss if you've always wondered: How, exactly, does radio work?
How is sound conveyed from recordings and performances to your ears?
Learn also about cutting edge developments in radio and what might be in store in the future.
Learn how digital networks and other trends in the broadcasting landscape are taking shape.
To most of us, the technicalities of how radio works are a mystery.
How do all those tiny waves zip about in every direction and yet arrive in sharp, clear sound at a radio or other listening device.
At this ArtSound Fundraiser Presentation, ArtSound's technical guru (and life honoree for his service to community radio technology; see photo above), Chris Deacon will explain it all for us, and show us the equipment that makes it happen.
He'll tell us about:
the history of radio
the basics of radio technology
AM vs FM, and now newer formats such as DAB+
the numerous pieces of equipment involved
and much more.
When: Saturday, May 27, 2023, from 11am to 1pm
How much?: $15 general; $25 for family groups of 2+ people.
Tickets: book at 6295 7444 or admin@artsound.fm, and pay at the door (cash or card)
Where: At the ArtSound Studios at the Manuka Arts Centre, right next to the Manuka Swimming Pool and Manuka Oval.
Early-Morning Program Returns
Here's a reminder that ArtStarter, Canberra's most happening early-morning radio show, is now on air, from 7-9am each weekday. It is providing news about the arts and other community activities in and around Canberra, in keeping with ArtSound's role as Canberra's arts and music community radio station.
The program's coordinator, Neil Mansfield, is still looking for support personnel – volunteers to gather up arts news, to pop on air with weather and traffic updates… etc. Training provided. Please write to artstarter@artsound.fm.
Josh Feinberg Concert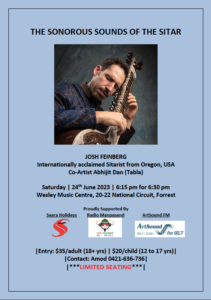 An acclaimed virtuoso sitar player from…Oregon?
That's Josh Feinberg, and he'll be appearing in Canberra on Saturday 24 June, at 6:30pm, at the Wesley Music Centre in Forrest (20-22 National Circuit).
ArtSound will be along to provide sound production for the event, and to record it.
Josh Feinberg (with tabla accompaniment from rising star, Abijit Dan) is hailed as one of the most original and dynamic sitar maestros of his generation in Hindustani classical music. Originally a jazz bass prodigy in New York, in his teens he shifted his focus to sitar while studying at the New England Conservatory.
Through extensive training with Indian masters for over 20 years, he has become one of the first non-Indian musicians to rise to prominence in India. He has taught at many American institutions, currently at Lewis and Clark College and Reed College in Portland, Oregon. He splits his time between Oregon and New York City, and travels the world to perform.
More Early ArtSound Newsletters
A couple of months ago, we posted on the ArtSound website some of the first ArtSound newsletters, from way back in 1983. (To read those earliest editions, go online here.)
Now here are three more editions of Fine Tunings, from those early days.
ArtSound Press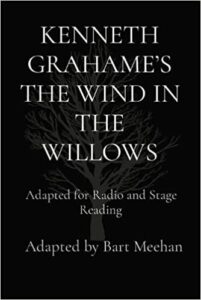 In another of the activities associated with ArtSound's celebration of its 40th year in operation, board member Bart Meehan has set up an ArtSound Press as a fundraising initiative.
The Press has now published the radio and stage script of Kenneth Grahame's The Wind in the Willows, which ArtSound Radio Theatre used as the basis for its serialisation, which was broadcast by ArtSound FM in 2022.
The script captures all the charm and excitement of the original novel and is perfect for groups wanting to do radio or podcast productions, as well as stage readings.
The book is available at Amazon.com.au for $22. All profits go to supporting ArtSound FM as a fully volunteer-operated organisation based in Canberra and dedicated to producing and promoting arts.
ArtSound FM's mission is to cultivate a vibrant arts community in the ACT region. Your memberships and donations sustain our year-long programming including our artist-centered features and interviews and our many broadcasts of live recordings of concerts in and around Canberra.
Thank you for being part of ArtSound!
Please go online to artsound.fm to take out membership or make a donation. Or, write to admin@artsound.fm. Or phone (02) 6295 7444 — if you don't reach someone right away, please leave a message and we'll get back to you as soon as possible. Donations of $2 or more are tax deductible.
Please mention this newsletter — and ArtSound, in general — to any possibly interested friends and family members.