A lot is happening at ArtSound. Here's some of it.
2022 Membership renewal
Most ArtSound memberships are now due, so all listeners are encouraged to renew, or to sign up.
In case you missed this news: at a recent Special General Meeting of ArtSound, ArtSound's membership altered slightly the terms of membership. Now, your membership year starts on the day you subscribed or last renewed, and goes for one or two years from that date, depending on the membership type you chose. That replaces the earlier model, which required renewal on 1 November each year (or the year after, in the case of two-year memberships).
That should simplify membership. So please subscribe or renew!
[Please note: if you've taken out ArtSound membership during the last month or so, or during the Radiothon that ran from May 27 to June 5, or have a two-year membership that extends to 1 November 2023, you don't need to do anything, now; you'll receive a reminder when the time comes to renew.]
For more information, go here on our website, or contact the office at admin@artsound.fm or 6295 7444.
More on Membership
Currently, membership dues make up only 8 percent of ArtSound's annual income. That is far less than a decade ago, so we'd like to increase that figure to about 20 percent.
Can you help ArtSound to get there?
You can do that by taking up or renewing membership, yourself, but also by encouraging friends, family members, and acquaintances to join up.
Go here on our website, or contact the office at admin@artsound.fm or 6295 7444.
Membership dues aren't tax deductible, but donations of $2 or more certainly are. If you'd also like to donate, you can do that by calling the same number, or going online, here.
Fundraiser Concert, Saturday 12 November
Coming real soon, on Saturday 12 November from 1-4pm: Pachamama and the Raio de Sol samba band and dancers will take the stage at a fundraiser in the ArtSound gardens. We'll roll out a new outdoor stage and PA system, thanks to a federal Stronger Communities grant.
There'll be street food from El Salvador, Chile, and Argentina. And coffee. Alcoholic beverages? BYO.
Bring along a picnic rug or camping chair. Or get up and dance!
Entry by paper-money donation (or credit card equivalent) on the day, or purchase in advance on Eventbrite — look for ArtSound "Spring Latin Fiesta Concierto."
All donations go to ArtSound.
The Spring Latin Fiesta fundraiser — Saturday November 12, from 1 to 4pm, at ArtSound — on the shady grounds of the Manuka Arts Centre.
Interns at ArtSound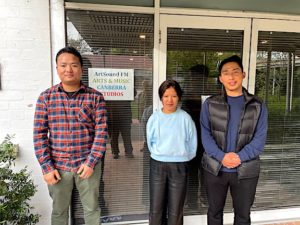 ArtSound has been fortunate to have two sets of interns at the station during the last few months.
Three postgraduate business students from the University of Canberra have worked on a project to review ArtSound's business operations and to recommend ways to enhance them.All three are from Bhutan: Pema Wangchuk, Sonam Pelden, and Sonam Rinchen (pictured). After degrees in civil engineering in Bhutan or India, they are enrolled at the University of Canberra for postgraduate studies in business management. Pema, Sonam, and Sonam prepared and delivered a report of recommendations to the ArtSound Board relating to possible improvements and innovations in ArtSound's reach into its listening community.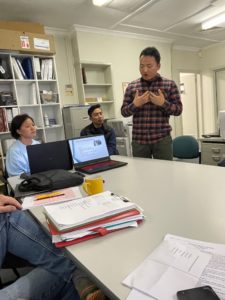 A huge thank you to them. They worked on the project with several ArtSound volunteers, including board members Chris Deacon, Bart Meehan, Songfa Liu, and Peter Monaghan, and office manager Julie Finch-Scally.
Throughout the UC semester that just ended, ArtSound also had two outstanding interns assisting ArtSound on a poetry project.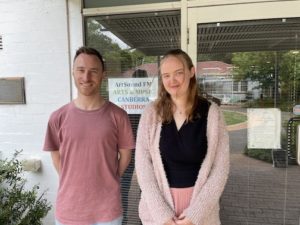 Thanks to Anneka Grant and Peter Searles. They catalogued and began to digitise the vast ArtSound archive of recordings of poetry readings in Canberra going back to the 1980s and a few to the 1970s. They also helped to make and edit fresh poetry recordings that will form the basis for future ArtSound programs relating to poetry in and around the ACT.
The students have been working on the project with ArtSound's Peter Monaghan and prize-winning poet Kimberly K. Williams, a University of Canberra instructor and PhD candidate. Peter Searles will continue as a volunteer, and we'll aim to take on more interns during coming UC semesters.
Caroline Cooper in Quadrant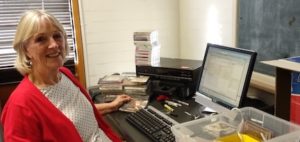 Speaking of poetry, Caroline Cooper, who presents Classical Mood on Mondays (2-4pm), recently received notification that the literary and opinions quarterly Quadrant has accepted her poem "The Fir" for publication.
Quadrant has long lead times, as periodicals commonly do, so Caroline's poem won't appear until 2024. (We'll remind you.)
ArtSound's Rapidly Growing Listener Base
ArtSound has recently learned that its listenership has been growing markedly, and that we can now confidently lay claim to around 50,000 listeners in our broadcast area within the ACT and well beyond it into surrounding New South Wales. It also appears that we have so many teenaged and 20-something listeners that it puts paid to the oft-repeated claim that "young people don't listen to the radio, anymore."
The numbers will be particularly useful to ArtSound as we seek to increase our "sponsorships" (advertisements, in everyday usage), because we are now able to promise sponsors a much higher audience than in the past.
If you know any businesses or organisations — or individuals, for that matter — that would like to pitch their services on ArtSound's airwaves, please have them call Julie Finch-Scally in the ArtSound office at 6295-7444 or write to her at admin@artsound.fm. Potential supporters can also find a host of information, including our rate sheet of very reasonably priced sponsorship packages, online.
According to a recently completed survey that the CBAA – the Community Broadcasting Association of Australia — commissioned from McNair yellowSquares, nationally community radio reaches over 5.1 million Australians every week. Some 25% of all radio listeners tune in to community radio. And listeners spend an average 15 hours listening to community radio each week. In the ACT, well over half of radio listeners tune in to noncommercial radio of various kinds.
McNair yellowSquares is an accredited Australian market and social research organisation with a long history of media research dating back to the first radio audience surveys held in the 1930s.
ArtSound's Audio Course for Visual Arts Organisations
On November 19 and 26, ArtSound will hold a free course for personnel of ACT visual arts organisations on how to make sound recordings to broadcast from their websites. We'll also be training enrollees in how to contribute audio reports to ArtSound from their creative fields; for example, how to file reports from the field about exhibitions around town, or the organisations' own activities.
A few places are still available on the course. Numbers will be strictly limited to ensure that all attendees are given detailed guidance and attention. If you're a manager of a visual-arts organisation and have personnel who'd like to take part, please write to admin@artsound.fm. Or call 6295 7444.
The course will run on the two Saturdays, 19 and 26 November, from 11am to 3pm, with a "listening party" during the evening of Wednesday 30 November where we'll listen to examples of effective audio recordings that attendees have made during the course.
Want to Join the ArtSound Radio Theatre Team?
Over the last two years ArtSound Radio Theatre has broadcast original and classic radio drama written and performed by some of the best artists in Canberra. Bart Meehan and his colleagues are currently planning their 2023 schedule and would love to hear from members and other ArtSound listeners who have written pieces they think might be suitable for the program, or who want to audition to perform.
ArtSound Radio Theatre produces original drama up 25 minutes long or classic works that are in the public domain. It can produce longer pieces provided they can be easily broadcast in two or three parts.
If you are interested in being involved, contact Bart Meehan (bart.meehan@gmail.com) for more details.
Recent Recordings in ArtSound Studios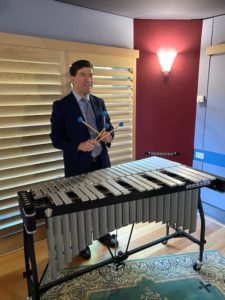 Among recent recordings at ArtSound that you'll be able to hear soon on Friday Night Live (Fridays 8pm) was one by vibraphonist (and pianist) James Groves. He and his quartet were in the studios in early October.
To be involved in Friday Night Live, write to host Chris Deacon at FNL@artsound.fm
Community Radio Plus App
To catch ArtSound on your mobile device, you can now download and tune in with the Community Radio Plus app developed by the CBAA (Community Broadcasting Association of Australia).
It provides access to all of Australia's community radio stations.
You can download Community Radio Plus from the App Store or Google Play.
Do you have items that you think could run in this newsletter? If, so, please send them by the 20th day of the month to newsletter@artsound.fm for consideration.
ArtSound FM's mission is to cultivate a vibrant arts community in the ACT region. Your memberships and donations sustain our year-long programming including our artist-centered features and interviews and our many broadcasts of live recordings of concerts in and around Canberra.
Thank you for being part of ArtSound!
Please go online to artsound.fm to take out membership or make a donation. Or, write to admin@artsound.fm. Or phone (02) 6295 7444 — if you don't reach someone right away, please leave a message and we'll get back to you as soon as possible. Donations of $2 or more are tax deductible.