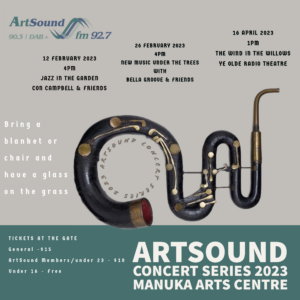 ArtSound's Summer/Autumn Concert Series recommences this Sunday, 12 February, at 4pm in ArtSound's gardens at the Manuka Arts Centre.
Con Campbell and friends appear.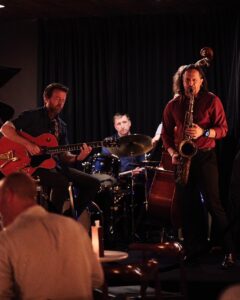 Con Campbell and friends will perform on that day. First, the Con Campbell Trio (below, right) performs, with Con Campbell (tenor and soprano saxophones), Chris Pound (double bass), and Nick McBride (drums). This new trio recalls the classic saxophone-led trios of Sonny Rollins and Branford Marsalis. Playing a mix of standards and original compositions, the trio explores the freedom of this format while retaining solid grooves and playful interaction.
All trained at the ANU School of Music, Con, Chris, and Nick have each spent years living and playing overseas (Con in the USA, Chris in Europe, Nick in Asia) before recently returning to Canberra. They bring back a wealth of experience and international credits that put them at the top of their game.
The trio expands in the second set to become Kavos, a new experimental Greek-jazz fusion ensemble. Joining Con Campbell, Chris Pound, and Nick McBride will be Lachlan Coventry (bouzouki) and Llewellyn Osbourne (violin). They blend traditional Greek (rebetika) sounds with jazz in performances of compositions of Con Campbell that draw on his PhD research on the subject.
Outstanding Canberra-based guitarist Lachlan Coventry makes his debut performance on bouzouki, while virtuosic El Osbourne contributes her violin to the ensemble sound.