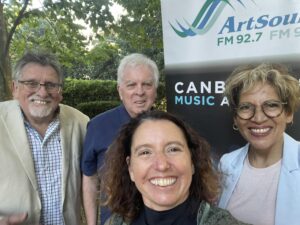 On Friday 3 March 2023, ArtSound launched its year of 40th Anniversary celebrations and special programming with a ceremony in the ArtSound gardens at the Manuka Arts Centre.
Graciously declaring the beginning of the year's events for us was Rebecca Vassarotti, (Greens, Member for Kurrajong), ACT Minister for the Environment, Heritage, Homelessness and Housing Services, and Sustainable Building and Construction (who also kindly sent us the "selfie" at left).
The Minister (centre) is with ArtSound Board members and presenters Bart Meehan, Chris Deacon, and Betsy Dixon (President).
Special thanks to James Monro, a finalist in the 2022 ACT Young Virtuoso finals, hosted by ArtSound. He provided musical interludes, at the event.
Here's how Chris Deacon described the history of the station, so far.
Remarks by Chris Deacon OAM
ArtSound Manager Technology on ArtSound's 40th Anniversary, 3 March 2023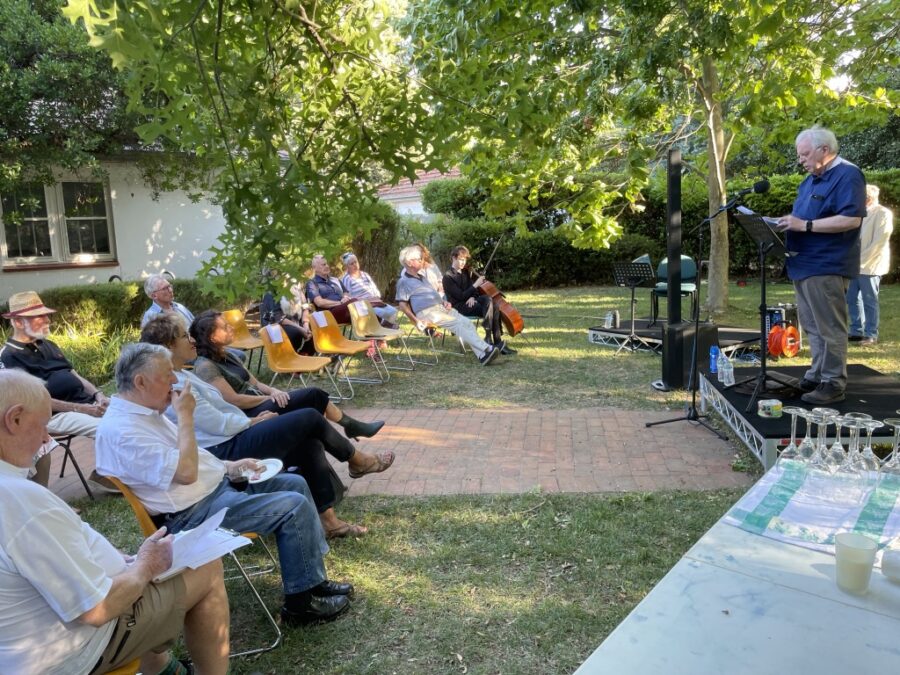 In ArtSound's 40th anniversary year, it's my pleasure as one if the co-founders to place a lens on some of our achievements.
The award-winning ArtSound has come a long way since it kicked off its 17-year bid for a permanent FM licence with test broadcasts and recording services in the early 1980s. That was at the former Curtin Childrens' Library. Known then as Canberra Stereo Public Radio (when stereo FM was rare) a small but passionate group of musicians and artists stayed the long course for the Canberra community and were awarded a permanent licence in 2000.
Radio had become formulaic, lowest common denominator, with few opportunities for quality and in-depth local arts expression, so we set out to change this. One of Canberra's major strengths is its cultural diversity and we felt that should be reflected in its radio stations. We also developed a unique program format aimed at devotees of quality specialist music where there was a distinct void. It was a radio station funded by those who loved it most. We even built our own microphones!
An FM station dedicated to listeners with an interest in, or appreciation of these matters, was a good idea in 1983, and still is! The coming together over many years of the cohort of arts and music interests that now comprise ArtSound is itself a valid indication of community need. Today I believe those listeners would remain poorly served, despite a large increase in the number of media feeding our ears, were it not for ArtSound's efforts.
We've broadcast non-stop since then with transmission sites at Black Mountain and Mt Taylor, and today provide quality broadcasting on FM and DAB+ and online global streams plus recording and audio production services for members and other participants in Canberra's arts and cultural scene.
With the assistance of the ACT Government and other community sponsors, ArtSound went the extra mile and moved to bigger and better premises here at the former jazz campus of the School of Music in 2005.
Notwithstanding its small beginnings, ArtSound has developed a strong role in promotion and projection of local arts in and around Canberra, both on air and through off-site recording and broadcast.
We've made significant contributions to the success of a range of professional and amateur musical, artistic events and careers through our contributions to audience development.
Indeed, there are writers, actors and musicians of national calibre in Canberra, yet before ArtSound commenced its service, there was no guarantee that the electronic media would provide more than token opportunities for the development of this talent.
We were among the first radio stations in Australia to adopt new digital "tapeless" recording technology, and Canberra musicians started to be heard on radio stations throughout Australia. We reintroduced radio drama in the 1980s and that ground-breaking work continues today.
The station provides opportunities for people who would not easily find space elsewhere in the radio landscape. We promote the art of listening and the art of presentation…
The medium of radio has some unique qualities that are ripe for artistic enquiry. It's been described variously as the "theatre of the mind," an invisible arts centre — where our public artworks reside in a virtual gallery for the audio arts. Radio is far from dead. It has enjoyed a resurgence during and since Covid as listeners confined to their homes realised the value of a community companion in their lives. Like many stations worldwide, we kept ArtSound on air throughout — also from our homes — thanks to some savvy technology!
In feedback from our loyal listeners, we are often told that ArtSound remains their "station of choice" or "ArtSound is the best radio station in Canberra," "Love the Vibe," and so on. Some are enthralled by what we do, others are more selective in their listening choice! It's those values that keep an estimated 40-50,000 listeners tuned in to ArtSound each week.
According to a 2022 McNair survey, community radio reaches over 5 million Australians every week. In fact, 30% of all radio listeners listen to community radio.
We are pleased our own concept of independent local media has been embraced so well. This has not been without its financial challenges, but the feedback is generally positive on our successes to date. After 40 years of existence, and 23 years of full-time operations, there is still so much more potential to be tapped and we are up for that should the resources available to ArtSound be increased.
We brought a totally new type of radio to Canberra, and it has been done largely by volunteers. Over the past four decades, hundreds of dedicated volunteers from within and outside the music and arts community have come forward to offer help and be trained in the art of radio presentation. We are pleased to report that many of these have found professional careers in other media or the arts industry.
ArtSound discharges its role, in part, through its continuing creative partnership with writers, performers, musicians and producers across the region. Some 500 guest segments and over 300 hours of live locally recorded concerts have been presented over the past year alone. Many of our programs draw attention to the amount, variety and quality of local artistic achievement. With volunteer resources, ArtSound continues to develop new content and to explore artistic and cultural forms that might otherwise go unrecognised, by multiplying audiences.
Radio is also a most powerful means by which people can share a common experience, learn about their culture, and learn about themselves.
But wait — ArtSound is much more than just radio!
First, it has become a focal point for production and recording services to the arts community.
There are many examples of how ArtSound provides a springboard for artists and musicians in Canberra; how we act as a conduit for information about the arts and cultural activity. Our physical location and social reach enable us to function as a cultural "hub," connecting and enabling productive relationships between artists, organisations and audiences.
Second, ArtSound has amassed arguably one of the largest recorded music and oral history collections in the ACT.
In particular, the work of the late Anne Edgeworth and the late Gillian Alcock, should not pass without mention. We conducted a Centenary of Canberra Sound Preservation Project to identify and catalog some of the best of our culturally significant items, many of which were restored for broadcast as part of the 2013 celebrations.
Third, ArtSound helps others preserve the past.
Numerous individuals, organisations and government agencies and national institutions have hired our facilities for their own work, including preservation of audio material of national importance. The speeches of Prime Minister Menzies, oral histories of Vietnam Vets, and even ABC archival recordings of famous events, have all passed through ArtSound's digital preservation studio. Many generations of recording technology and formats have been employed for this work.
Since 1983, literally tens of thousands of individual items of the nation's spoken-word heritage have been carefully saved for all Australians to appreciate. Clients have included the National Archives, the National Library, the Australian War Memorial, and Old Parliament House.
ArtSound's audio services continue to be in demand, with bookings for CD recording, voice-overs and nationally and internationally significant production work.
Among clients, we've contributed to Hollywood movies, Disney studios and SBS TV, supported national election coverage for the UK press and the community radio network and produced voiceovers for the local fire brigade.
Recent work includes audio books for internationally renowned publishing houses, local poets and authors, and a host of nationally significant podcast recordings. We've also provided media training for artists and engineers and radio rookies courses for teenagers.
ArtSound pioneered the successful Senior Memories internet streaming service for seniors, with entertainment and information targeted specifically at the aged, particularly those who may be socially isolated. The service was launched in 2013 and extended to 11 aged care facilities and retirement homes. Many seniors were trained to present their own programs.
A few years ago, we closed the streaming service in favour of expanding the content to weekday mornings on ArtSound FM. By all accounts it has become a popular offering.
Radio is such an empowering way for everyone to fully participate in society.
We have encouraged both seniors and young people to find creative ways to use the radio medium, to express themselves and to share their talent.
In this regard, we launched the Fine Music Network Young Virtuoso of the Year (ACT) Competition in 2013, and the national prize has been awarded on several occasions since then to the ACT entrant.
Canberra music performances and special content is often showcased beyond the ACT through the Community Radio Network of 450 non-profit radio stations.
Having made great strides in recent years, ArtSound faces the undeniable financial challenges experienced, for the most part, by many arts and cultural organisations. And like most non-profit organisations, ArtSound is too frequently diverted from its principal goals in order to spend valuable time and effort on essential fundraising in order to survive.
Community arts stations like ArtSound FM are hindered by restrictions on their range of funding sources which puts them at a disadvantage compared to some other broadcasters such as those in the multicultural, religious, indigenous, print handicapped and educational sectors, where it is possible to access larger pools of territory, state or federally supported dollars.
While the level of public and private spending on community radio has risen markedly since we were established, the costs of our "core" operations have risen dramatically in recent years and ArtSound realises it cannot accomplish its work alone.
As an arts broadcaster, the success of our work will depend on the contributions of the members, individuals and organisations most directly involved in Canberra's artistic and cultural life, represented by many of you here today.
Whatever your involvement in the arts, however specialised or general, whether as an artist, a business owner or a concerned listener, ArtSound always welcomes your views. Indeed, the success of efforts to strengthen ArtSound's role in Canberra's cultural life depends on the variety and breadth of measures which can be mobilised for that purpose — so we look forward to your comments and suggestions.
Today ArtSound is an award-winning 40-year-old cultural resource which exists to enlighten and enrich the quality of life for anyone within the listening area that shares our ideals. By tapping new and little-heard content, we have become a significant member of the national community broadcasting system, and arguably, we have enhanced and strengthened the arts in Canberra.
We must ensure that this facility and its unique use of scarce broadcast spectrum is given the maximum opportunity to innovate, to grow with its arts constituency, and to keep pace with the best that Canberra has to offer.
ArtSound's role as a key potential driver of productivity in the arts, and a genuine discovery channel of arts and music, needs to be acknowledged more widely. And everyone should do a radio program at least once in their life!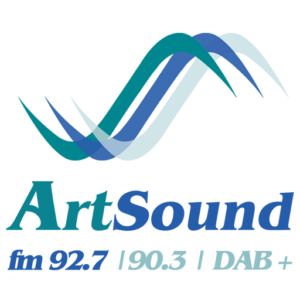 I wish to extend a special "thank you" to the sponsors and individuals that supported us in so many ways over the past 40 years. There are too many to mention them all, however I would like to place on record the contributions of the following organisations that have got us to this point:
The ACT Government through artsACT, Infinite Networks, the Canberra Labor Club, the Canberra Southern Cross Club, Rotary International (Belconnen), ACTEW Corporation and the Community Broadcasting Foundation.
My thanks also to Alicia Payne MP, the Federal Member for Canberra, whose donated stage and PA I am using, as part of the Australian Government's Stronger Communities program.
I can announce today that we have also been successful in securing funding under the ACT Government's Technology Upgrade Fund towards upgrade of ArtSound's outside broadcasting equipment. Thanks to Emma Davidson, Assistant Minister for Families and Community Services, and the ACT Community Services Directorate.
Finally, it's important to acknowledge co-founders: Terry McGee, the late Gillian Alcock, Marilyn Chalkley, Michael Poole
as well as some long-timers and life members:
Bill Oakes, Clinton White, Professor Deane Terrell AO, Brian Leonard, Annabel Wheeler, the late Anne Edgeworth, the late Phil Birch- Marston, Jim Mooney OAM, Greg Mitchell, Floyd Patterson, Kathy Syrette, Rod Menzies, Graham McDonald, James Steele, Gary Knobel and the late Jenni Knobel, Gerry Kay, Peter Field, Tony Griffiths, Richard Gate, Liz Clarke, Jennifer Kingma, Christine Cansfield-Smith, Judy Baker, Neil Gowen, Bill Stephens OAM, Lauren Black, Stan D'Argeavel, Isobel Griffin, Vicki Murn, Dianne Parrey, Garth O'Loughlin, John Rogers, Judy Hayes, Phillip O'Brien, Peter Trainer, Bert Whelan.
And a special mention of the late Barbara Byrne, whose support through the Canberra Labor Club ensured the completion and fit out of several ArtSound studios in 2005 and former Chief Minister Jon Stanhope who kindly launched these premises in 2005.
Plus, the generosity of our listeners and members needs a special thanks — and that is what this year's Anniversary is all about.
Thank you!