ArtSound Newsletter – December 2022
A lot is happening at ArtSound. Here's some of it.
Board Letter to Members
Dear Members,
We are writing to update members on the Board's recent efforts to obtain grant funding to secure the future of ArtSound in the medium term. While ArtSound's financial position into 2023 will allow us to continue to operate as a broadcaster promoting the arts in ACT, albeit with no paid staff, the organisation has few if any funds to cover any unexpected costs; nor does it have funds available to expand direct financial support of Canberra artists.
Since 2005 ArtSound has benefitted from ACT Government support in the form of peppercorn rent and assistance in our initial facilities build-out at Manuka Arts Centre. ACT Government agencies have also provided some grants, although in recent years those have been modest grants for special projects rather than general operations.
Against that financial background, in August ArtSound applied for a significant grant under the Arts Organisation Investment Program administered by artsACT after that agency invited applications under a new funding model. ArtsACT has now provided several ACT arts organisations with between $70k and $630k per year for four years.
ArtSound's proposal sought a little under $300k per annum for four years to build on our decades of support of the arts in the Canberra region and our long-time commitment to what is now the ACT Government's often-stated objective of positioning Canberra as a cultural capital.
We specified that we would use the funds to support key activities and establish about two FTE paid positions. We proposed to provide substantial direct funding to artists and arts activities. The employees would coordinate programs that support artists from a wide range of disciplines and in cross-disciplinary projects. Such funding would also provide resources to pursue long-term commercial sponsorship that would build on or even ultimately replace government grant funding.
Unfortunately, our application has not been successful. In fact, we did not receive any funding, at all. This artsACT decision is bitterly disappointing, particularly as we approach our 40th anniversary in 2023. A grant of all or some of the funding sought would have allowed us to provide an even greater cultural return, long into the future, on the substantial ACT community investment in ArtSound.
With a fully volunteer staff, ArtSound FM currently broadcasts and streams to a large regional audience ranging from high schoolers to seniors. Recent surveys show that Canberra and Queanbeyan have approximately 80,000 listeners of community radio, and we understand that some 60 percent of those tune in to 92.7FM and of course thousands more listen to ArtSound from outside the ACT. All are potential patrons of the capital's broad range of artistic activities.
But ArtSound has always been more than a radio station. ArtSound is a cultural institution dedicated to the development of arts and promotion of artists and their work. For decades, our studios have been a place where new art is created and "exhibited through broadcast" to a large and eager audience, including many people who are not able to experience it in traditional venues. We support regional visual, literary, and performing artists through broadcast promotion of them; we particularly emphasise the work of early-career artists.
We present high-quality curated programs that inform practising artists about local, national, and worldwide developments in their fields, particularly in musical performance.
We plan to expand our promotional activities through live performances held in the Manuka Arts Centre grounds from 2023; in this, we would have benefitted greatly from stable, predictable financial prospects.
We at ArtSound believe that we are uniquely positioned through our experience and technical capacity to promote Canberra as a cultural capital to a national and even international audience. This advances a stated ACT Government key aim. We also are committed to preserving the artistic history of our region by maintaining an extensive audio archive, which currently runs to several thousand hours and which we have begun to digitise for use by future generations.
All of this is done by a small and highly dedicated group of volunteers, but the reality is that this is not sustainable in the long term. We need funding to operate and to grow as an arts organization.
We deeply appreciate the financial support provided by members and donors; you are an essential part of the ArtSound team. And we will continue to seek commercial support. However, while in no way wanting to sound critical of organisations that were successful in artsACT funding, as stated earlier our failure to gain any financial support in this grant round is most disappointing. We will seek feedback from artsACT about why we were not competitive, but those who worked long and hard to prepare the application are severely deflated and confused about how to approach artsACT grants applications in the future, as it seems our vision for promoting culture and arts in the ACT is not shared.
We will continue to keep members updated on our financial position. At the moment, we are in a position to continue to operate for another year, provided essential sponsorship, membership, donations, and other income continues.
— The ArtSound Board of Management
Bill Stephens to Retire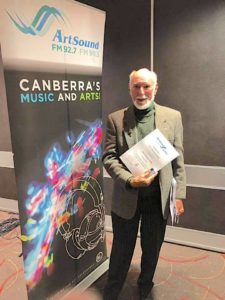 At the end of the month, one of ArtSound's true heroes, Bill Stephens OAM, will retire from broadcasting.
ArtSound invites the many members who have appreciated Bill's broadcasts to a farewell gathering in the Manuka Arts Centre grounds on Tuesday, January 10, at 5.30pm.
Bill (pictured, being awarded Life Membership of ArtSound in 2019) has been hosting In The Foyer, first as a weekly half-hour program, and more recently as interviews and other segments aired during Arts Café (weekdays 12-2pm & 5-7pm)and Arts About (Sundays 1-2pm). He previously contributed In The Foyer segments to On Stage when Len Power produced it weekly as a compendium of theatre and other arts features.
Bill's history in the region's arts life extends back to well before his involvement with ArtSound. He and his family ran the celebrated School of Arts Café in Queanbeyan (pictured) from 1986 to 2000. It was the best-known and longest-established cabaret venue in Australia.
At ArtSound, Bill created Red Velvet and Wild Boronia, a weekly radio program from recordings of performances there, and it aired for some years on ArtSound.
In late 2020, Bill also co-founded, with Bart Meehan, the outstanding weekly series ArtSound Radio Theatre, which continues to boost the profile of radio drama in the Canberra region.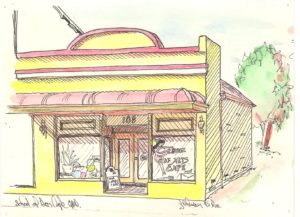 For those and many other reasons, Bill has long been a highly regarded member of the ACT theatre and arts community. In addition to his contributions to ArtSound and the School of Arts Café, he advanced the causes of The Canberra Festival and the Canberra Philharmonic Society. He received a much-deserved OAM on Australia Day 2017.
So come along and celebrate his achievements on January 10. We have a small number of chairs, so you might like to bring your favourite deckchair. If you'd like to take part in organising the event, please get in touch via email: admin@artsound.fm, or call 6195 7444.
2023: ArtSound's 40th Anniversary Year
ArtSound volunteers have begun to prepare a year of celebrations of the station's 40th anniversary year. Running throughout in 2023, it will include new programs as well as jewels from the vault, dating back to the very days of broadcasts!
If you'd like to be part of the 40th anniversity program team, please get in touch at admin@artsound.fm.
2022 Membership Renewal
Most ArtSound memberships are now due, so all listeners are encouraged to renew or to sign up.
In case you missed this news: at a recent Special General Meeting of ArtSound, ArtSound's membership altered slightly the terms of membership. Now, the membership year starts on the day a member subscribes or renews, and goes for one or two years from that date, depending on the membership type selected. That replaces the earlier model, which required renewal on 1 November each year (or after two years, in the case of two-year memberships).
That should simplify membership. So please subscribe or renew!
[Please note: if you've taken out ArtSound membership during the last month or so, or during the Radiothon that ran from May 27 to June 5, or have a two-year membership that extends to 1 November 2023, you don't need to do anything, now; you'll receive a reminder when the time comes to renew.]
For more information, go here on our website, or (particularly if you have difficult navigating the website's membership page) contact the office at admin@artsound.fm or 6295 7444.
More on Membership
Currently, membership dues make up only 8 percent of ArtSound's annual income. That is far less than a decade ago, so we'd like to increase that figure to about 20 percent.
Can you help ArtSound to get there?
You can do that by taking up or renewing membership, yourself, but also by encouraging friends, family members, and acquaintances to join up.
Go here on our website, or contact the office at admin@artsound.fm or 6295 7444.
Membership dues aren't tax deductible, but donations of $2 or more certainly are. If you'd also like to donate, you can do that by calling the same number, or going online, here.
Fundraiser Concert, Saturday 12 November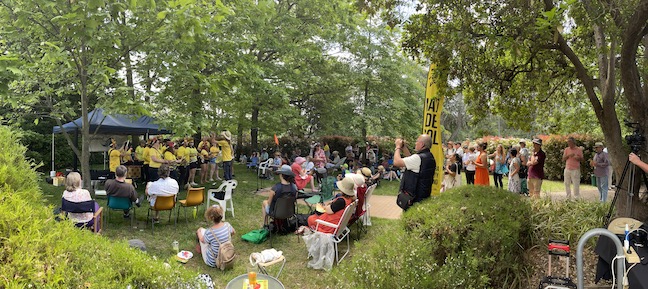 Our fundraiser concert on Saturday 12 November, the Spring Latin Fiesta Concierto, in the Manuka Arts Centre gardens (pictured), was a great success. More than 200 people attended, and ArtSound was able to raise close to $3,000.
Huge thanks to the two performance groups, Pachamama and the Raio de Sol samba dancers, for the great entertainment they provided on the day, which went down a storm.
The event also saw (and heard) the rollout of ArtSound's new outdoor stage and sparkling PA system, which the musicians praised for its extraordinary clarity and sound reproduction efficiency.
The staging and PA system came to ArtSound thanks to a federal Stronger Communities grant, for which Alicia Payne MP invited ArtSound to apply.
There was street food from El Salvador, Chile, and Argentina. And coffee. And great scenes on the shady Manuka Arts Centre grounds strewn with picnic blankets and camping chairs.
Audio Course for Visual Arts Organisations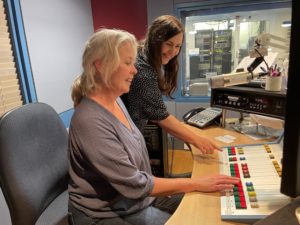 Over two Saturdays and one Wednesday in November, ArtSound offered a course in audio production for representatives of several ACT visual arts organisations.
The course was a proof-of-concept affair, to iron out the kinks in preparation for offering the course more broadly to ACT performing, literary, and visual arts organisations.
This time around, we had representatives from Canberra Contemporary Art Space, Canberra Glassworks, Canberra Potters (Watson Arts Centre), and Tuggeranong Arts Centre.
Why start with only visual arts groups? Just to keep things manageable in the first roll-out of the course. Next we'll offer it to organisations in all areas of the arts.
More on that, in the new year, but meanwhile we're happy to hear expressions of interest. Just write to admin@artsound.fm.
Technology Updates
CD player upgrades: Despite rating highly, ArtSound's recent Development and Operations Grant application to the Community Broadcasting Foundation (CBF) was unsuccessful. Noting that ArtSound's CD players are long past their end of life and are becoming more difficult to maintain, ArtSound sought to replace each CD player with what amounts to one of the last remaining broadcast-suitable units on the market in Australia (no longer available in North or South America).
This may have been the last opportunity we had to secure suitable replacements under this grant scheme. While ArtSound will have no choice but to try to raise funds from elsewhere, we face the distinct danger that other stations will beat us to the remaining stocks in Australia.
This means that digital playout of music via software may have to be launched much earlier than anticipated. The backup plan is to acquire at least two new CD players to ensure we are not left with zero playout capability. If anyone would care to assist ArtSound in securing these, the going price is $1,450 each.
Cybercrime protection: ArtSound constantly seeks to lower its risk from cybercrime. In response to the recent rise in computer-network breaches, Manager of Technology Chris Deacon has upgraded protection of ArtSound's IT infrastructure with the installation of cloud-based business-class anti-malware monitoring.
Ronan Apcar's Great Success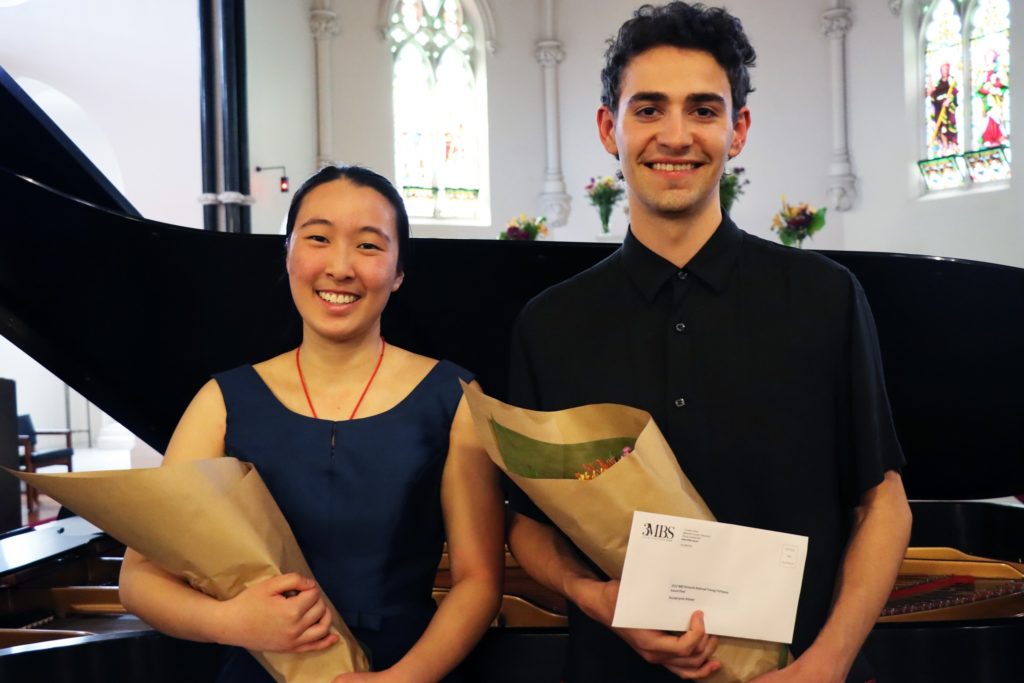 ArtSound congratulates Canberra pianist Ronan Apcar, winner of the ACT Young Virtuoso Award held at ArtSound in September, for taking second place at the competition's national final.
The National Young Virtuoso Award final took place in Melbourne on Sunday 20 November 2022, hosted by 3MBS community radio.
Ronan Apcar placed second behind Victorian pianist Anna Gao (pictured), and ahead of the three other competitors: NSW pianist Joshua Han, Queensland pianist Jeremy Sun, and South Australian violist Tim Tran. They came from regional finals held at three of ArtSound's four fellow member stations of the Fine Music Network, a loose affiliation of Australian community radio stations: Radio 5MBS 99.9FM – Adelaide Music Radio, 2MBS Fine Music Sydney, and 4MBS Classic FM.
The judges noted the high quality of the competition. Ronan Apcar demonstrated his distinctive talents at ArtSound's Canberra regionals, too. Limelight magazine has described him as "a talent far beyond his age."
In an email, Ronan shared his experience at the Melbourne event. "This has been a great experience," he said. "I was so happy with my performance and just the chance to be at a competition on a national level. It's the first time I've been in a competition at a national level, which is such a milestone for me because I'm not competitive in that way — and I've also recently been thinking about how only a few years ago I didn't think I would even be a performer in any way. I thought composition was going to be my thing, but that's just the way the cookie has crumbled!"
Anyone who heard or saw Ronan's performance at the ACT regional finals will know that he can be a dramatic and compelling performer, but one who can also deliver quieter passages with great measure and touch. His choices for the national competition in Melbourne showed again his dramatic flare, and his daring.
He said: "I performed two pieces which are both epic, all-consuming works in their own unique ways: Busoni's transcription of Wagner's Siegfried's Funeral March and [Einojuhani] Rautavaara's The Fire Sermon (Piano Sonata No. 2).
"Being a funeral march, there's a real gravitas in the Wagner/Busoni and I am always a sucker for heavy stuff. It's also so fun to play because I get to experiment with the full scope of dynamics and colour from the piano, and I try to think like a conductor and not a pianist when playing it.
"The Fire Sermon however is just an incredible beast, something that really feels like an extension of myself. To me, it's this incredibly beautiful marriage of modernism and (honestly) sheer violence with beautiful lyricism and moments. I almost think of it as a whole Greek tragedy in just about 10 minutes — a real rollercoaster. And the opportunity to just smash the piano with my palms and forearms is a healthy outlet — how lucky I am to do that and call it art..!"
He said he was earlier this week at the Canberra Critics' Circle Awards "and they said something about how artists are usually the biggest critics of themselves. I feel like I've gotten good at celebrating my achievements and minimising the impacts of my 'mistakes' on how I perceive the performance. But it's a real shame that often, as artists, we struggle to really appreciate what we create and make once it's public. I have to say I'm feeling quite surprised at how calmly satisfied I am with my performance at the Nationals!
"Of course, there are always little mistakes, but I was so comfortable performing those pieces I could really let go and channel whatever artistic statement I wanted to make. I feel like that came across and I couldn't have been happier with my performance to be honest! The second place is just the cherry on top really."
Ronan is best known for his work in contemporary and new music, but is also markedly gifted in innovative jazz performance. He has shared his talents at concerts and festivals and in intimate and large-scale venues across Canberra, Sydney, and regional NSW. His debut album, Dulcie Holland Crescent, was an ABC Classic featured album.
On the release, Apcar celebrated the surprising compositions of a renowned music educator whose renown as a composer has been growing, the late Dulcie Holland. Apcar recorded her Piano Sonata, which composer, pianist, and scholar Larry Sitsky and co-author Ruth Lee Martin hailed as "undoubtedly a landmark work in the Australian oeuvre" (Australian Piano Music of the Twentieth Century, 2005), as well as world premiere recordings of his transcriptions of Holland works never published, Autumn Piece and Conversation for Piano. (The album is amusingly named, by the way, after the street in the Canberra suburb of Moncrieff that salutes Holland's work.)
The Young Virtuoso Awards is an annual national competition. The Covid pandemic caused the cancellation of 2020 and 2021 nationals, disrupting a 30-year history of discovering promising Australian talent in classical music performance. The competition awards winners with broadcasting opportunities and cash prizes.
The Young Virtuoso competition is open to instrumentalists under 25 and vocalists under 30. ArtSound aired the ACT finals live from the ArtSound recording studio. With assistance from ArtSound members and supporters, including Gallery of Small Things and Phillip Braslins of Riga Medical, ArtSound provided Apcar with air flights and accommodation for his appearance in the national finals in Melbourne.
The finals were "a very tight competition," Apcar said. "Thanks to everyone at ArtSound for sorting everything out for me, it was all great and I really appreciate it."
Ronan is about to head back to Melbourne for further studies at the Australian National Academy of Music. He said: "Seems fortuitous that the Nationals were held at the Abbotsford Convent where I'll be based next year" although, he said, he is "sad to leave Canberra as I've loved it here but hoping to pop back in throughout the year and maybe who knows, I might be back in a few years!"
Next year ArtSound aims to host again the ACT regional finals of the Young Virtuoso Awards, and in 2026 we're scheduled to host the national final, too. If you'd like to support those projects in any way, please do. Call Julie Finch-Scally at 6295 7444, or write to her at admin@artsound.fm.
ArtSound FM's mission is to cultivate a vibrant arts community in the ACT region. Your memberships and donations sustain our year-long programming including our artist-centered features and interviews and our many broadcasts of live recordings of concerts in and around Canberra.
Thank you for being part of ArtSound!
Please go online to artsound.fm to take out membership or make a donation. Or, write to admin@artsound.fm. Or phone (02) 6295 7444 — if you don't reach someone right away, please leave a message and we'll get back to you as soon as possible. Donations of $2 or more are tax deductible.
Please forward this newsletter to any possibly interested friends and family members.