A lot is happening at ArtSound. Here's some of it.
Annual General Meeting
The 2023 Annual General Meeting of ArtSound Inc, which operates ArtSound FM, is scheduled to take place on Tuesday, June 27, at 7pm in the McDonald Room at Eastlake Football Club, 3 Oxley Street, Griffith.
Terry Giesecke, ArtSound's Public Officer, has written to all financial members to urge them to attend; to introduce motions, if they'd like, by June 13; and to nominate for a position on the 2023-24 ArtSound Board no later than 5pm on Monday 5 June 2023, if they wish.
Nominations should go to Brian Leonard, ArtSound's Returning Officer, at returning-officer@artsound.fm or by mail to Returning Officer, ArtSound Inc, PO Box 3573, Manuka, ACT 2603.
ArtSound Radiothon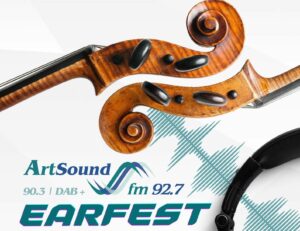 ArtSound's next fundraiser — our "Radiothon" – will run from Friday June 16 to Sunday June 25.
If you would like to make a donation (amounts of $2 or more are tax deductible), you can do that online or by phoning in during the event at 6295 8444. (If you have trouble with our website interface, please phone 6295-8444, and an ArtSound volunteer will assist you to make a donation.)
If you are able to donate a prize for the Radiothon prize draw, or to help answer the phones and keep track of donations during the Radiothon, please call 6295 7444 during business hours. In past years, donated prizes have included accommodation at vacation houses, art objects, performance tickets, and the like; similar donations would be most welcomed, again.
Volunteering ACT Expo

Late in May, ArtSound was represented at Volunteering ACT's Volunteer Exhibition at Campbell High School. Julie Finch-Scally, Michael White, Neil Mansfield (pictured) and Peter Monaghan were on hand at the ArtSound stand. They took contact details from 22 people interested in volunteering at ArtSound, and have invited them to tour the studios during June.
"The real joy," Julie reported, "was the number of people who came up and told us how much they enjoy listening to the station and their favourite programs."
Technical Updates
In late April, ArtSound suffered a failure of the microwave equipment that transports our audio signal from the studios to Black Mountain. Our audio output was lightly impaired for a few hours, but listeners probably would not have noticed, as a high quality backup link via NBN was immediately pressed into service while the technical team undertook essential repairs. In terms of component costs, all that needed to be replaced was a $2 component that had failed due to age.
Nonetheless, that work extended well into May. It took more than 20 person hours: to debug the problem, effect repairs, and reinstall equipment in the Tower. Manager Technology Chris Deacon assisted by Rodger Bean removed the equipment from one of the highest accessible indoor areas of Black Mountain Tower, carried it down 10 flights of stairs and five lift floors, carried out bench tests and repairs, reassembled the equipment, and hauled it back up a cold and windy Black Mountain Tower.
The ArtSound technical team took the opportunity to upgrade some uninterruptible power supply (UPS) batteries.
Rodger Bean has for years been a dependable, generous volunteer assisting Chris with crucial technology projects and fixes, particularly relating to transmission from Black Mountain Tower.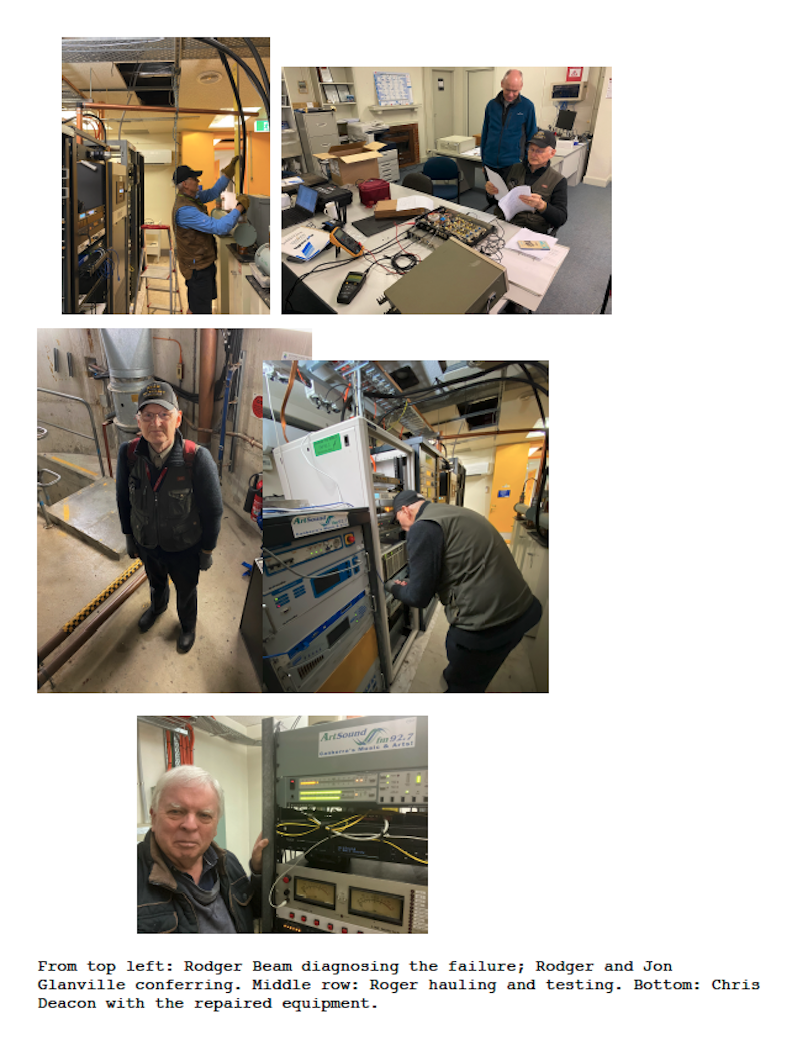 In recent months, Jon Glanville has been coming into ArtSound each week to the ArtSound technical/admin building and studios to assist Chris Deacon with technical-development projects, and also working long hours on them at home. Most recently, Chris and Jon have been developing a Cloud-based audio-on-demand system which will make past episodes of most ArtSound programs available for delayed listening. To work smoothly, extracting original ArtSound program content from our broadcast stream for uploading to an ArtSound website so they become available through listen-back "streaming audio archives" requires canny structuring and a great deal of fine-detail computer programming.
Now the system is rapidly approaching readiness.
So, too, is a process that will enable volunteers to securely and robustly digitize and label music tracks for storage and then playout through ArtSound's automation and studio music-player platform, RadioBoss.
ArtSound thanks Jon Glanville and Rodger Bean for their support, and for advancing the work of the ArtSound technology team, which also includes Lisa Luo.
Boost to Outside Broadcast Capability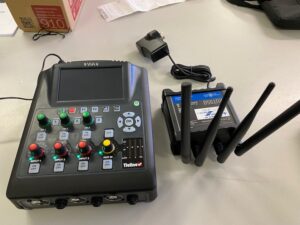 Thanks to a grant from the ACT Government's Technology Upgrade Fund Grants Program, ArtSound has acquired additional equipment to update and enhance the station's "outside broadcast" capability — which is to say, its ability to go to sites away from ArtSound's Manuka Arts Centre studios to capture and broadcast live content.
The new, impressively compact equipment (pictured) will provide improved audio quality, reliability, and portability. Once it has undergone thorough testing, volunteers will be offered familiarization sessions so they can use it in the field.
For the tech-savvy, here are details of the equipment: it includes one of the world's most popular and sophisticated outside broadcast codecs (Tieline Via) along with an industrial router with dual SIM cards (to provide redundant internet paths) and wifi hotspot. The Tieline Via, used by many community, national, and commercial broadcasters, consolidates an audio mixer, codec, and battery power supply to permit self-contained live broadcasts at studio quality from anywhere via fixed and/or wireless internet connections.
ArtSound Technology Manager Chris Deacon is in the process of configuring the software so that it will communicate reliably with the studio equipment with minimal user intervention. Users will be able to simply add a headset and microphone or two, plug in a laptop and be on air!
Training will begin shortly.
And, if promising leads to funding come through as expected, the ArtSound van will in the near future be up and running, with snazzy new paintwork and signage, to facilitate outside broadcasts.
How Do Radio, and ArtSound Radio, Work?

A trial run of a two-hour fundraiser introduction to radio technology took place late in May, and was so successful that more sessions are planned.
In his presentation, How Does Radio Work?, Chris Deacon began with a brief history of radio technology, and then moved on to the meaty substance: an explanation of the physics and electronics of radio-signal generation and transmission, right on through to how ArtSound safeguards and monitors its transmissions.
How do all those tiny waves zip about in every direction and yet arrive in sharp, clear sound at a radio or other listening device.
Chris explained it all.
One attendee called the presentation "the most fascinating two hours I've ever spent at ArtSound."
Would you like to take part in the next session? The presentation, which is offered as a fundraiser for ArtSound's operations, is designed for a maximum of eight attendees at a time, so get in early with your booking at admin@artsound.fm. Or, stay tuned for future offerings.
How Does Radio Work
When: Saturday, July 8, 2023, 11am-1pm
How much?: $15 general; $25 for family groups of 2+ people
Tickets: book at 6295 7444 or admin@artsound.fm; pay at the door (cash or card)
Where: ArtSound Studios, Manuka Arts Centre, next to the Manuka Swimming Pool and Manuka Oval
The ArtSound Archive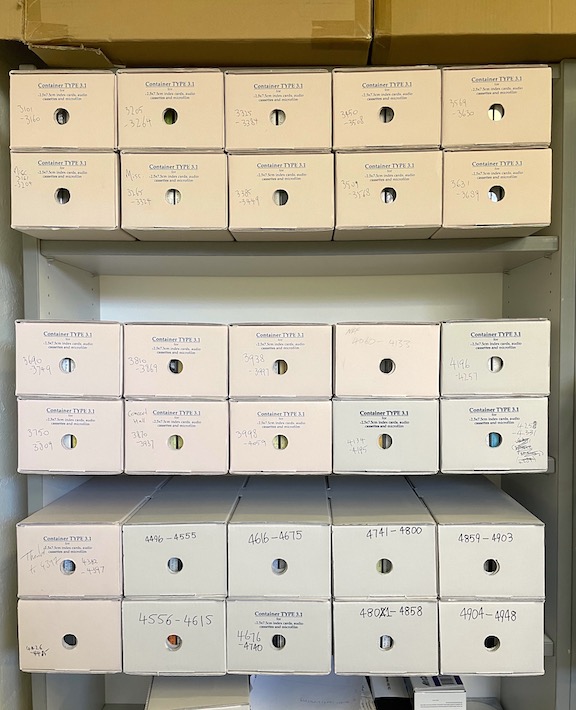 In its Studio 4, ArtSound securely houses half of its vast archive of sound recordings from arts activities in the ACT dating back to the 1970s. It's an extraordinary trove of records ACT (some pictured) of musical and theatre performances, lectures, discussions, radio dramas, and particularly poetry readings from in and around the ACT.
The expanse of the more than 1,500 poetry holdings is largely due to the efforts of the late Anne Edgeworth, who from the early 1990s until her death in 2011 seems to have gone out, recording equipment in hand, to capture every poetry event held in Canberra.
Work on digitizing the collection, half of which is held at the ACT Heritage Library in Fyshwick, is ongoing. Last year two interns from the University of Canberra, Peter Searles and Anneka Grant, helped to catalogue it, and to begin the arduous, time-consuming work of digitizing it.
Digitization Update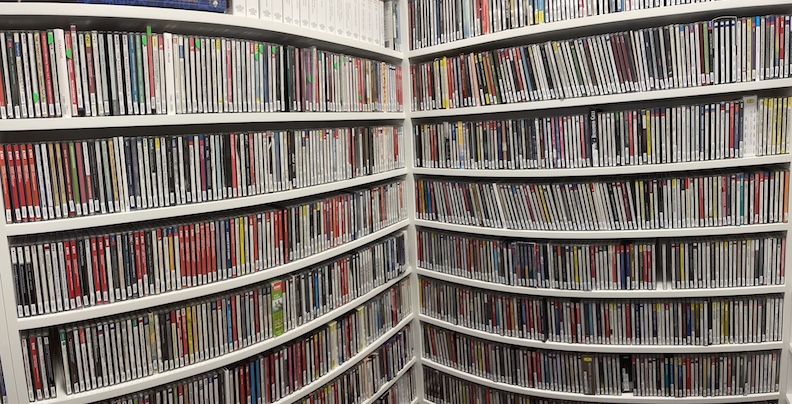 Progressively, ArtSound is transitioning to digital play-out of music and spoken-word content. Many presenters now use our RadioBoss automation system to air music files. Conversion of music from CDs to a digital platform is, of course, time-consuming work. Each selected CD takes five to seven minutes to capture. Each audio file must be electronically tagged for dependable upload to RadioBoss automation, and for records keeping.
If you enjoy amassing digital databases, have we got a project for you! And digitizing software and procedures have recently been upgraded!
Donation for a Development Consultant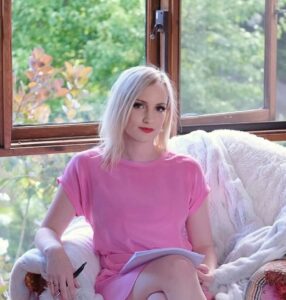 Thanks to a generous donation from an ArtSound listener family, ArtSound has been able to form a fundraising partnership with a development consultant, Kirsty Budding (pictured; photo: Linus Wong).
Kirsty Buddying (a.k.a. Kirsty Zane) is well known in Canberra theatre and film circles thanks to theatre and film work as well as her active and popular Budding Entertainment, which includes theatre-teaching and talent-agency arms.
Working with ArtSound volunteers, she is preparing to approach potential donors — businesses, organisations, and individuals — and to lead a variety of other fundraising ventures.
If you'd like to alert Kirsty to possible sources of donations, please write to the liaison officer of ArtSound's development team, Peter Monaghan, at pmonaghan304@gmail.com, or to development@artsound.fm.
Welcome, Kirsty. And thanks mightily to our donors!
ArtSound Electronic Suggestion Box
Do you have suggestions for how to improve operations at ArtSound?
Any contributions are welcome in the ArtSound Electronic Suggestion Box.
Please write to help@artsound.fm.
More Early ArtSound Newsletters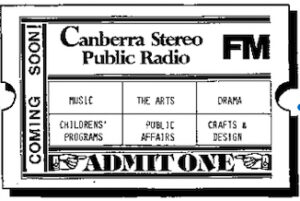 Over recent months, we've posted on the ArtSound website some of the first ArtSound newsletters, from way back in 1983. To read those earliest editions of Fine Tunings, go online here and here.
It's interesting to read about how consistent the organisation's initial aims are with those it espouses today, 40 years later.
ArtSound Press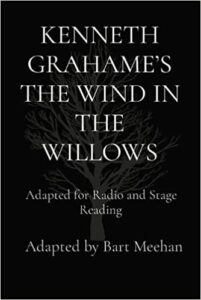 In another of the activities associated with ArtSound's celebration of its 40th year in operation, board member Bart Meehan has set up an ArtSound Press as a fundraising initiative.
The Press has now published the script of ArtSound's radio and stage adaptation of Kenneth Grahame's The Wind in the Willows. ArtSound Radio Theatre used that for its serialisation, which was broadcast by ArtSound FM in 2022. The script captures all the charm and excitement of the original novel and is perfect for groups wanting to create radio or podcast productions, as well as stage readings.
The book is available at Amazon.com.au for $22. All profits go to supporting ArtSound FM as a fully volunteer-operated organisation based in Canberra and dedicated to producing and promoting arts.
Special programming for the 40th anniversary year has, to date, included the broadcast of historical recordings of jazz concerts on Friday Night Live (Fridays 8pm) and of decades-old poetry recordings on Poetry on the Radio (Sundays 4:30pm, Mondays 10:30pm).
Quiz Night Wrap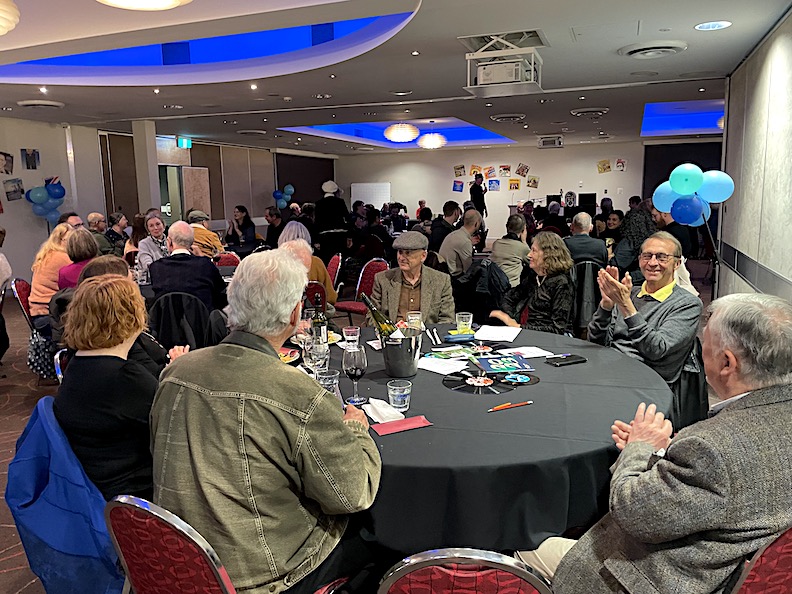 Some 93 ArtSound listeners attended a successful ArtSound Music Trivia Quiz Night on May 4 at the Eastlake Football Club.
The fundraiser made a very welcome contibution of $3,100 to the station's coffers, towards the organisation's fixed annual costs of about $110,000, and did it in a way that all those in attendance appeared to enjoy.
The competition was torrid.
You really shouldn't miss the next one!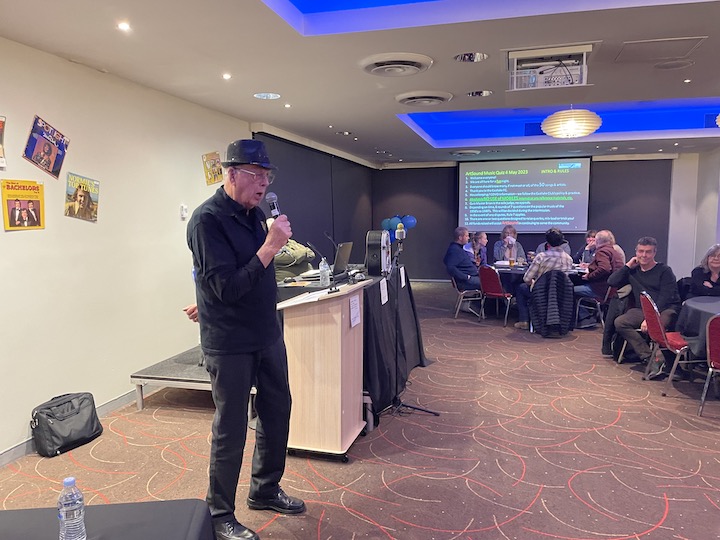 Huge thanks to quizmaster Brian Leonard (pictured), his assistants John Mulrine and Stuart Warner, event organizers Ainsleigh Sheridan and Gabe Caddy, all the helpful volunteers, and especially everyone who attended.
John Mulrine, by the way, is a longtime sound engineer who has worked with various acts including the band Second Movement and an Elvis impersonator!
The Bert Whelan George Gershwin Collection
Bert Whelan, ArtSound music guru and George Gershwin specialist, has over the last 75 years amassed one of the world's largest private Gershwin collections.
Bert (pictured) provided the music for the popular ArtSound program, The Gershwin Project, and also for The Magic Of Music which is currently heard on ArtSound on Saturdays at 4pm.
Gershwin aficionados have helped Bert with his collection over the years — Ira Gershwin, George's famous lyricist brother; Edward Jablonski, author of many Gershwin books; and entertainer Michael Feinstein, who worked for Ira Gershwin for the last six years of Ira's life.
Bert has decided to donate his Gershwin collection to the ANU School of Music and is setting up a George Gershwin room which will contain his collection of music, CDs, books, LP records, DVDs of movies, and scrap books. The material will be available to students and teachers for research and study. The School has provided a brand new piano for the room.
The collection will be called The Bert Whelan George Gershwin Collection.
Australian Muslim Voice Radio
ArtSound again assisted Australian Muslim Voice with their annual temporary broadcast during Ramadan by providing an Internet link to Telstra Tower.
Separately, Chris Deacon was commissioned to establish a temporary studio in a private residence in Narrabundah and to install an FM Transmitter at Black Mountain Tower using AMV's equipment.
Chris also handled all licensing and permission arrangements for Australian Muslim Voice.
Sydney International Piano Competition
Throughout July, ArtSound will broadcast recordings from the 2023 Sydney International Piano Competition. The recordings will air during Tuesday Classical Mood timeslots, 2-4pm (more details in our next newsletter issue).
The recordings come to us through ArtSound's membership of the Fine Music Network along with four other Australian community radio stations in Sydney, Melbourne, Adelaide, and Brisbane.
Early-Morning Program Returns
A quick reminder that ArtStarter, Canberra's most happening early-morning radio show, is now on air — from 7-9am each weekday. It is providing news about the arts and other community activities in and around Canberra, in keeping with ArtSound's role as Canberra's arts and music community radio station.
The program's coordinator, Neil Mansfield, is still looking for support personnel – volunteers to gather up arts news, to pop on air with weather and traffic updates… etc. Training provided. Please write to artstarter@artsound.fm.
Josh Feinberg, Sitarist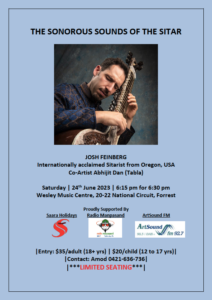 A reminder that ArtSound is about to collaborate on a concert performance by Josh Feinberg, widely considered one of the finest sitarists not born and raised in India.
Rather, Feinberg is from Oregon in the US Northwest. The highly accomplished sitar maestro of Hindustani classical music began his musical life as a jazz bass prodigy in New York. In his teens he shifted his focus to sitar while studying at the New England Conservatory.
Through extensive training with Indian masters for over 20 years, he has become one of the first non-Indian musicians to rise to prominence in India. He has taught at many American institutions, currently at Lewis and Clark College and Reed College in Portland, Oregon. He splits his time between Oregon and New York City, and travels the world to perform.
He'll appear with Sydney-based rising tabla star Abhijit Dan on Saturday 24 June, at 6:30pm, at the Wesley Music Centre in Forrest (20-22 National Circuit). ArtSound will be along to provide sound production for the event, and to record it.
The Song Company
At its Canberra concert on Wednesday June 14 at 7pm in Gandel Hall at the National Gallery of Australia, the national vocal ensemble The Song Company, an ArtSound sponsor, aims to stun audiences with one of the toughest pieces in the repertoire: "Ficta," by Australian composer Elliott Gyger.
When the elite singers of The Song Company last performed it, they coined a new, tongue-in-cheek scale to measure the difficulty of learning and performing any work: the "Ficta Scale," rating compositions from one — easy — to "Ficta" — almost impossible to perform.
The Song Company first performed the work in 1994, its world premiere. Now guest director Jack Symonds and six of the Song Company's singers will take it on again in their upcoming program, Songs of Rosa Mystica.
"Ficta," said Symonds "is one of the most virtuosic things I've ever encountered for six unaccompanied voices."
The 20-minute work calls on its singers to adopt six radically different vocal styles, from French Baroque to Eastern European folk song and even 1930s crooner. "But they also have to form a highly disciplined sextet that can form and reform," he said. "Within a split second they have to break apart into any combination of solos, duos, trios, quintets and a sextet."
To capture the sound he wanted, Gyger created a system of musical notation outside traditional Western scoring that, he said, "looks like the plans for a nuclear weapon or something on the page."
"Ficta" will open a program that will also feature works by Benjamin Britten, Michael Tippett, and Symonds himself.
Information at the.song.company. (Photo: Keith Saunders)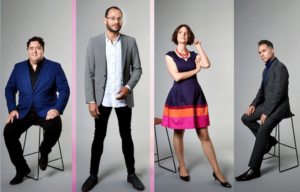 ArtSound FM's mission is to cultivate a vibrant arts community in the ACT region. Your memberships and donations sustain our year-long programming including our artist-centered features and interviews and our many broadcasts of live recordings of concerts in and around Canberra.
Thank you for being part of ArtSound!
Please go online to artsound.fm to take out membership or make a donation. Or, write to admin@artsound.fm. Or phone (02) 6295 7444 — if you don't reach someone right away, please leave a message and we'll get back to you as soon as possible. Donations of $2 or more are tax deductible.