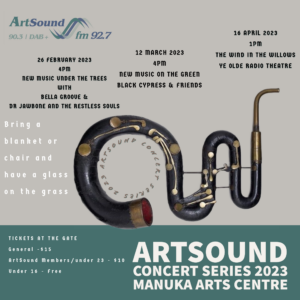 The ArtSound Summer/Autumn Series continued on Sunday, 12 February, and we have three more events coming up, soon.
On Sunday 26 February, at 4pm, two lively acts: Bella Groove and Dr Jawbone and the Restless Souls.
Led by Canberra Critics' Circle Award winner, Elise Walsh, Bella Groove — Elise Walsh, flute/vocals; Ross Buchanan, keys; Matt Lustri, guitar/vocals; Mark Levers, drums; Peter Barta, electric and upright bass — have been a fixture on the Canberra music scene for a number of years with their blend of funky jazz and soulful grooves. Their releases include a 2021 EP recorded live at Smith's Alternative, and 2017's City Lights.
Bella Groove is "tight, together and highly danceable," Rob Kennedy wrote in City News.
Dr Jawbone and the Restless Souls is a three piece jazz band featuring Ross Buchanan on keyboards, Peter Barta on six-string electric bass and synthesiser, and Mark Levers on drums. It's a swinging three-piece combo that performs a mix of swinging jazz, Latin, blues and groove, and boogie and stride piano.
Here's the scene at the concert on February 12: