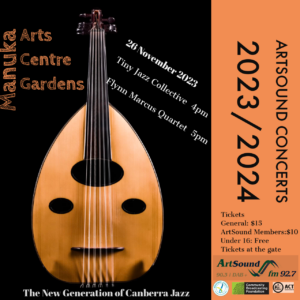 On Sunday November 26 at 4pm in the Manuka Arts Centre Gardens, come and hear two outstanding jazz bands, all paving the way for jazz in the current moment.
At 4pm, Tiny Jazz Collective features Mereki Leten, sax; Michael Larsen-Collins, electric bass; Olivia Uebergang, guitar; and Daniel Simmons, drums.
At 5pm, the Flynn Marcus Quartet: Flynn Marcus, sax; Elliot Kozary, piano; Eddie Symons, bass; Sean Kirk, drums.
You can bring the kids, and we'll be rolling out our new 40 garden chairs to add to 25 we already had. Under the trees, in the late afternoon. You don't need to book in advance, just come to ArtSound Gardens at the Manuka Arts Centre.
If you need more information, write to admin@artsound.fm or call 6295 7444 during business hours.