A lot is happening at ArtSound. Here's some of it.
Radiothon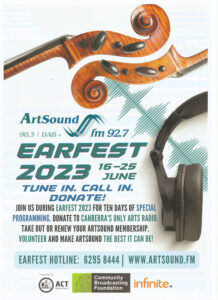 ArtSound held the first of two planned on-air fundraisers – its "Radiothons" – from June 16 to 25.
Thanks to everyone who donated, and thanks in particular to all the organisations, businesses, and individuals who contributed prizes for draws during the Radiothon.
Earfest 2023 raised about $12,000 towards ArtSound's annual budget of about $110,000.
ArtSound Board of Management 2023-24
The composition of the 2023-24 ArtSound Board of Management was announced at the Annual General Meeting of Tuesday 27 June.
Members elected or re-elected were elected: Neil Doody, Julie Finch-Scally, Saad Khalid, Peter Monaghan, and Stuart Warner.
Members held over from the Board of 2022-23 are: Gabe Caddy, Chris Deacon, Eleanor Lewis, Songfa Lui, and John Worcester.
CSCC Rewards Program is back!
ArtSound is again a designated recipient of funds from the Canberra Southern Cross Club's Community Rewards Program — and you can make that bring funds to the station.
In the program, Canberra Southern Cross Club members designate an organisation that the club has approved to receive 7.5% of the member's food and drinks purchases at the restaurants, bars, and grill at the CSCC's Woden, Tuggeranong, Jamison, and Yacht Club venues.
So if you're a Southern Cross Club member, please go online to the club's site to make ArtSound your recipient.
And thanks again to the Club!
By the way, included in the program is their "Canberra's Best Happy Hour" which has returned to the Yacht Club for winter. A most enjoyable way to support ArtSound!
Radio Drama Course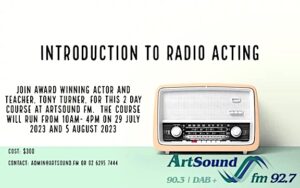 Join Tony Turner, award winning actor/director and former Head of Drama at The Australian National University for an introduction to radio acting.
Learn the unique skills required to perform for a listening audience including how to create characters through pacing, tone and voices. Participants will record pieces in studio and may be invited to perform for ArtSound Radio Theatre, which is heard Sundays at 4pm and Mondays at 10pm on ArtSound FM.
The course will run over consecutive Saturdays, 29 July and 5 August 2023, from 10am-4pm (with a one hour lunch break) at the ArtSound Studios, Manuka Arts Centre. The cost is $300.
For more details or to register for the course please contact ArtSound Administration at admin@artsound.fm.
Introduction to Radio Technology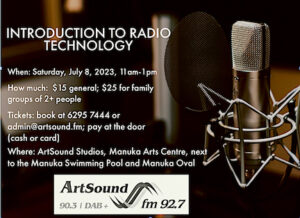 Here's your opportunity to learn all about how radio works, and how ArtSound's broadcasts.
What is radio? How does radio technology wrangle all those tiny waves that zip about in every direction and yet make them arrive in sharp, clear sound at a radio or other listening device — in your ears?
In his presentation, Chris Deacon begins with a brief history of radio technology, and then moves on to the meaty substance: an explanation of the physics and electronics of radio-signal generation and transmission, right on through to how ArtSound safeguards and monitors its transmissions.
Chris explained it all.
At the recent, first run of this presentation, one attendee declared it "the most fascinating two hours I've ever spent at ArtSound."
Would you like to take part in the next session, which is offered as a fundraiser for ArtSound's operations? It's designed for a maximum of eight attendees at a time, so get in early with your booking at admin@artsound.fm. Or, stay tuned for future offerings.
How Does Radio Work
When: Saturday, July 8, 2023, 11am-1pm
How much?: $15 general; $25 for family groups of 2+ people
Tickets: book at 6295 7444 or admin@artsound.fm; pay at the door (cash or card)
Where: ArtSound Studios, Manuka Arts Centre, next to the Manuka Swimming Pool and Manuka Oval
ArtSound Greek Week: Radio Plays Wanted
As part of its 40th Anniversary celebrations, ArtSound will use 2023 to begin a series of week-long programming highlighting the region's cultural diversity.
The first of these will be Greek Week in October, featuring regional musicians, poets and writers. ArtSound Radio Theatre is calling for radio plays from writers which highlight Greek themes. For example, these could include reinventions of Greek classics, or more personal pieces, such as explorations of the immigrant experience.
The best five submissions will be shortlisted and recorded for broadcast. The plays should be no more than 15 minutes long (roughly 2500 words) and have no more than four people in the cast. Smaller casts and even monologues are welcome.
Adult themes are fine provided they are dealt with appropriately. There should be no gratuitous use of adult language or over emphasis on political issues.
Note that these plays are for radio, so need to be written for listeners. (Some action can be captured through the use of sound effects).
Plays should be submitted by 12 August 2023 to artsoundtheatre@gmail.com in Word format, with a cover sheet detailing the writer's name, address and email contact.
Bart Meehan, Short and Sweet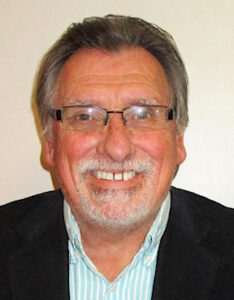 Congratulations to Bart Meehan, producer and host of ArtSound Radio Theatre (Sundays 4pm, Mondays 10pm), whose play Death Pops In has been selected for a stage production as part of the Short+Sweet Illawarra Theatre Festival, scheduled for August in Wollongong.
Death Pops In was selected from over 1,000 plays submitted to the international Short + Sweet Program and actually started its "theatrical life" as a radio play broadcast on ArtSound.
The play is also shortlisted for production at Short + Sweet Essex Festival UK.
ArtSound Radio Theatre Now Podcasting
Another example of how ArtSound promotes ACT arts and artists to a national and international audience is ArtSound Radio Theatre podcasting.
Selected episodes from the weekly program's first two years are now published as podcasts and available for download. New shows will go up every month but the first six are already available.
The URL for the podcasts is:
https://www.podomatic.com/podcasts/artsoundtheatre
Congratulations to Two Poets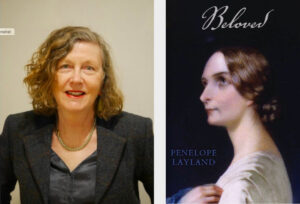 Congratulations to ArtSound member Penelope Layland, the subject of two recent episodes of Poetry on the Radio, for being named the winner of the annual poetry top prize in the ACT Notable Awards announced late in June by Marion, the ACT writer's centre.
Penelope was honoured for her evocation in Beloved (Recent Work Press) of the life, mind, and soul of Dorothy Wordsworth, sister of the renowned 19th century poet, William Wordsworth.
Congratulations also to another member, Kimberly K. Williams, co-host and co-producer of ArtSound's weekly, half-hour program, Poetry on the Radio, upon her selection to the Shortlisted Works in Poetry in the Notable awards.
Kimberly's Still Lives (Life Before Man) (Gazebo Books) was selected. It's a collection of poems about departing one home to build another in a far-distant place, Canberra.
Poetry on the Radio is heard Sundays at 4:30pm and Mondays at 10:30pm.
Vale Paula Langlands
ArtSound joins many other Australian community radio stations in saluting Paula Langlands, host of Jazz Made in Australia, who has died.
ArtSound has for several years aired Jazz Made in Australia, provided through the Community Radio Network, a service of the Community Broadcasting Association of Australia.
In a tribute, her colleague at Eastside Radio in Sydney, Tony Roma, said Paula Langlands had been a "much admired and respected" presenter at Eastside during four decades, and that for 20 years Jazz Made In Australia had been a "carefully researched program…loved by many listeners and broadcasters and wonderfully supportive of countless latest releases of Australian Jazz and improvised music."
Langlands was herself a professional jazz singer whose accomplishments included appearing regularly on The Graham Kennedy Show. She taught singing and worked as a film and television actress on such programs as Homicide, Ricky & Pete, and Prisoner.
ArtSound Electronic Suggestion Box
Do you have suggestions for how to improve operations at ArtSound?
Any contributions are welcome in the ArtSound Electronic Suggestion Box.
Please write to help@artsound.fm.
More Early ArtSound Newsletters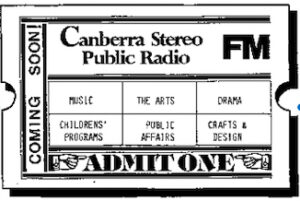 Over recent months, we've posted on the ArtSound website some of the first ArtSound newsletters, from way back in 1983. To read those earliest editions of Fine Tunings, go online here and here.
It's interesting to read about how consistent the organisation's initial aims are with those it espouses today, 40 years later.
ArtSound Press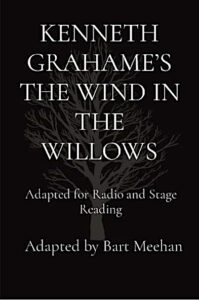 In another of the activities associated with ArtSound's celebration of its 40th year in operation, board member Bart Meehan has set up an ArtSound Press as a fundraising initiative.
The Press has now published the script of ArtSound's radio and stage adaptation of Kenneth Grahame's The Wind in the Willows. ArtSound Radio Theatre used that for its serialisation, which was broadcast by ArtSound FM in 2022. The script captures all the charm and excitement of the original novel and is perfect for groups wanting to create radio or podcast productions, as well as stage readings.
The book is available at Amazon.com.au. All profits go to supporting ArtSound FM as a fully volunteer-operated organisation dedicated to producing and promoting arts.
Special programming for the 40th anniversary year has, to date, included the broadcast of historical recordings of jazz concerts on Friday Night Live (Fridays 8pm) and of decades-old poetry recordings on Poetry on the Radio (Sundays 4:30pm, Mondays 10:30pm).
Sydney International Piano Competition
During July, ArtSound will broadcast recordings from the 2023 Sydney International Piano Competition. The recordings will air during Tuesday Classical Mood timeslots, 2-4pm (more details in our next newsletter issue).
The recordings come to us through ArtSound's membership of the Fine Music Network along with four other Australian community radio stations in Sydney, Melbourne, Adelaide, and Brisbane.
Early-Morning Program Returns
A quick reminder that ArtStarter, Canberra's most happening early-morning radio show, is now on air — from 7-9am each weekday. It is providing news about the arts and other community activities in and around Canberra, in keeping with ArtSound's role as Canberra's arts and music community radio station.
ArtSound FM's mission is to cultivate a vibrant arts community in the ACT region. Your memberships and donations sustain our year-long programming including our artist-centered features and interviews and our many broadcasts of live recordings of concerts in and around Canberra.
Thank you for being part of ArtSound!
Please go online to artsound.fm to take out membership or make a donation. Or, write to admin@artsound.fm. Or phone (02) 6295 7444 — if you don't reach someone right away, please leave a message and we'll get back to you as soon as possible. Donations of $2 or more are tax deductible.