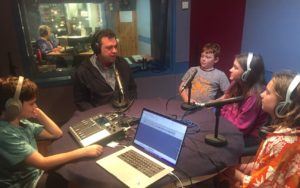 ArtSound ran the second of this year's successful Radio Rookies holiday programs in early July, and will offer another one in the next school holidays, from Wednesday 5 October to Friday 7 October.
The Radio Rookies program introduces young people to the world of radio and podcasting. It provides them with the tools and training needed to to create their own radio content and podcasts about themselves, their communities, and their worlds. (Pictured: an earlier session of Radio Rookies.)
The manager of the Radio Rookies program is Sionna Maple, the force behind such events as The Plunge, a very well-attended, recurring storytelling event in Canberra. In the Radio Rookies program, she is supported by experienced ArtSound broadcasters. Students learn basics of podcasting and radio production and broadcasting. They practice on ArtSound's microphones, recorders, mixers, and more.
The courses run for three days, from 8:30am to 4pm each day, at the ArtSound studios.
If you and your child(ren) are interested, please write to radiorookies@artsound.fm or call 6295 7444 (Tues-Thur business hours). Or, simply go online here for details, including times and cost, and to make your booking.