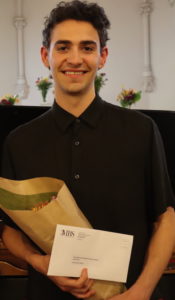 ArtSound congratulates Canberra pianist Ronan Apcar, winner of the ACT Young Virtuoso Award held at ArtSound in September, for taking second place at the competition's national final.
The National Young Virtuoso Award final took place on Sunday 20 November 2022 in Melbourne, organised by 3MBS community radio.
Ronan Apcar placed second behind Victorian pianist Anna Gao, and ahead of the three other competitors: NSW pianist Joshua Han, Queensland pianist Jeremy Sun, and South Australian violist Tim Tran. The finalists came from regional finals held at three of ArtSound's four fellow member stations of the Fine Music Network, a loose affiliation of Australian community radio stations: Radio 5MBS 99.9FM, Adelaide Music Radio, 2MBS Fine Music Sydney, and 4MBS Classic FM.
The judges noted the high quality of the competition. Ronan demonstrated his distinctive talents at ArtSound's Canberra regionals, too. Limelight magazine has described him as "a talent far beyond his age." Ronan is best known for his work in contemporary and new music, but is also remarkably gifted in innovative jazz performance. He has demonstrated his talents at concerts and festivals and in intimate and large-scale venues across Canberra, Sydney, and regional NSW. His debut album, Dulcie Holland Crescent, was an ABC Classic featured album.
On the release, Ronan celebrated the surprising compositions of a renowned music educator whose renown as a composer has been growing, the late Dulcie Holland. Ronan recorded Holland's Piano Sonata, which composer, pianist, and scholar Larry Sitsky and co-author Ruth Lee Martin hailed as "undoubtedly a landmark work in the Australian oeuvre" (Australian Piano Music of the Twentieth Century, 2005), as well as world premiere recordings of his transcriptions of Holland works never published, Autumn Piece and Conversation for Piano. (The album is amusingly named, by the way, after the street in the Canberra suburb of Moncrieff that salutes Holland's work.)
The Young Virtuoso Awards is an annual national competition that awards winners with broadcasting opportunities and cash prizes and is open to instrumentalists under 25 and vocalists under 30. In 2026, the national finals are scheduled to be hosted by ArtSound, here in Canberra. The Covid pandemic caused the cancellation of 2020 and 2021 nationals, disrupting a 30-year history of discovering promising Australian talent in classical music performance.
The ACT finals were broadcast live from ArtSound's recording studio. With assistance from ArtSound members and supporters, including Gallery of Small Things and Phillip Bralins of Riga Medical, ArtSound provided Apcar with air flights and accommodation for his appearance in last weekend's national finals in Melbourne.
This year's finals were "a very tight competition," Apcar said. "Thanks to everyone at ArtSound for sorting everything out for me, it was all great and I really appreciate it."
You can hear Ronan Apcar in performance on Friday 2 December at 7pm at the Ralph Wilson Theatre at Gorman Arts Centre (55 Ainslie Ave, Braddon) in a performance titled "This Is What We Have Today." It features Apcar and other Canberra-based composer-musicians.
Soon after, Apcar heads back to Melbourne for further studies at the Australian National Academy of Music. He said: "Seems fortuitous that the Nationals were held at the Abbotsford Convent where I'll be based next year.
"Sad to leave Canberra as I've loved it here but hoping to pop back in throughout the year and maybe who knows, I might be back in a few years!"