ArtSound Newsletter — September 2022
A lot is happening at ArtSound. Here's some of it.
Special General Meeting
The ArtSound Board has called a Special General Meeting to propose adjustments to the organisation's membership provisions.
The meeting is set for Tuesday 20 September 2022 at 6pm at the ArtSound office (before the regular monthly meeting of the Board). The Board is proposing four amendments of the ArtSound Constitution; all relate to membership. They would tidy up some existing provisions; institute rolling annual fees; and allow the Board to adjust membership fees, with member consultation.
The rationale for these changes is that membership would be more manageable if the Board was able to set membership enrolment periods (switching, e.g., to rolling annual memberships), fees, and categories as matters of policy and management.
The major proposed change is to introduce a new basis of annual membership. Currently members must renew each year on November 1, and memberships taken out after November 1 apply only to the following October 30. Under the Board's proposal, ArtSound membership would run for one year from date of application, or from date of annual renewal.
Amendment of the ArtSound Constitution, in the ways the Board is proposing, would require that the membership approve the proposals by a majority of three-quarters of voting members who attend the 20 September 2022 Special General Meeting.
Radio Rookies Holiday Program Coming Soon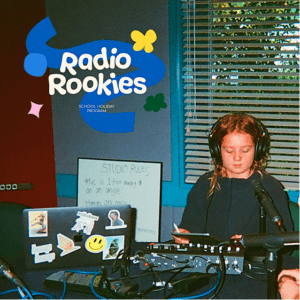 ArtSound ran the second of this year's successful Radio Rookies holiday programs in early July, and will offer another one in the next school holidays, from Wednesday 5 October to Friday 7 October.
The Radio Rookies program introduces young people to the world of radio and podcasting. It provides them with the tools and training needed to to create their own radio content and podcasts about
themselves, their communities, and their worlds. (Pictured: an earlier session of Radio Rookies.)
The manager of the Radio Rookies program is Sionna Maple, the force behind such events as The Plunge, a very well-attended, recurring storytelling event in Canberra. In the Radio Rookies program, she is supported by experienced ArtSound broadcasters. Students learn basics of podcasting and radio production and broadcasting. They practice on ArtSound's microphones, recorders, mixers, and more.
The courses run for three days, from 8:30am to 4pm each day, at the ArtSound studios.
If you and your child(ren) are interested, please write to radiorookies@artsound.fm or call 6295 7444 (Tues-Thur business hours). Or, simply go online here for details, including times and cost, and to make your booking.
Adult Podcast Course, Too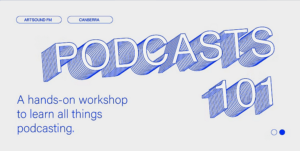 Our Radio Rookies courses for kids 9-12 years old have sparked interest in similar courses for adults. So we're starting those up. The adult courses — Podcasts 101 — will be one-day events, held on Saturdays. The first will be on 24 September from 10am to 4pm.
Attendees will learn the basics of podcasting and how to use the mixers and microphones in ArtSound's studios. They get an overview of audio-editing software (Audacity), recording audio, using sound effects and music, and much more. Enrollees can benefit from the course whether they are beginners or have some experience in audio work.
If you'd like to take part, you can find more information and register online. Or, write to radiorookies@artsound.fm or call 6295 7444 (Tues-Thur business hours). The course fee is $180.
Spring/Summer/Autumn Concerts
Thanks to a grant in the federal Stronger Communities program, ArtSound now has a sturdy, demountable outdoor stage as well as a state-of-the-art public-address system. We are particularly grateful to Alicia Payne, Labor member for Canberra, for inviting ArtSound to apply for the grant.
We're now planning a series of fundraising concerts during the spring, summer, and autumn (Covid willing!). The events will be on the lawns of the Manuka Arts Centre, which is home to ArtSound. They'll be bring-a-picnic-blanket affairs, with lively and varied entertainment.
The first is pencilled in for October; more details soon.
Young Virtuoso Awards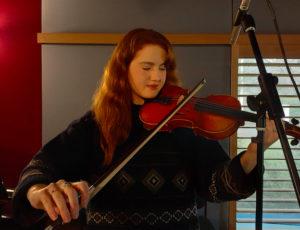 After the cancellation of The Young Virtuoso Awards in 2020 and 2021 due to COVID-19, the competition is returning this year. ArtSound will host the ACT finals on September 25 at the ArtSound studios, and ArtSound will broadcast the local finals live to air.
The winner will go to the National Finals, scheduled for 20 November in Melbourne, to compete with winners from other states.
Four musicians have been selected for the ACT finals. They are: Ronan Apcar, pianist; Lily Ward, soprano; James Monro, cellist; and Katrina Wiseman, soprano.
Previously known as Fine Music Youth Award, this event has for more than 30 years provided winners with a broadcasting opportunity and cash prize. Open to instrumentalists under 25 and vocalists under 30 who are citizens or permanent residents of Australia and New Zealand, the competition has been a great foundation for many aspiring musicians.
The ACT winner will receive a cash prize, the value of which is yet to be determined, as well as airfare to Melbourne and overnight accommodation for the National Finals, and the opportunity to make a 20 to 30 minute recording at ArtSound's studios, with music of their own choosing. The ACT runner-up will receive a cash prize along with the opportunity to record 20 to 30 minutes of music of their own choosing at the ArtSound studios.
(If you or your business would like to sponsor a prize in the ACT regional finals at ArtSound, please email admin@artsound.fm or phone 6295 7444 Mon-Thurs, business hours.)
Recent Recordings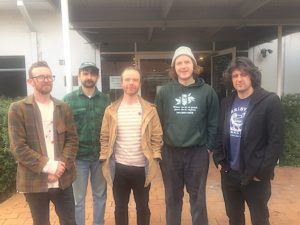 ArtSound has recently recorded a variety of performances that are destined for such programs as Friday Night Live and Concert Hall.
Antipodes visited the ArtSound studios in late August to record original compositions. The innovative jazz band is a collaboration of Australian and New Zealand players: Canberra-trained pianist Luke Sweeting and drummer Tim Geldens, guitarist Callum Allardice, bassist Noel Mason, and (from New Zealand) Jake Baxendale on tenor sax.
Then, ArtSound volunteers were on hand to make a live recording of a concert by visiting renowned Melbourne pianist and composer Andrea Keller (pictured). She appeared at the Drill Hall Gallery with saxophone player John Mackey (left) and trumpeter and flugelhorn player Miroslav Bukovsky. Keller has been in Canberra as part of her year-long HC Coombs Fellowship at the ANU. The evening included short solo-piano sets by three outstanding recent students or recent graduates of the ANU music program, Eliot Kozary, Caleb Campbell, and Ronan Apcar.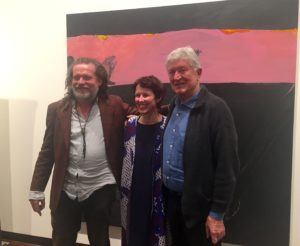 Tim Lamble and Annabel Wheeler are continuing their busy schedule of recording classical-music concerts, as the coming weeks' schedule on Concert Hall (Sundays 8-10pm, Wednesdays 2-4pm) attests.
The schedule is packed with exciting recordings, starting on 4 September with vocal music of Claudio Monteverdi and his contemporaries performed by Ad Hoc Baroque in St Paul's Anglican Church, a Wesley Music Centre performance by soprano Sarahlouise Owens and pianist Ronan Apcar of music of Richard Strauss, Duparc and Canteloube.
That's just the beginning of more months of outstanding Canberra performances on Concert Hall: again from the Wesley Music Centre, we'll hear the Ellery String Quartet plays Greig and Danish String Quartet performing arrangements of Nordic folk music; and from this year's Canberra International Music Festival, we'll hear Horomona Horo, one of the gentle giants of Māori music on the international stage, joined by the New Zealand String Quartet to tell the story of New Zealand music over the centuries. (Go to the Concert Hall program page for details on all coming programs.)
COTA ACT Expo Broadcast
ArtSound will again run a live "outside broadcast" of COTA ACT's Expo, this time on 28 September 2022.
The Silver is Gold Veterans and Seniors Expo is scheduled to take place at Exhibition Park in Canberra (EPIC), from 10am to 3:30pm that day, and COTA ACT is inviting the 26,000 ACT veterans and all members of Canberra's seniors community to attend.
In the Budawang Pavilion, businesses, community organisations, and government agencies will promote products, services, and advice of interest to veterans and seniors. In the adjoining Coorong Pavilion, stalls will focus on lifestyle and recreational interests, hobbies, craft, gardening, and artistic endeavour. An outside area will feature a vintage car display, electric-vehicle driving demonstrations, and other displays.
Postponement of Trivia Night
A reminder: Covid's "third wave" and the prevalence of influenza cases caused the postponement of ArtSound's Music Trivia Night, originally scheduled for 19 August, until a future date, yet to be decided. The event is now tentatively booked for Friday 17 February 2023 at the Eastlake Football Club, so start studying!
Programming News: The Magic of Music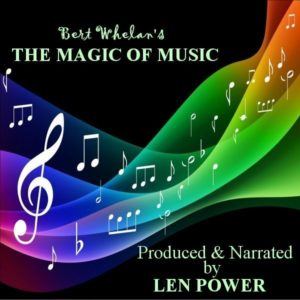 The Magic of Music, a new 26 episode music program produced by Len Power, will commence on Saturday 24 September at 4pm. Len will narrate and play music ranging from the classics to light orchestral to the American Songbook and Broadway, as well as film music and popular 20th century songs.
Bert Whelan, ArtSound music guru, has selected the music for The Magic of Music from his vast range of personal favourites, including many rare recordings.
Bert has instigated and provided the music for past programs like The Gershwin Project, Music From The Movies, and Australians on Record. He has been a collector for many decades, developing a formidable knowledge of music. He is known internationally for his knowledge and collection of music by George Gershwin.
Commencing with ArtSound in 2007 as sound engineer for Bill Stephens' program, Red Velvet And Wild Boronia, Len Power has gone on to present many live programs for ArtSound on theatre, nostalgia and classical music. As one of Canberra's arts critics, he provides ArtSound with weekly theatre and music reviews for broadcast.
Len has also restored the Tales Of Hoffmann program and written and produced The Gershwin Project. He has subsequently written, produced, and narrated The Good, The Bad And The Funny as well as The Broadway Musicals Yearbook, which is currently running on ArtSound on Sunday and Monday evenings.
The Gershwin Project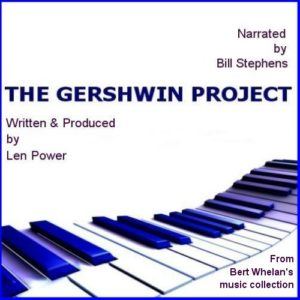 Canberra CityNews arts editor, Helen Musa, reported in her Arts in the City column of 26 July that "the official Gershwin website (gershwin.com) has posted news that The Gershwin Project, a program CityNews reviewer Len Power wrote and produced for ArtSound FM in 2008, is now available at mixcloud.com. The 26-episode program was narrated by Bill Stephens and the music was sourced from the collection of Bert Whelan, a local Canberra Gershwin enthusiast and collector."
Since its first broadcast in 2008, The Gershwin Project has been played nationally on the Community Radio Network (CRN) and on English-speaking radio stations in Europe. The American Ambassador in 2010, Jeffrey Bleich, requested copies of the program for himself, the Strunsky family (Ira Gershwin's heirs), the Library of Congress in Washington DC, and then-President Barack Obama, who was due to visit Canberra at that time.
Famous USA entertainer and Gershwin historian, Michael Feinstein, who is personally known to Bert Whelan, has been very encouraging of the project over the years since its inception.
Bert recently contacted Michael Owen who is associated with the Gershwin estate to advise him that the programs can now be heard on Mixcloud and the result was the mention on the Gershwin website.
Len Power, whose first solo producing effort this was, says he has been amazed at the long after-life of the program. He and Bert Whelan remain firm friends and radio colleagues. Their new program, The Magic Of Music, goes to air from 24 September.
You can access and listen to all episodes of The Gershwin Project at:
Do you have items that you think could run in this newsletter? If, so, please send them by the 20th day of the month to newsletter@artsound.fm for consideration.
ArtSound FM's mission is to cultivate a vibrant arts community in the ACT region. Your memberships and donations sustain our year-long programming including our artist-centred features and interviews and our many broadcasts of live recordings of concerts in and around Canberra.
Thank you for your generosity — and for being part of ArtSound!
Please go online to artsound.fm to take out membership or make a donation. Or, write to admin@artsound.fm. Or phone (02) 6295 7444 — if you don't reach someone right away, please leave a message and we'll get back to you as soon as possible. Donations of $2 or more are tax deductible.
Please forward this newsletter to any possibly interested friends and family members.