A new series within ArtSound's ongoing series-of-series, Bert Whelan's Golden Years of Music, begins this Saturday 23 October 2021. It's  The Great Songwriters.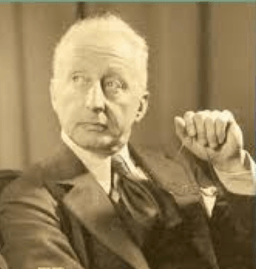 ArtSound's longtime connoisseur of great music, Bert Whelan, has created fine radio series in the past, including Light Orchestral Hour and Music from the Movies and Television, Australian Orchestras and Singers, and I Love a Piano.
In his overarching project, Bert Whelan's Golden Years of Music, he takes stock of great accomplishments in many areas of music.
In Australian Orchestras, his on-air collaborators Marilyn Chapple and John Rogers presented 23 episodes highlighting the country's best contributions to large-ensemble music.
Now, Bert Whelan's Golden Years of Music presents a new 24-part series, The Great Songwriters. It celebrates the music of such legends as Jerome Kern (right), Rodgers and Hart, Cole Porter, George M. Cohan, and George and Ira Gershwin performed by the cream of 20th century performers with standards from the Great American Songbook.
Among the performances are special treats, songs, and melodies in rare recordings by the songwriters themselves — Hoagy Carmichael, Cole Porter, Irving Berlin… — performing their own works.
The Great Songwriters, drawing on the collection of Bert Whelan with research by program host John Rogers, airs Saturday afternoons 4-5pm.