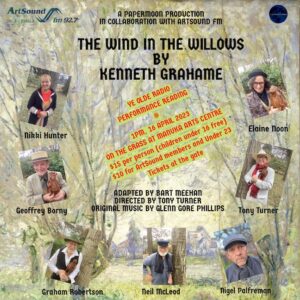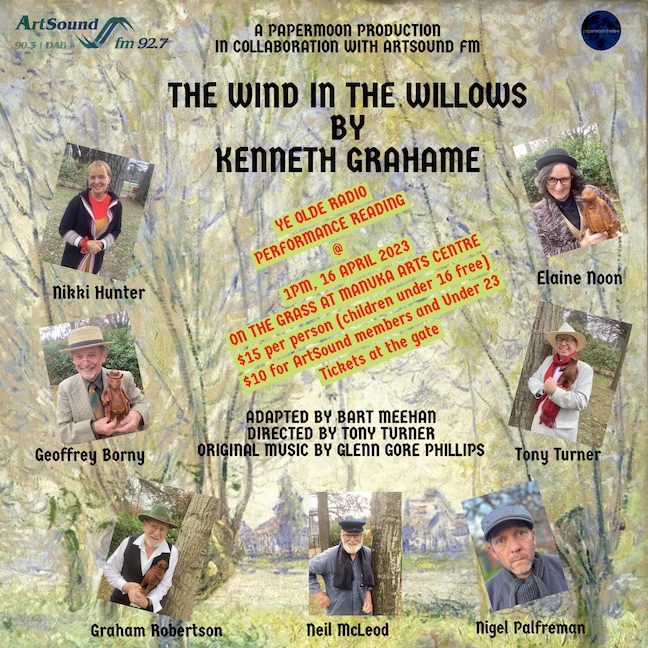 On Sunday, April 16, at 1pm, the final event in ArtSound's current summer/autumn fundraiser concert series will take place in the gardens of the Manuka Arts Centre. It'll be something quite unusual and special: an adaptation of ArtSound Radio Theatre's adaptation of Kenneth Grahame's classic tale for all ages, The Wind in the Willows.
With script by Bart Meehan, original music by Glenn Gore Phillips, and direction by Tony Turner, the production will feature a cast of seven of Canberra's finest actors.
Thanks to a 2022 Stronger Communities federal grant through the office of Alicia Payne (Labor, Canberra), we have been able to acquire demountable outdoor staging and a very fine PA system, so you'll be able to hear every word clear and bright.
Admission (at the gate) is $15 general; $10 ArtSound members & under-23s; free for under-16s. We have a small number of garden chairs, but to be sure of a comfortable seat, do bring your favourite outdoor chair or a picnic blanket. And your picnic hamper!
After this event, the series will take a break during the chilly months and resume in the spring and summer.