Radio Rookies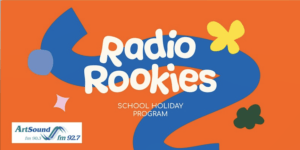 In this 3 day course, our instructors teach your kids how to make their very own podcast. They will learn how to use the tools and software to record and edit audio and make an interesting and engaging podcast series. Your child will become a pro in the studio and get the chance to practice using our microphones, audio recorders, mixers, and so much more!
This school holiday program is a one of a kind experience for your child. Book now to secure your place!
Which days? There is one session in the September-October holidays!
Where? ArtSound FM Radio Station – Cnr Manuka Circle, NSW Crescent, Griffith ACT 2603 (Next to Manuka Pool)
Hours: 8:30am – 4:00 pm
Cost: $360
Discounts:
News on these, coming soon.
Ages: 9-12 years old.
What to Bring?
Morning Tea & Lunch

Water Bottle

Hat

A laptop and charger. Note: If your child does not have access to a device, let us know and we'll come up with a solution!

A pair of headphones
Bookings are through Eventbrite via the link: Radio Rookies Tickets — the site will be updated for the September session, soon.
Podcasts 101
For details about this 24 September 2022 event, a one-day course for adults and young adults, please go to this site.